Markus Eichler's Giro diary
Markus Eichler rides the Giro for Milram
Photo ©: AFP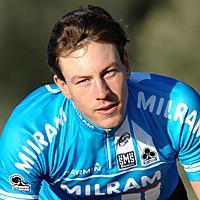 Markus Eichler of Team Milram is actually a Classics specialist, who is riding his first Grand Tour. The 26 year-old turned pro in 2004 with the Continental Team ComNet-Senges. In 2006 he signed with Unibet.com – which means he didn't have many opportunities to show what he could do, although he did win the Ronde van Drenthe. This season he signed with the German ProTour Team Milram.
His Grand Tour started out with a 13-hour journey from his home in Mönchengladbach, Germany, to Palermo, and thanks to the long transfers, he is still trying to catch up on his rest. Going into the eighth stage, he was 175th overall, over an hour and 12 mintues down. But Milram is a sprinter's team, and this is not really a sprinter's Giro. Eichler is enjoying the experience, anyway .... at least so far.
Tuesday, May 20, 2008
Stage 10 - A break from tradition
Hello everyone,
Today was a very unusual day for me.
I broke my ritual and for the first time since the second stage I didn't have my coffee in the Tour Village. Our hotel was only 600 metres from the start, so I was able to take my time this morning, warming up for an hour on the roller and then the spectacle started.
I was the second rider to start and despite my early time there were a lot of people along the course. That helped with my mood and I was impressed with how they rooted for me by name, as if I were riding for the overall win. I have never had that before and I found it really impressive. It's also great for the motivation and I was really inspired to keep on fighting from hill to hill. Despite all the euphoria, I had to be careful not to overdo it. My placing isn't so important that it matters whether I lose eight, six or five minutes. I must be careful to save something for the two flat stages on Thursday and Friday.
Today our team bus returned to us. It broke down during yesterday's transfer although we had enough team cars to get all of us to the hotel. That was when I first realised how comfortable our bus is. That's how it always is, you learn to appreciate something only when you no longer have it...
I'm not thinking at all of tomorrow's stage. I am only thinking of the two flat stages on Thursday and Friday. I'll worry about tomorrow's mountains only when I have to, maybe that will make it a little easier. At any rate, the day and a half off did me good.
Greetings,
Markus