Giro d'Italia feature, May 22, 2008
Simoni's ace Bertolini cranks clear
Super domestique allowed freedom as mountains loom
By Gregor Brown in Cesena, Italy
Italian Alessandro Bertolini (Serramenti PVC Diquigiovanni)
Photo ©: AFP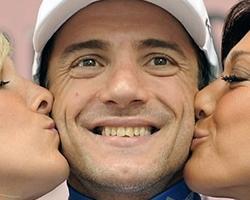 Alessandro Bertolini (Serramenti PVC Diquigiovanni-Androni Giocattoli) claimed victory on the Giro d'Italia's Stage 11, after breaking away with a small group on the 199 kilometre stretch from Urbania to Cesena. Bertolini was allowed the freedom to take his first home Grand Tour stage win by his team leader and general classification hopeful Gilberto Simoni. The 36 year-old made the day's key move, before cranking clear in the final 650 metres to win on the eve of the Giro's mountain stages.
Bertolini's win started to take shape on the first rest day on Monday in Pesaro, when the Italian was out riding with his fellow Trentino-native Simoni. His leader's morale was running high and went further towards the stars in the following day's time trail - something that gave Bertolini a green light to go for victory in Cesena.
"I saw Simoni's morale going up while he previewed the crono; it also changed my morale," said Bertolini of his 157 kilometre escape. "It gave me a lift and the signals were there to go on to the win.
"It was a dream I had in my mind," he added. "It was a long time coming; that I had been thinking of this stage."
Team manger Gianni Savio brought Simoni onboard over the off-season to win the Giro. Bertolini's role was clear; help Simoni top the Corsa Rosa podium for the third time in his career. However, the seasoned professional was given some leeway before the big mountains make their mark starting on Saturday.
"I had freedom in this stage. Today was the day that I could have my space. I am happy that it worked."
-Alessandro Bertolini had the support of team management and his leader today
"Already this morning I knew that it was tough, the roads were very slick," he explained. "So I was thinking that something good could happen. The plan was to get into an escape, if maybe Gilberto was solo I could be able to drop back and help him."
The day progressed and he did not have to drop back, but was focused on dropping some of his fellow escapees. "I know that I had a chance when we dropped the two Frenchmen [Finland's Jussi Veikkanen (Franšaise des Jeux) and France's Laurent Mangel (AG2R La Mondiale) - Ed.] on the climb, I felt that my legs were going well. We formed our move. [Tiziano] Dall'Antonia was dropped and I knew that with three riders it would be better chance.
"I had freedom in this stage, the team indicated this yesterday," confirmed Bertolini. "Today was the day that I could have my space. I am happy that it worked. The team gave me trust - [team sports director Marco] Bellini, Savio, Simoni. I kept them in my mind, even when I crashed on the descent I kept thinking positive."
Bertolini's fall onto his left side after the Monte Carpegna was one of the day's many misfortunes. The stage also saw Levi Leipheimer (Astana), Leonardo Piepoli (Saunier Duval - Scott), Franco Pellizotti (Liquigas), Emanuele Sella (CSF Group Navigare) and fellow escape companion Fortunato Baliani (CSF Group Navigare) go down.
Alessandro Bertolini (Serramenti PVC Diquigiovanni)
Photo ©: AFP

In fact Baliani's moment of inattention with 650 metres to go opened the door for Bertolini. He accelerated as the incident happened, leaving Baliani and Spain's Pablo Lastras (Caisse d'Epargne) behind.
"In the end I was upset for Baliani; it was really too bad," Bertolini said. "We made it through all the difficulties and then he had his bad luck.
"You also have to have luck to win and, of course, also be there," he added. "Even if I felt good, I did crash. There were lots of crashes for the guys today."
Bertolini turned professional in 1994 and rode for Carrera (1994-1995), Brescialat (1996), MG-Technogym (1997), Cofidis (1998), Mobilvetta (1999), Alessio (2000-2004), Domina Vacanze (2005) and Selle Italia (2006-2008). The Italian has the ability to read what is going on in the Giro.
"I believe that the head and legs are there to help Gilberto get on the podium for the win," he said. "I believe I have race more editions of the Tour de France than the Giro d'Italia."
Simoni's rival and last year's winner, Danilo Di Luca (LPR Brakes), complained that the Stage 11 parcours was senseless. Of course, Bertolini disagreed with his captain's rival.
"I can understand that it was a very difficult day for everyone given the weather on the road," said Bertolini. "Maybe he [Di Luca - ed.] was trying to make the selection on Monte Carpegna. It was normal that the stage came out this way with the rain."
Bertolini said his captain chose not to try and blow the race open today as he was happy to consolidate his position after the previous day's time trial. "Yesterday, he went strong and so he was searching to defend himself today," Bertolini said. "He is one who calculates and thinks a lot. His stages will come soon; he knows that he is saving every bit of energy for later."
Drawing inspiration from Il Pirata
Along the roads to Cesena were signs paying homage to Italy's late star Marco Pantani. The stage included many of the same roads that 'Il Pirata' used in training, a fact that Bertolini drew inspiration from.
"I raced with Marco Pantani the first two years," said Bertolini. "I thought of him a lot today. I wanted to pass the climbs first for him today."
The Italian rider topped all but the last climb, Sorrivoli, in the top spot.
"I had extra energy thanks to those signs, 'Marco exists and he is watching'," he added. "I have goose bumps talking about him now; he was such a champion and gave great emotions."
Getting the wins
36 year-old Alessandro Bertolini (Serramenti PVC Diquigiovanni)
Photo ©: AFP

While Bertolini has claimed some 20 victories in his long professional career, the Italian said the Stage 11 victory is one of his finest. The rider's win tally includes four one day races last year and a stage win at the Settimana Cislistica Internazionale.
"I think that this win comes in at number one with 1997's Paris-Bruxelles," he said. "I passed into the professional ranks with a lot of desire and maybe this desire gave away a lot of wins.
"The start was very difficult for me; I took wins here and there," he added regarding the early years of his career.
Despite being in his mid 30s, Bertolini has no plans of hanging up the bike anytime soon. Instead the Italian wants to continue racing for at least enough two season however influences off the bike will dictate his future.
"I will go on, I was thinking two or three more years before the Giro started," he said. "Then, I changed my mind when the Giro started as I saw it was tough to get into an escape; however, this win allows me to believe that I can continue go on for the three years. If my wife and daughter allow me to go on.