Now Jonny, don't get Jakey upset now...

Photo ©: Jake Frame
Public Enemy, 'cross friend
By Anthony Tan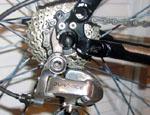 Get shiny
Photo: © Jake Frame
We've recently reviewed the out-of-the-box version of the K2 Enemy, so how does pro rider Jonny "The Cat" Sundt hot up a 'cross bike straight off the rack? Jake Frame, The Cat's master mechanic, and Sundt himself lets the cat out of the bag.
US manufacturer of many things sporting, the K2 Corporation, has really branched out in the last five years. From humble beginnings as a ski manufacturer in 1961, to the acquisition of mountain bike maker Pro-Flex in 1997, and most recently, its "Code6" research and development group - who, according to their website, "are not ski bums or suit-wearing stiffs, but bike-dedicated individuals" - K2 have certainly made their presence felt within cycling circles.
2002 marks the first year that the K2 Bike Corporation have got cross - Cyclo-cross, that is. With the aid of Jonny Sundt and their Code6 R&D team, K2 has produced their first and only 'cross specific bike, the Enemy. And judging from the feedback so far, it's a beauty.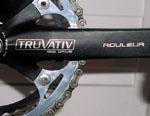 Jonny the Rouleur
Photo: © Jake Frame
As Rob Karman describes in his road test of the Enemy, at US$329.00 for the frame and fork, the value for money is outstanding. Not only that, but the bike has more features than you're ever likely to use. The custom-drawn 7000 series aluminium frame includes all the usual suspects you'd expect on a 'cross bike, plus top and down tube cable routing, hydraulic disk brake cable guides, disk brake tabs, rack and fender mount - even a second water bottle mount on the underside of the downtube.
Sundt's 'cross bike is essentially an off the shelf Enemy compact frame with a high-end group and some fast wheels. And if it wasn't for the knobby tyres, the Enemy could be easily mistaken for his road bike. Even the set-up is almost identical to The Cat's.
"My seat in relation to the bottom bracket and pedals is exactly as per my road bike," says Sundt. "My handlebars a little bit closer and a tiny bit higher, so I'm a tiny bit more cramped, but it means I have better control when I'm on a tricky descent or cornering. I spend so much time on my road bike I wouldn't think of changing my position in the seat or how I push the pedals."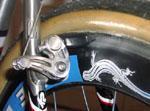 Empella Froglegs canti brakes
Photo: © Jake Frame
Not surprisingly, the first thing that gets the pro upgrade is the group. It's improved enormously over the years, but it just wouldn't be right for a pro 'crosser the calibre of The Cat to be seen on Shimano 105, so off goes the 105 and on comes the Dura-Ace. Now we're talking.
Specialist widget maker Truative, based in San Luis Obispo, CA, also get a piece of the action, with a number of their components subbing in across a predominantly Japanese-looking group; namely the bottom bracket (Truativ ISIS SL), crank arms (Truvativ Rouler, 172.5mm), and inside chainring (39 tooth). The 46 shiny, silver teeth on the outside ring are courtesy of Specialties TA, and transmission is driven via a Sachs nine-speed chain.
Racing on rough and often muddy terrain necessitates a powerful braking system. While the option for disc-brakes is there, Jonny opts for the Empella Froglegs standard cantilever brake set-up that, according to Jake Frame, is both reliable and light.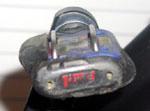 Who's baking? Time's titanium cake mixers
Photo: © Jake Frame
Frame mentions, however, that disc-brakes are coming on strong in 'cross circles, and everyone he's talked to has loved them. "I wouldn't be surprised to see some super light stuff and carbon type rotors coming out in the next couple of years," he forecasts.
Stem and integrated head set belong to veteran MTB frame and component manufacturer Ritchey, the former clamping onto some very traditional-looking Cinelli Solida road handlebars. Adding to the traditional roadie complexion is the timeless Selle Italia Flite saddle, perched above the Titec XC Pro seatpin. Sundt opts for the Gel version of the Flite to ease his cheeks when he's hopping mad.
And when Jonny's not running round like a chook without a head, he's got his feet firmly locked into some of the finest, lightest cake mixers money can buy, Time's ATAC Titan Titanium pedals, weighing in at 352 grams.
Finally, the piece de resistance and Jonny and Jake's favourite, the Cane Creek carbon-fibre hoops. As Sundt says, "It's such a fine line riding 'cross - you're basically riding a road bike in the dirt, and speed and cornering are a big part of it. And these wheels are just so fast out of the corners."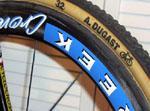 You won't be up the creek with these babies
Photo: © Jake Frame
However, such exotica is used sparingly. Frame explains:
"If the course is more of a mountain bike-style course, we will opt. for the Aerohead Team wheels [a slightly more robust wheel]. On the really grassy, open, fast courses, the carbons are the only way to go," says Frame.
The Fletcher, North Carolina company has an enviable reputation for producing slick, light and fast racing wheels. Straight-pull, bladed titanium spokes lock into Cane Creek's 6061-T6 lightweight aluminium hubs, while Dugast tubulars provide the necessary traction for high speed cornering in slippery conditions.
All-in-all, a lightweight frame complemented by equally light but durable componentry. When you complete the spec with some bad-ass wheels, this bike purrs teasingly just standing still, and befits the rider they call The Cat.
Rrrrrreeeaaaoowww.