News for September 30, 2001
56th Vuelta España news
Post-stage comments, stage 20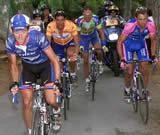 Roberto Heras leads Gilberto Simoni
Photo: © AFP
Gilberto Simoni (Ita) Lampre - Daikin
"I was very disappointed by only finishing second here last year, although the experience did allow me to learn what the finish was like"
"That's why I knew how to attack finish tactically today. This victory is also excellent sign for the world championships."
"This was the stage that I wanted from a while ago. It knew that in the third week my opportunity would arrive and I am very contented to have obtained it. It knew the arrival from last year and this time I did not fall away. I had force and conviction to win
"The Vuelta always has been an important race for me. This year I did not arrive condition to fight for the general, and additionally I saw that the Spaniards were very strong and would be a fighting among themselves!
My team has done great work and they have taken to me very well until the end, where I was working very hard for the stage."
Oscar Sevilla (Spa) Kelme - Costa Blanca (1st GC)
"I did what I could. I attacked at 3 km from the top, but he (Casero) resisted well."
"I still haven't lost hope for the overall."
"I tried to drop him on the Abantos the second time round, although it didn't work. By this point of the Vuelta we are almost equal in terms of strength."
" Now, it is the mano has mano in Madrid. The best will gain. On paper, Angel is better against-the-clock but, I improved much and I lost little in mountains. This shirt (yellow) will give me wings, I will give my all. I will die on the bicycle."
Angel Casero (Spa) Festina (2nd GC)
"Seville is very classy. I do not know if I will gain this Tour but will give much to watch in the future. The future is going to be Spanish cycling and we can gain more Tours."
"Oscar and I will have the same references, and although he has the ' force moral' of maillot gold, that also is translates to pressure for him."
"I am not recognised as a climber, but I have held, and I believe that I have done it well. I have tried to attack, but we are very even in the mountain. I am very contented with my team because they worked very well."
"Oscar is still in gold and although I have held on well on his terrain, there is no knowing what will happen tomorrow. For the public, though, it should be a spectacular to watch,'' he said
Stage 20- Full results & report
Saturn suddenly becomes Sweet
Big Matt sprinter Jay Sweet has signed with USA team Saturn, Jay announced last night.
Moller update
Danish stage race specialist Claus Michael Møller, winner of the 15th stage of this years Vuelta , will go on riding for the Portuguese team Milaneza-MSS for another two years.
Møller seems to have become persona non-grata in Danish cycling after a doping affaire some years ago when he rode for TVM.
After serving his ban he moved to Portugal and is one of the best riders in the Portuguese peloton. Due to his doping record he is unwanted in the World's team on his new home ground.
Dean leaves US Postal
CSC-Tiscali has found its much wanted sprinter. Julian Dean leaves US Postal for the Danes on a one year contract. The 26 year old New Zealander became a pro in 1996 and came to US Postal in 1999. He has won 26 races but no majors.
"Dean is a courageous sprinter that has won some lesser races in Europe as well as the US. He is still relatively young and can develop further. Now we have a rider who can be along in the sprints in the stage races and the classics," says team manager Bjarne Riis to cyclingworld.dk.
Sastre to CSC-Tiscali
Once's 26 year old Carlos Sastre has signed for Bjarne Riis' Danish team CSC-Tiscali for two years and according to Riis he will be one of the most important members of the team.
"Sastre is one of the hopes for the future in Spanish cycling. His talent as stage racer is huge and we have great expectations on him. We have kept our eyes on him for quite some time and we think that he fits well into the profile that we want the team to have", says Riis to Danish web site cyclingworld.dk
Sastre became professional in 1997 and has been riding for Once ever since.
More Moves
Spaniard Bingen Fernandez will move from Euskaltel to spend the next season with Cofidis
Trenti, quietly doing his thing
Guido Trenti had remained on the starting line at the beginning of the seventh stage of the Vuelta as a mark of respect for the victims in American attacks. "There was 30 seconds of silence for the victims. I did not have to give explanations to anybody and it was not done for publicity,", said Trenti. The gesture has only become known since Trenti's stage victory on Friday.
I will add, for what it is worth, that is very pleasing and reassuring to see a professional sportsperson not looking to capitalize from their every move
Pantini's season over
Italy: season finished for Marco Pantani (Mercatone)
Italian Marco Pantani (Mercatone) will not take part in the World Road Championships, starting in Lisbon on October 14. Pantini has decided to put an end to this season, and concentrate on getting back in 2002. Pantini has had an "annus horriblis*" overlooked in the Tour de France and never showing himself to any advantage in the Vuelta. By the 11th stage Pantini was more than one hour behind the leaders.
More talk about Drugs
IOC president Jacques Rogge has praised cycling's governing body the UCI, saying it was setting an example in the fight against doping.
Visiting the World Track Championships, he said: "The UCI is doing a very good job in terms of doping and I must commend the efforts made by (president) Hein Verbruggen and his colleagues. They are on the right track."
Asked if other sports should adopt methods such as blood tests for the performance-enhancing EPO, Rogge said, "Cycling is setting an example that everybody else should follow."
Rogge is a cycling fan whose grandfather rode professionally.
End to End Update
Gethin Butler arrived at John O'Groats a few minutes after 6am (GMT+1) this morning to set a new record of 1d 20h 4m 19sec for the End-to-End (840 mile) ride of Great Britain. Butler's time was almost an hour faster than the previous record.
Not content with this achievement, Butler has continued on to attack the 1000 mile record. This has been held since 1960 by R.F.Randall with a time of 2d 10h 40m. Butler hopes to reduce this by a couple of hours.
Tammy Thomas talks
Tammy Thomas (Pembroke Pines, Fla.) grabbed a silver medal for the U.S. team at the 2001 World Track Cycling Championships Friday, Sept. 28 in Antwerp. Thomas, who is competing at her first world championships, is the first American woman to win a medal in the match sprints since 1991 when Connie Paraskevin-Young won a bronze.
Earlier in the evening, Thomas defeated the Ukraine's Iryna Yanovych to advance into the finals, where she was pitted against Russian Svetlana Grankovskaia.
"I wasn't feeling really well earlier in the day," Thomas said Friday night. "I rode against the Ukrainian rider and things went pretty well. I spent a lot of energy in that match-up though."
"I rode the Russian in the finals and her first ride really caught me by surprise," Thomas said. "She was faster than me and just rode better than I did. It feels pretty good to medal. I'm just happy to be here and to have been on the podium. It's going to be hard to sleep tonight."
Earlier this year, Thomas set a new U.S. national record in the women's elite and master's 30-34 500m time trial in Colorado Springs, Colo. Her prowess in this event should come in handy Saturday, Sept. 29 when she hopes to retain her title
Stefan Rütimann dropping charge reduced
The UCI Anti-doping commission has reduced Stefan Rütimann's doping penalty from 8 to 7 months, allowing the Swiss rider back in March 2002.
The Tacconi Sport member was suspended in July of this year after the Rund um den Henninger .
Swiss World Road team
Women.
Elite:
Annette Beutler (Naters/VS);
Nicole Brändli (Horgen/ZH);
Priska Doppmann (Cham);
Lucille Hunkeler (Uffikon/LU);
Simone Trafelet (Gossau/ZH);
Sandra Wampfler (Prêles/BE).
Reserves
Marcia Eicher-Vouets (Allschwil/BL)
Murer Marika (Ronco/TI).
Junior Women
Edith Baumann (Silenen/UR)
Andrea Knecht (Gibswil/ZH)
Lüscher Andrea (Russikon/ZH)
Patricia Schwager (Balterswil/TG).
Reserve
Andrea Hess Wilen/Wil/SG.
U23 Men
Michael Albasini (Lanterswil/TG)
Vincent Bader (Villeret/BE)
Sandro Güttinger (Tesserete/TI)
Markus Joho (Waltenschwil/AG)
David Loosli (Bern)
David Ruckstuhl (Pfaffnau/LU)
Reserve
Roman Burkard (Zug)
Junior Men
Romand Andres (Wangen bei Olten)
Patrick Gassmann (Geuensee/LU)
Martin Goldinger (Züberwangen/SG)
Matthias Hell (Seewen/SO)
Steve Morabito (Troistorrens/VS)
Simon Schärer (Pratteln/BL).
Reserves:
Rafael Alder (Aathal-Seegräben/ZH)
Markus Schmidig (Brunnen/SZ).
Men's Elite Team will be announced Monday

*annus horriblis = a very bad year!
Recent results and new features on Cyclingnews
Major Races and Events
September 7-29, 2002: Vuelta a España (GT) - Preview, stage list
May 11-June 2, 2002: Giro d'Italia (GT) - Preview, stage list, photos
July 6-28, 2002: Tour de France (GT) - Full preview & official route details
December 8: Superprestige Rd 5 (Cat. 1) - Erwin Vervecken
November 29-December 4: Six Days of Noumea (6D) - Sassone/Neuville victorious
November 26-December 1: Six Days of Zurich (6D) - Day 6 - McGrory/Gilmore/Schnider win
December 1: Melbourne Cup on Wheels (IM) - Scott Moller, Keirin, Sprint, Support races
December 2: Cyclo-cross World Cup #2 (CDM) - Sven Nijs again
November 24-December 3: Juegos Deportivos Centroamericanos (JR) - Final results
December 8-9: Frankfurter Rad-Cross (Cat. 2) - Alex Mudroch, UK National Trophy Series #4 (Cat. 3) - Roger Hammond, Grote Prijs Industrie Bosduin - Kalmthout (Cat. 1) - Bart Wellens, Int. Radquer Obergösgen (Cat. 2) - Björn Rondelez, Trofeo Mamma e Papa Guerciotti (Cat. 3) - Enrico Franzoi, Premio Egondo (Cat 3) - David Seco, Irish cyclo-cross championships - Robin Seymour

Results: local racing
Australia - CycleWest Promotions Omnium Series #2, Eastern Suburbs Summer Criterium Series, Carnegie Caulfield Tuesday criterium, Southern Cross Junior Track Open & Madison Cup, Manly Warringah CC, George Town Track Carnival, Carnegie Caulfield CC, Randwick Botany CC, Gold Coast CATS CC, Caesar's Illawarra CC, Caesar's Illawarra (track)
Denmark - Danish cyclo-cross Post Cup #3
Italy - Gran Premio Città di Bassano
Luxembourg - GP De Kopstal
New Zealand - Cyco Criterium series
Spain - Elorrio cyclo-cross
USA - Georgia Cross Series Championship, Chimborazo Grand Prix cyclo-cross, Boulder Cross Rd 6, New Mexico State Cyclo-x Champs, Sorrento Cyclo-x & California State Champ's, Boulder Cross Rd 5, Verge New England series, Northampton CC Cyclo-cross Championships, Chris Cross International CycloCross


Recently on Cyclingnews
Latest Photos - Olympic Armstrong, Boulder & California 'cross, More Pan-Am, Canberra, Boston & REI 'cross (December 13)
Cyclingnews survey - Reader Poll 2001 - Vote for your favourite riders
Letters - VDB, Lance, Boring Tour, Coastal Post, Respect (December 13)
Cyclingnews Interview - Ryan Bayley - the KFC-fuelled world champ (December 13)
Cyclingnews Interview - David McKenzie - Macca's back (December 12)
Cyclingnews Interview - Laurent Jalabert - Jalabert looks ahead (December 11)
Cyclingnews Interview - Charly Wegelius - A coffee stop with Charly (December 8)
Cyclingnews Interview - Sven Montgomery - Moving up in the world (December 6)
Cyclingnews Interview - Rochelle Gilmore - Road scholar (December 6)
Tales from the Peloton - 12 Hours of Oleta - MTB endurance race in Miami (December 6)
Tales from the Peloton - Tony Cruz - back to his roots (December 7)
Marco Polo Diary - Tour du Faso - Part II - Nathan Dahlberg's report (December 3)
Tech maintenance - Wheels - how to keep them true and tight
Tech letters - Headsets, Pegoretti, Carbon cage, gloves & tubes (December 10)
Tech news - Navigators power-tap, Headsets, Carbon cages (December 7)
Tech- Recycling - How to protect your chainstay for free
Tech Reviews: Egg Beater pedals; Park Tool belt; Shimano shoes; Speedplay
Breaking the Chain  - Dope planning and testing - From Willy Voet's book


cyclingnews.com Copyright ©1995-2000 Knapp Communications
Systems:

Adrian Butterworth