An interview with Ryan Bayley
Australia continues to produce an unusual number of world-class track cyclists, and the latest Australian world track champion is perhaps the most 'totally Oz' rider on the circuit. Karen Forman met the laid back, KFC-and-steak fuelled world Keirin champion after the Melbourne Cup on Wheels.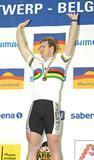 On the podium
Photo: © Mike Gladu
Ryan Bayley Fact File
Age: 19
Nationality: Australian
Born: Perth, Western Australia
Genre: Sprinter
Best result: World Keirin Champion 2001
Height: 5'11"
Weight: 82-85kg
Favorite food: Steak and chips and KFC
Pre-race food: Steak and chips
Post race food: KFC
Loves: Cars (especially Fords); motor sports, Fast and Furious and Gone in 60 Seconds
Hates: Holdens, pasta, health food, smoking and drugs in sport.
Hero: Shane Kelly. "He's the man"
What is going through a potential world champion's mind as he waits on the start line before the event that will make him a sporting hero?
Is he sitting firmly on his saddle, hands low on the bars, eyes narrowed as he practices his controlled breathing technique and visualizes second by second, move by move, tactic by tactic, the race of his life?
Is he doing as the sports psychologists recommended and working hard to shut out the sounds of the over-excited crowd, trying his utmost to ignore the lenses of the world's TV cameras and concentrating only on himself, his bike and the mind-blowing task before him?
If our cyclist is 19 year old Perth speedster Ryan Bayley; and the event is the 2001 World Keirin Championship in Antwerp, Belgium, the answer is… well, no.
Rather, in Antwerp in September, young Bayley – famously known among his peers for his easy going attitude toward racing and life in general – was sitting upright on his bike before the start of the event, looking up and smiling at his image on a giant television screen at one end of the velodrome.
What was he thinking?
Sprawled, on the floor of a friend's house in suburban Melbourne, where he was staying prior to the first event in the Cyclists' International 2001-02 track cycling season – the Melbourne Cup On Wheels on December 1 – Bayley chuckled at the memory.
"I was thinking how cool I looked in my new sunnies," he said. "I could see this huge image of my face on the TV screen and I was rapt with how the sunnies looked."
Had the camera been focussed on his feet, he probably would have been admiring his eclectic choice of socks, as well.
"I always wear odd socks for luck," he said, showing off one blue and one green. "Just what I do. I am pretty casual. Nothing too much worries me. Like, I don't feel like a world champion. How do world champions act, anyway?"
Asked to describe himself in three words or less, Bayley grinned as he came up with "freak of nature". Maybe he is. Unlike other sprinters who go hell for leather off the mark – often to die after the initial burst – Bayley goes and then just keeps on winding it up. He has phenomenal leg speed, something he credits to his BMX background, and seemingly doesn't lose precious energy suffering from pre-race nerves.
In the worlds repechage
Photo: © Mike Gladu
And of course, there is THAT diet. It's well known around the traps that he lives on steak and chips and KFC and he must be the only cyclist in history to come back from racing in Italy thinner than before he left, because he refused to eat that Italian staple – pasta – the whole time he was away.
Face to face, Bayley is a likeable youngster seemingly lacking in the ego, airs and graces often seen in elite athletes.
Ask his AIS peers about him and they'll snipe good naturedly about his relaxed attitude; his laziness (he hates road training and doesn't get off on gym) and his famous diet.
One or two have been heard to question "whether he can win unless somebody else crashes" – a direct hit at the World Championship event when a fall in the race brought down everyone bar Bayley and second place-getter Laurent Gane' from France – but nobody denies Bayley's leg speed or his ability to wind himself up.
Of course, it is early days yet – there was that tantrum at the Melbourne Cup On Wheels on December 1, when he copped a $100 fine for throwing his helmet onto the track after the keirin, alleging he had been interfered with. Race watchers, however, suggested he was simply worn out after the Worlds and three weeks of racing the six-days in Europe. He is, after all, a relatively unknown (until now) kid from Perth. And he did, after all, only start racing the track three years ago. (He did his first Nationals three months after getting on a fixed wheel bike for the first time).
Bayley is as grass-roots as they come.
Leading in the Keirin final
Photo: © Mike Gladu
Cyclists International spokesman, Barry Langley, just hopes Bayley will retain his ideals now that he is a World Champion and remember to keep competing on the domestic scene.
Langley reckons the elite often forget – or those in charge of them forget – how important race fitness is.
"It is so important for tactical race riders, i.e. sprinters, to have competition, to make them sharp and race-ready," Langley says. "The team pursuiters can go into a training camp and be grilled like an army marching team, but with sprinters and points race riders and things like that, they need to have race sharpness. It has been sadly lacking, I think. Ryan obviously realizes this and you have to give him credit for it."
Despite his fine at the Melbourne Cup On Wheels, Bayley seems committed to fronting up at Melbourne's Vodafone Arena for the remaining four events of the CI season – the Forges Stores Wheel Race on February 2, the Bicycle Superstore Austral Wheel Race on February 23, the Australian Madison Championship on March 16 and the Sid Patterson Grand Prix on April 6.
"I had planned to live all summer in Victoria and do all the carnivals in Melbourne and Tasmania, but I will probably be back in Adelaide (at the AIS)," he said.
"I would like to win the Austral because it's the biggest wheelrace in the world. Great people have won it."
As to what the AIS is planning for him in the future, is anyone's guess, but Bayley says he is looking forward to working with the new post-Charlie Walsh team in Adelaide.
Whatever eventuates, the unlikely-looking world champ, dressed in scruffy BMX style with odd socks and those prized Oakley sunnies perched on the top his head, reckons he isn't forgetting just how far he has come and how much he has achieved in a very short period of time.
Born in Perth in March, 1982, he learnt early on that the way to get what you want is to put your head down and work hard for it.
"We had tough times financially," he said. "My Dad (Wayne) fell into a pit of boiling lime when we were very young and lost most of his vision, so he couldn't work and my Mum (Lola) worked every now and then in a variety of jobs. They always looked after the two of us; all they ever wanted was to make us happy and in return we tried to be happy and to make it easy for them."
He got his first motorcycle when he was 10 and with Kristine raced motocross for four years, picked up a few club and State titles, then quit when it got too expensive for his parents.
From there the siblings got into BMX, deciding it was the next best thing to motocross, and Bayley won two State titles and competed at two nationals.
Then he discovered track cycling and it was BMX's loss and Australian cycling's definite gain.
"I watched the Atlanta Olympics on TV in 1996 and Dad figured I might be okay at it," he said.
"Then I sort of forgot about it until after the Perth Worlds in 1997. We rocked up at the Midvale Speed Dome and hired bikes, riding in our shorts and sandshoes.
"Then Danny Clarke came over and started telling us, do this, do that. I had no clue who this old fart was, but then I read in the paper that he was a world champion.
"After Danny Clark told us to get our own bikes, and what else to do, our grandparents helped us buy some second hand bikes and three months later we went to our first nationals in Adelaide."
At this stage, Bayley was just riding to enjoy himself, with no thoughts of achieving much at all. But he won a bagful of medals – including gold in the sprint and the flying 200m (11.5) and silver in the standing 500m and the teams pursuit.
A few weeks later, he hopped on his BMX bike for the nationals, didn't qualify for the worlds, and, in typical casual Ryan Bayley style, put all his bikes away for six months.
"I didn't like riding the road and the track season was finished, so I just stopped," he said. "No dramas."
Then the Western Australian Institute of Sport called to ask if he was going to ride a bike. Bayley said: "Yeah, maybe". And found himself in serious training.
From there it has all been a bit of a whirl. Bayley hit the national scene hard with bronze in the 200 metre qualifying and the team pursuit and fifth in the kilo, in Perth in 1999.
"I was a bit disappointed and started training seriously (with then WA Institute of Sport head coach Martin Barrass) then, doing lots of gym, lots of track and going from 76kg to 83kg."
He quit school in Year 10 and cut off his trademark waist length hair. And whether it was the training or the lack of hair, he performed.
The 2000 nationals in Sydney yielded gold in the sprint, the 200 and the keirin and silver in the kilo, plus the champion of champions.
This led to selection for the Junior Worlds in Fiorenzula, Italy, where (despite refusing to eat the pasta), he collected gold in the Olympic sprint and sprint.
"It was my first time overseas and I loved overseas but they didn't have steaks," he said. "I came back heaps thinner."
He did his first World Cup in Torino and was sixth in the senior sprint. The Oceania Games in Sydney netted him gold in the keirin and Olympic sprint and silver in the sprint and scratch race.
On the Victorian carnival scene last Christmas, he was second in the Melbourne Cup on Wheels and won all the keirins and most of the sprint matches.
Training full-on with John Beasley, he hit the nationals in March in Melbourne running, collecting gold in the flying 200m and Olympic sprint and silver in the sprint. And the form continued. At the Malaysia World Cup in August, in qualified fastest in the sprint with 10.6s – but that result wasn't without incident.
"I snapped my bike in the first round – the bottom bracket fell out – so I hopped on Sean Eadie's bike and got fourth.
And then, there was the worlds in Belgium in September. The event of his life.
"That was huge," he said. "The crowds were huge. The place was huge. I wasn't really worried about how I would do, I was just there to ride my bike and then go home. It was all experience. It was my first year as a senior and the plan was to get experience."
Things went better than expected. With Eadie and Jobie Dajko, he scored silver in the Olympic sprint (they had hoped for a fourth).
Perhaps he was still high from that, but Bayley got left behind in his first round ride in the keirin and "put it down to experience".
"It was my first international keirin and I was not all that experienced," he said. "Then I got through the repecharge – I came from the back on the last corner, there were two people fighting and they crashed and I went round and won – and I was in the semi final (which he won by 10 metres from the back).
Perhaps because he didn't really think he could win, he wasn't nervous at all when it came time for the final. He was so laid back about it, that he was admiring his new sunnies on the TV monitor at the start of the event.
But the minute that gun fired, he was thinking, "if I could lead it I will stay out of trouble" and he took the wheel.
"The first two laps, nobody was with me on the wheel. Nobody knows me. They were probably thinking, who is this dope head? I slowly stepped the pace up, then (French star Florian) Rousseau and (Australian team mate) Jobie (Dajka) came up and with one and a half to go I stood up and booted it severely. Hard. I thought pretty much every sprint starts with one and a half to go so if I hit it first and wound it up to top speed in the first half lap, hopefully nobody should be able to go around me.
"I don't accelerate to top speed straight up… it takes me a while." But he wasn't counting on what happened next.
Out-sprinting Laurent Gané
Photo: © Mike Gladu
Frenchman Laurent Gané was on his hip and Dajka boxed in underneath him, when Dajka hit his back wheel "and rolled it in front of the field and dropped everybody except me and Gane"
With riders tumbling behind him, Bayley decided to give it all he had and crossed the line first in a sprint with Gane.
"It took me a while to realize I had won," he said, adding in classic understatement that "I was pretty happy with myself".
But he barely had time to get used to his new striped jersey status when he was off to Europe to race the six-days for two weeks.
"I didn't go too good. I was pretty flat after the Worlds," he said.
He was still flat at the Melbourne Cup on Wheels but is confident he might find some energy again for the Forges Stores Wheel Race on February 2.
"I'm back at the AIS and training pretty hard… gym, road miles, track," he said. "I'm doing it better. I want to go to the Olympics."
And about that diet?
"I've got the lowest percentage body fat of anybody in the AIS so I can't see why I should have to change it," he said.
"After the keirin, all I wanted was some KFC. I'm easily pleased."
Other Talking Cycling Interviews
---