Cyclingnews talks with Sven Montgomery
Moving up in the World
By Paul Goldsmith

Grand Prix du Midi Libre
Photo: © AFP
Sven Montgomery
Born: May 10, 1976
Lives: Köniz, Switzerland
Height: 180 cm
Weight: 62 kg
Hair: Brown
Eyes: Brown
Marital Status: Single
Nationality: Swiss American
Palmares
2001
7th: Grand Prix la Liberté
4th: 2nd Stage Circuit des Mines
3rd: 7th Stage Circuit des Mines
6th: Tour de Romandie
1st: 5th Stage GP Cycliste du Midi Libre
1st: Mountain King Dauphiné Libére
4th: Dauphiné Libére
9th: 11th Stage Tour de France
1st: 14th Stage Tour de France Grand Souvenier Jaques-Goddet trophy Col du Tourmalet.
2000
3rd: Tour de l'Avenir
4th: Tour de Suisse
7th: Josef Vögeli Memorial
7th: GP Industria & Commercio di Prato
9th: Giro del l'Emilia
10th: Tour de l'Oise
10th: Swiss National Championships
15th: Tour de Romandie
26th: Giro del Lazio
Crashing is always a bummer. Crashing and knocking yourself out of your first Tour de France is a lot worse than that. However Sven Montgomery can look back on his 2001 Tour with a great deal of satisfaction. At the time of the crash during the 16th stage, Montgomery was in 17th place overall and had won the 14th Stage prize for the first rider over the highest point in the Tour, le Col du Tourmalet.
Montgomery joins top ranked Italian team Fassa Bortolo for 2002 after two very productive years with La Francaise des Jeux in France. Renowned as a good climber, which is perhaps not surprising given his Swiss home; Montgomery is however much more than your average pro biker. He has a dedicated room in his house to mix dance music, and has acquired the odd nickname of "cowboy" from the Swiss media. Odd in that Montgomery is about as far from your stereotypical redneck as you can imagine. But then with his father being an American musician and his mother a Swiss teacher, he was always going to have a cool neutrality about him.
Montgomery spoke to Cyclingnews during his recent trip to Australia where he had teamed up with local hero and fellow le Francaise des Jeux pro Brad McGee to take in the sights and enjoy some time off.
Cyclingnews: How did you get into cycling?
Sven Montgomery: When I was eight years old my dad and I were watching the Tour de France on TV. It just started from there. He was into cycling and I dreamed that I would be a pro rider.
CN: What does your father think now that you are a pro?
SM: He is amazed. Actually he is very proud. He comes to all my races, with my mother. Everyone else just called me a dreamer! I started with mountain bikes, but I didn't like the dirt roads, (cowboy?) and I didn't have the really good technical skills. Mountain biking is always a time-trial. But it is the tactics of road cycling that I really enjoy. You have to learn to ride in a bunch. Brad (Mc Gee) really helped me in this, as did Tony Rominger, who followed me in the car.
CN: Any advice for young riders?
SM: If you have area that you like, work really hard at it. You have to train for everything, but when you have a specialty, I think you should train particularly hard in that area. A lot of riders are good everywhere, but I think it is best to be very good in one and follow in the other things.

Showing his climbing ability
Photo: © AFP

CN:Has your riding style changed as a pro?

SM:Yes, I began by pushing big gears, and over the years have learnt to spin. Now I'm going back towards the bigger gears. I'm learning to mix it up, and get more power.

CN: Is pro-riding living up to your expectations?

SM: Sometimes it (bike racing) is just like a normal job. You just hate it. In the Tour and in the mountains, I'm loving it. But on flat, windy, sections, I would rather be in an office.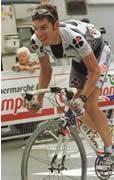 In the Tour
Photo: © Sirotti
CN: Most of us who work in offices would gladly trade places...
SM: Yes, it's true. Mostly I love it. (laughs)
In his free time, Sven who lives with his brother in Feutersoey Switzerland, tends to play a lot of music, and even fancies himself as a DJ. "We have a separate room in our house for the mixer, I mainly play dance stuff. But it is more my brother" he says. On his website Montgomery lists his musical interests as "Techno and everything which goes off!"
CN: What are your plans for next year?
SM: "Our first meeting with Fassa is in December. In an Italian team, everyone wants to ride the Giro, so that will be interesting. I am going to aim at the Tour, and all the big Swiss races. But I actually prefer to race in Italy than in France. It is less windy and the hills are steeper. It's nothing against the Tour. I just think I could do better in the Giro. However whether I make the team is a different matter. Fassa have said that they will only take two foreign riders to the Giro. So the early races will be very important for me."
CN: Who were your childhood heroes?
SM: As a boy I really looked up to Greg Lemond. Now it is every racer who finishes the Tour de France!
CN:Most of us will never ride in the Tour de France, what is it like?
SM: The thing about the Tour is, its not just the riding. When you get off the bike, you have people and microphones thrust at you constantly. You have no time for yourself. You go to the race, just knowing that it is going to be really stressy!
CN: But how does it physically feel?
SM: It totally wipes you out. You cannot imagine. I just felt sick every evening. And the next day you have to get back onto the bike and do another 200km. Its not comfortable at all. I felt like I had a cold the whole time. Afterwards, we had one week off, and then you start again.
CN: Was winning the special prize for first rider over le Col du Tourmalet the highlight of your Tour?
SM: It was great to be first over the mountain but for me the highlight was the TT where I came in the top ten. (This was the Stage 11 Grenoble - Chamrousse, Mountain ITT) This has given me the confidence to believe I can do well in the Tour. Before this year I haven't really prepared for the Tour. I wasn't sure that I could keep up, but now I'm sure of myself. Still I have mixed feeling about my Tour. I know that I can compete and do well there. And after the Tour I wanted do a lot of TT's, which was a big change!
CN: Did things change for you after the Tour?
SM: After the tour, people started to treat me differently. It was a bit strange; I was getting 30 to 60 emails a day, with cameraman and journalists wanting to talk to me. If I go to Bern (Swiss capital) then for sure people will recognise me.

Winning in France
Photo: © AFP
Suggesting that fame probably has its good parts, Sven agrees. "Sure it is good for the girls," he laughs. "But you can also be too famous. It depends on the level. With what I am, it's really cool!"
There is little doubt that Montgomery has a very bright future as a pro rider, with a number of pundits even tipping him as a future Tour winner. If he fulfills even some of his promise, Montgomery will have to get used to a much higher level of fame and the notoriety that fame brings.
And for what it is worth, Montgomery is thoroughly nice bloke. Not a cowboy at all.
Some of Sven's results in 2001
4th: 2nd Stage Circuit des Mines
3rd: 7th Stage Circuit des Mines
6th: Tour de Romandie
1st: 5th Stage GP Cycliste du Midi Libre
4th: Dauphiné Libére
9th: 11th Stage Tour de France
1st: 14th Stage Tour de France Grand Souvenier Jaques-Goddet trophy Col du Tourmalet.
2000
4th: Tour de Suisse
7th: Josef Voegeli Memorial
7th: GP Industria & Commercio di Prato
9th: Giro del l'Emilia
10th: Tour de l'Oise
10th: Swiss National Championships
15th: Tour de Romandie
26th: Giro del Lazio
Other Talking Cycling Interviews
---