News for October 21, 2001
Giro di Lombardia: Conclusion of the World Cup 2001
This year's Giro di Lombardia was held in damp, misty conditions making life tough for TV broadcaster RAI, which was attempting to show the classic live. An exciting finale saw the strongest man on the day, Danilo di Luca (Cantina Tollo) take the victory in front of Guiliano Figueras and Michael Boogerd. Erik Dekker (Rabobank) finished 12th and wrapped up the World Cup in the process, his stated goal at the beginning of the season.
Post 95th Giro di Lombardia comments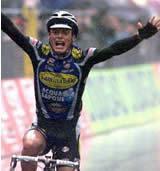 Danilo di Luca
Photo: © AFP
Winner Danilo Di Luca (Cantina Tollo)
"Today, I believed that I was tall! In the morning, I had a good feeling. In the sprint, I did not make an error, I did not look towards the line, I kept my head down."
"I remembered the 1999 finish. At about fifty meters there are some cobblestones where you really need to keep your balance. I knew that I had to pass at the top of the last corner. Compared to Figueras, I had the advantage of having a little more experience. But, a sprint of this kind, you really can never be sure!"
Richard Virenque (Domo, 4th)
"If it had been a few degrees warmer, that wouldn't have hurt! I showed good legs today, but I also felt the cold. Now, I am thinking already of 2002."
Erik Dekker (Rabobank, Overall World Cup winner)
"After my victory in the Amstel Gold Race. I decided build my season around the World Cup. I even went to the Tour de France working for this."
"The World Cup, it is a lot of very different races. To win it, takes all of your energy and concentration."
"To have this jersey, it is fantastic even if I would have preferred to be world champion. In Lisbon, I finished fourth. The result does not satisfy me, of course, but I don't think I made that many mistakes. In a sprint, Freire will beat me nine times out of ten."
"For next year, I cannot say if the World cup will be an objective. It is really necessary to win a race and to see afterwards. "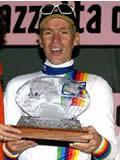 Erik Dekker
Photo: © AFP

Erik Dekker bio

The past two years has seen Erik Dekker rejuvenate his career. The recently crowned World Cup champion won three stages of the Tour de France in 2000 followed by the Clasica San Sebastian. This year, he set his sights on winning the overall World Cup, and he achieved that goal by being consistent throughout the season, as well as winning the Amstel Gold Race.

Dekker finished second in the World Junior Championships in 1987, as well as gaining a silver medal in the road race in Barcelona 1992. He turned professional then and has been gradually improving over the years before he burst through in 2000. He has always ridden for Dutch boss Jan Raas, current director of the Rabobank team.

Born: August 21, 1970 in Hoogeveen (Netherlands)
Lives: Meerle Hoogstraten (Belgium)
Height: 1.82 m, Weight: 66 kg
Teams: Buckler (1992), WordPerfect (1993-1994), Novell (1995), Rabobank (1996-2001)
Major wins
1994
Stage Vuelta al Pais Vasco Postgirot Tour of Sweden + 2 stages
1995
G.P. Jef Scherens
Postgirot Tour of Sweden + 2 stages
1996
Seraing-Aken-Seraing
Dutch TT Championship
1997
Ronde van Nederland + 1 stage
1999
2 stages Rheinland Pfalz Rundfahrt
G.P. Eddy Merckx (with Marc Wauters)
2000
2 stages Postgirot Tour of Sweden
3 stages Tour de France
Dutch TT Championship
Clasica San Sebastian
Josef Vögeli Memorial (with Marc Wauters)
Ronde van Nederland + stage
2001
Vuelta a Andalucia/Ruta del Sol
Amstel Gold Race
1 stage Tour de France
World Cup overall
World Cup winners for 2001
After Richard Virenque failed in his bid to win his second World Cup of the season, only one rider, Erik Zabel, holds that distinction. In the 10 rounds of the World Cup, the nine winners were as follows:
Round 1 - March 24: Milan-San Remo: Erik Zabel (Telekom)
Round 2 - April 8: Ronde Van Vlaanderen: Gianluca Bortolami (Tacconi)
Round 3 - April 15: Paris-Roubaix: Servais Knaven (Domo-Farm Frites)
Round 4 - April 22: Liège-Bastogne-Liège: Oscar Camenzind (Lampre)
Round 5 - April 28: Amstel Gold Race: Erik Dekker (Rabobank)
Round 6 - August 11: Clasica San Sebastian: Laurent Jalabert (CSC-Tiscali)
Round 7 - August 19: HEW-Cyclassics-Cup: Erik Zabel (Telekom)
Round 8 - August 26: Meisterschaft von Zurich: Paolo Bettini (Mapei)
Round 9 - October 7: Paris-Tours: Richard Virenque (Domo-Farm Frites)
Round 10 - October 20: Giro di Lombardia: Danilo Di Luca (Cantina Tollo)
Liese fails in Hour Record attempt
German cyclist Thomas Liese did not succeed in breaking Chris Boardman's World Hour Record of 49.441 km. On the track in Berlin, Liese (33) stopped after 37 minutes and 20 seconds. Pedalling a large gear of 56x14, he had completed 121 laps and was on a schedule of 'only' 48.5 km/h. At that point, he had lost 650 metres on his schedule.
Liese was part of the victorious East German team pursuit in the World Championships in 1989. He hasn't given up hope that he can break the famous record, and told reporters afterwards that "I will try it again. In the first 10 kilometres I felt good, it was going according to the time schedule. I was sure I could close any gaps."
However after 30 kilometres he was 30 seconds down and he called it quits soon afterwards, and said he would return next year "if the record exists then the way it is now."
The Hour Record was first set in 1893 by Frenchman Henri Desgrange, who rode 35.325 km in Paris. Since then it has been improved upon 35 times, with Brit Chris Boardman setting a formidable target of 56.375 km in 1996 using the famous 'Superman position' and a very streamlined bike. He had to set it again after the UCI changed the rules last year to only allow 'conventional bikes', and finished with 49.441 kilometres.
Freire to ride Escalada a Montjuic
World Champion Oscar Freire (Mapei-Quick Step), who finished 20th in the Giro di Lombardia today, will wear his rainbow jersey in Spain tomorrow for the Escalada a Montjuic, the final race on the Spanish calendar. Freire will ride with the back number 1, although he is not considered to be a favourite to win the climber's race. Others such as Angel Casero (Festina), Joseba Beloki (ONCE), Fabian Jeker (Milaneza MSS), Santiago Botero and Oscar Sevilla (Kelme) may find the short road race followed by an uphill time trial more to their liking.
Jose Maria Jiménez (iBanesto.com) will not be in Montjuic due to knee problems. Also Igor Gonzalez de Galdeano (ONCE) will not be present, as he has finished his season.
iBanesto.com to reduce
Spanish team iBanesto.com will be following the UCI's new regulations to cap the number of riders per professional team to 25. The team will lose Portuguese rider Candido Barbosa, and Spaniards Juan Carlos Dominguez, Cesar Solaun and Alberto Benito. Juan Antonio Flecha (Colchon Relax Fuenlabrada) will join the squad.
Cycling for a very good cause
Two American cyclists are riding from NY to San Diego to raise funds and bring awareness to the needs of the American Red Cross Disaster Relief Fund.
The riders will make their way New York City south to Florida, then west to San Diego. Steve, a former NYC Bicycle Messenger, and Nathan, a Continental Flight Attendant on leave, began pedaling their way across country on October 11.
Further information about the ride, and how to donate are available at www.RedaCrossAmerica.org.
What you wont find are the riders surnames. In a nice aside, the riders are trying to keep a low profile themselves, with all the publicity aimed at the cause rather than the riders achievement.
Wicklow 200 to go pro?
By Tommy Campbell, Irish Independent/Evening Herald/Sunday Independent
Participation in the 'Wicklow 200' for the ordinary cyclist is likened to riding a stage in the mountains in the Tour de France, or words to that effect, so said Sean Kelly.
But for some strange reason the Irish Veteran Cyclist Association who will hold their A.G.M. tomorrow (Sunday) in the Maples Hotel, Glasnevin, Dublin, have a recommendation on their agenda which will certainly cause a lot of interest: "That the organisation and running of the Wicklow 200 should be handed over to a Professional Body or the Irish Cycling Federation (ICF) or the Cycling Touring Club (CTC)."
Unquestionably this has been one of the greatest success stories of any organisation. The Vets as they are commonly called got this event up and rolling in the 80's and it has stood the test of time. Today to cater for a lot who wanted something shorter, they have a mini one which runs in tangent with the biggie.
A number of other organisations stole a leaf out of the Vets copy book and started to organise cycling events of a similar nature, generating a lot of cash which has been used wisely to fund very deserving causes, particularly in the health area.
The professionalism that is behind the running of the event is second to none and it would a great pity from Joe public's point of view if they turned their back on it. Hopefully, the membership will bring wisdom to bear on this matter and retain it within their ranks.
They have listed 23 motions, which will be dealt in a professional manner. Interestingly they have a motion, which is common to a lot of sporting organisations today. "That all the funds, assets and liabilities of the association be and are hereby transferred into the ownership of the Irish Veteran Cyclists Association Limited with effect from the 21st October 2001."
After 12 years at the helm as Secretary of the Vets, Donal O'Connell has decided to call it a day. Donal is a great administrator and a tireless worker on behalf of all cyclists. Hopefully he'll be around to help whoever fills his shoes in the shorter term, as this is one organisation who relies on the volunteer aspect because they have no paid officials.
Max Sciandri's re-launched web-site
British, Lampre - Daikin rider Maximilian Sciandri has just re-launched his web-site. The sites aims to go where other sites fear to tread, inside the head of a pro bike racer. See Max's site at www.maxsciandri.com. For a listing of many of the Pro-riders sites see Cyclingnews.com
Recent results and new features on Cyclingnews
Major Races and Events
September 7-29, 2002: Vuelta a España (GT) - Preview, stage list
May 11-June 2, 2002: Giro d'Italia (GT) - Preview, stage list, photos
July 6-28, 2002: Tour de France (GT) - Full preview & official route details
December 8: Superprestige Rd 5 (Cat. 1) - Erwin Vervecken
November 29-December 4: Six Days of Noumea (6D) - Sassone/Neuville victorious
November 26-December 1: Six Days of Zurich (6D) - Day 6 - McGrory/Gilmore/Schnider win
December 1: Melbourne Cup on Wheels (IM) - Scott Moller, Keirin, Sprint, Support races
December 2: Cyclo-cross World Cup #2 (CDM) - Sven Nijs again
November 24-December 3: Juegos Deportivos Centroamericanos (JR) - Final results
December 8-9: Frankfurter Rad-Cross (Cat. 2) - Alex Mudroch, UK National Trophy Series #4 (Cat. 3) - Roger Hammond, Grote Prijs Industrie Bosduin - Kalmthout (Cat. 1) - Bart Wellens, Int. Radquer Obergösgen (Cat. 2) - Björn Rondelez, Trofeo Mamma e Papa Guerciotti (Cat. 3) - Enrico Franzoi, Premio Egondo (Cat 3) - David Seco, Irish cyclo-cross championships - Robin Seymour

Results: local racing
Australia - CycleWest Promotions Omnium Series #2, Eastern Suburbs Summer Criterium Series, Carnegie Caulfield Tuesday criterium, Southern Cross Junior Track Open & Madison Cup, Manly Warringah CC, George Town Track Carnival, Carnegie Caulfield CC, Randwick Botany CC, Gold Coast CATS CC, Caesar's Illawarra CC, Caesar's Illawarra (track)
Denmark - Danish cyclo-cross Post Cup #3
Italy - Gran Premio Città di Bassano
Luxembourg - GP De Kopstal
New Zealand - Cyco Criterium series
Spain - Elorrio cyclo-cross
USA - Georgia Cross Series Championship, Chimborazo Grand Prix cyclo-cross, Boulder Cross Rd 6, New Mexico State Cyclo-x Champs, Sorrento Cyclo-x & California State Champ's, Boulder Cross Rd 5, Verge New England series, Northampton CC Cyclo-cross Championships, Chris Cross International CycloCross


Recently on Cyclingnews
Latest Photos - Olympic Armstrong, Boulder & California 'cross, More Pan-Am, Canberra, Boston & REI 'cross (December 13)
Cyclingnews survey - Reader Poll 2001 - Vote for your favourite riders
Letters - VDB, Lance, Boring Tour, Coastal Post, Respect (December 13)
Cyclingnews Interview - Ryan Bayley - the KFC-fuelled world champ (December 13)
Cyclingnews Interview - David McKenzie - Macca's back (December 12)
Cyclingnews Interview - Laurent Jalabert - Jalabert looks ahead (December 11)
Cyclingnews Interview - Charly Wegelius - A coffee stop with Charly (December 8)
Cyclingnews Interview - Sven Montgomery - Moving up in the world (December 6)
Cyclingnews Interview - Rochelle Gilmore - Road scholar (December 6)
Tales from the Peloton - 12 Hours of Oleta - MTB endurance race in Miami (December 6)
Tales from the Peloton - Tony Cruz - back to his roots (December 7)
Marco Polo Diary - Tour du Faso - Part II - Nathan Dahlberg's report (December 3)
Tech maintenance - Wheels - how to keep them true and tight
Tech letters - Headsets, Pegoretti, Carbon cage, gloves & tubes (December 10)
Tech news - Navigators power-tap, Headsets, Carbon cages (December 7)
Tech- Recycling - How to protect your chainstay for free
Tech Reviews: Egg Beater pedals; Park Tool belt; Shimano shoes; Speedplay
Breaking the Chain  - Dope planning and testing - From Willy Voet's book


cyclingnews.com Copyright ©1995-2000 Knapp Communications
Systems:

Adrian Butterworth