News for November 7, 2001
Virenque signs contract with Domo-Farm Frites
Richard Virenque has signed his two year contract with Domo-Farm Frites in Paris today. The official process took place in the salon Bâtimat, Porte de Versailles, and was overseen by Domo director general Jan de Clerck and team manager Patrick Lefevere.
31 year old Virenque knew on October 25 that he would be able to ride in the Tour de France in 2002, and he also has a place in the team until the end of 2003. Following his suspension for admitting to doping, he only started racing again in the middle of August, 2001, and produced some solid late season performances including winning Paris-Tours in an epic breakaway.
Virenque told the media today that "A sixth maillot pois in the Tour will be one of my objectives," referring to the jersey given to the most consistent climber in the Tour de France that he has already won five times. He added that he did not think he could win the 2002 Tour, because of his weakness in time trials.
VDB at it harder than ever
Belgian Frank Vandenbroucke's comeback is still progressing at a good level, according to reports in the Belgian media which is still displaying a keen interest in the Walloon Whirlwind's career. Although Frank went off the rails for two seasons after very mixed fortunes in 1999, he is now becoming a "genuine athlete" once more.
VDB's personal psychologist, Jef Brouwers, told Radio 1 that "He wants to find the true spirit of a rider again." Top physiotherapist Lieven Maesschalck added that "Vandenbroucke is riding three hours per day and is recovering very well."
It will soon be time for VDB to find a new team, after he was dismissed from Lampre-Daikin this year. His manager Paul de Geyter is reportedly in contact with several teams, and a decision should be known by the end of November.
Lotto-Adecco or Lotto-De Post?
Belgian team Lotto-Adecco will have the support of another big sponsor next year: De Post, the Belgian postal service. However, it has not yet been decided what the team will be called. Adecco, which came to the team's rescue after Mobistar pulled out, will still contribute a big part of the team budget and therefore wants its name both on the jersey and as part of the team. On the other hand, De Post may be offering more money, putting manager Christophe Sercu in a slightly delicate situation.
Lotto-Adecco-De Post may become a little cumbersome for TV commentators who prefer a shortened version, and TV is a big part of a team's exposure. One possibility is that De Post's glue manufacturer, Sika, becomes the third sponsor on the jerseys, but not part of the team name until around 2003.
Marco Fertonani signs with Phonak
Italian rider Marco Fertonani (Pennelli Cinghiale OK Gimmy) has signed a contract for one year with the Swiss team, Phonak Hearing Systems. He is 25 years old and a grimpeur with a lot of potential for the future and will be one of 23 riders in the team.
Slovenian 24 hour record
By Marko Baloh
Over the weekend of October 20-21, 2001 the Slovenian cyclist Jure Robic (a member of the Novice Extreme Team) covered the distance of 803 kilometres in a 24 hour period on the road. He beat the former endurance record of Marko Baloh (753 km in 2000).
The record attempt was held on a road circuit near Ljubljana, the capital of Slovenia. The start was in a small village called Britof and the circuit was as follows: Britof - Visoko - Cerklje - Komenda - Moste - Vodice - Valburga - Prebacevo - Kranj - Britof (40.5 km).
Robic is a former road cyclist who switched to MTB racing in year 1994 and this year finished with a second place in the Crocodile Trophy 2001 (an MTB stage race Down Under). He holds a full time job and still manages to keep in great shape, evidently. His next goal is Race Across America (RAAM).
Jure was aiming at the RAAM qualification mark, which is 680 km, but he has achieved much more. With 803 km in 24 hours he is one of the few cyclists that managed to cover more than 800 km in a day! His overall average speed was 33.46 km/h.
The following is a time table of his record attempt

Lap    Km       Time   Lap time   Average Speed            Rest
                                    Lap   Overall Temp.   Period 
Start  0      10:00:00                            15°C
1      40.5   11:08:25  1:08:25    35.52   35.52  15°C
2      81     12:17:00  1:08:35    35.43   35.47  16°C
3      121.5  13:24:17  1:07:17    36.12   35.69  17°C
4      162    14:34:13  1:09:56    34.75   35.45  20°C
5      202.5  15:45:11  1:10:58    34.24   35.20  18°C
6      243    16:54:22  1:09:11    35.12   35.19  17°C
7      283.5  18:06:10  1:11:48    33.84   34.99  17°C
8      324    19:21:26  1:15:16    32.29   34.63  15-17°C  4:30
9      364.5  20:32:05  1:10:39    34.39   34.60  15-17°C
10     405    21:47:07  1:15:02    32.39   34.36  15-17°C
11     445.5  23:02:12  1:15:05    32.36   34.17  16°C
12     486    00:20:10  1:17:58    31.17   33.90  15°C     4:50
13     526.5  01:34:53  1:14:43    32.52   33.79  15°C
14     567    02:55:10  1:20:17    30.27   33.51  15°C     5:10
15     607.5  04:12:20  1:17:10    31.49   33.37  15°C     1:00
16     648    05:26:30  1:14:10    32.76   33.33  15°C     1:00
17     688.5  06:39:45  1:13:15    33.17   33.32  15°C
18     729    07:50:40  1:10:55    34.27   33.37  15-14°C
19     769.5  09:02:18  1:11:38    33.92   33.40  14°C
Finish 803    10:00:00  0:57:42    34.69   33.46  15°C

Tenerife a candidate for Tour start in 2005 or 2006
The city of Santa Cruz de Tenerife in the Canary Islands wants to host the start of the Tour de France in 2005 or 2006. City officials held a meeting today with Tour de France race director Jean-Marie Leblanc to present the popular tourist city's official candidature.
Leblanc did not rule out the offshore start, although he reaffirmed that the race already has commitments until 2004 for starting locations. In 2002 it will be in Luxembourg, 2003 will be in France for the race's centenary, and 2004 will be in Belgium. Leblanc was particularly interested in the logistics of transporting the entire tour cavalcade (4000 people/1500 vehicles) to and from the Canary Islands, and where everyone would find accommodation.
Next April, a route for the prologue and stage one will be scouted, and it has also been confirmed that the Criterium International may well take place on the island in 2003 and 2004, organised by the Sociètè du Tour de France.
IOC to decide tomorrow about EPO test
The International Olympic Committee (IOC) will meet with medical experts on Wednesday in Lausanne to decide how EPO testing will be done at next year's Winter Olympics in Salt Lake City. In attendance will be the IOC's medical committee, headed by Dr Patrick Schamasch, and representatives of the EPO-accredited labs in Châtenay-Malabry, Lausanne, Barcelona, Oslo and Sydney.
The most important thing is to determine at what level an athlete will be declared positive for EPO. Limits of 75, 80 and 90% of EPO basic forms in a person's urine have been proposed to define a positive test. The average level of basic EPO forms for non-doped persons is 28.2 percent.
"This threshold enables to us to avoid the false positives," said Schamasch who said that there were difficulties encountered at the Sydney Olympics using both a blood screen and a urine test.
Professor Jacques De Ceaurriz, of the laboratory of Châtenay-Malabry, said that "If we take the threshold of 80%, the risk of a false positive is 1 in 3000. With 83%, it is no more than 1 in 10,000. At 86%, it falls to 1 in 30,000."
The EPO tests are expected to be important to the sports of cross-country skiing, biathlon, and long distance speed skating. This is but one step along the road to a unified, anti-doping policy applicable to all sports, that the World Anti-Doping Association hopes to implement by 2003.
Scott McGrory's new site
Olympic madison champion Scott McGrory has his website, www.scottmcgrory.com up and running, in which he describes his life as one of the top Six Day racers in the world. The winter track season is now in full swing, with the Six Days of Grenoble and Dortmund drawing to a close. Prior to this was the Six Days of Mexico, which was won by Scott and his new Mapei partner Matthew Gilmore. However, McGrory did not get a start in Dortmund this year, much to his chagrin.
He relates the reasons in his online diary, which is one of several sections in the site.
"OK, Dortmund. It's quite strange to not be buzzing around the Dortmund Westfallen Halle at this time of year, but I am sure I've made the correct decision by not starting. There were a couple of issues we were discussing but to be honest I've had nothing but problems with this promoter since I left his old road team. He was the boss of the first German team I rode for from 96 to 98 (Die Continentale) & was very angry when I changed to Team Gerolsteiner in 99 & 00. I understood his disappointment but as Gerolsteiner was a bigger team and he couldn't match their offer, it all seemed to make perfect sense to me. But ohhhh no, he's tried to make life as difficult as possible for me at the Dortmund Six ever since. To lose complete respect for someone you once held high is very disappointing, and I dare say Matt & I will be riding next year in Grenoble, as it is always run on the same dates as Dortmund. Unfortunately, it was too late to organize to ride Grenoble for this year."
So no Dortmund for Scott this year, although he's been keeping in touch with the riders. One rider he has "a huge amount respect for" is Erik Zabel, who is partnered with Dortmund favourite Rolf Aldag. The Zabel/Aldag combo is trying to beat Swiss pair of Bruno Risi/Kurt Betschart, and it looks like coming down to the wire. Win or lose, Zabel will certainly do well out of it.
Finally he writes that "Marty Nothstein is riding in Dortmund, yes Marty (Olympic Sprint Champion) Nothstein. You may or may not know that Marty has given up sprinting to try his hand at the endurance side of the sport. There's a bit of a myth getting around in some circles that Six Day racing is not so hard. I think they need to have a talk to Marty and his partner Jame Carney, after the first hour Madison they are 12 laps down. He may get better at it but not for a couple of years, they're down to ride Munich next week as well, however, they may rethink that after being so scarred in Dortmund."
Scott McGrory will be providing his comments about the riders and the races in the Sixes throughout the winter, and it certainly looks like entertaining reading.
Tour de Faso update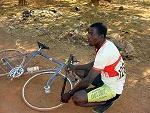 Where's that damn team car?
Photo: © Denis Descamps
Although Sunday was a rest day at the Tour de Faso, not everyone was taking it easy. The riders were treated to a display of highly enthusiastic amateur racing round the streets of Ouahigouya, and in scenes reminiscent of the early days of the Tour de France watched local riders doing their own tech support and racing for the sheer joy of it.
The rest day report is here and we also have pictures from stage 5, linked from our photography page.
Cyclingnews talks with Matt White
Australian US Postal rider Matthew White is the subject of the latest Cyclingnews interview, End of a Tough Year, as he finished the season at the Noosa International Criterium. Jeff Jones caught up with him poolside for a chat about this season's performances and what he hopes to do in future. It will be the first of several interviews and features on the boys in Noosa.
Click here for the full interview
Kelly the star in Melbourne Cup on Wheels
Multiple Australian Olympic Games medal winner and former World Champion, Shane Kelly, will be among the contenders for the opening event of the 2001-02 Victorian track season, the $15,000 Melbourne Cup on Wheels, to be held at Melbourne's Vodafone Arena on Saturday, December 1.
Tickets go on sale for the 76th annual event on November 15 and race promoter Cyclists International is predicting high demand for both reserved and non-reserved places. "This is going to be one of the best cycling seasons for years," said CI spokesman Barry Langley.
"We have a full program of races, a top class venue; and we are expecting some of Australia's best riders including last year's winner Justin Evans from Ararat, who will be returning to defend his title. We have rectified the teething problems we had in our first season at the venue last year and look forward to a fantastic season of events, starting with the Melbourne Cup On Wheels."
With nominations from the likes of new world champion Ryan Bayley from Perth, Olympic bronze medallist and Goodwill Games gold medallist Sean Eadie from Sydney, dual junior world champion Mark French from Melbourne and junior world champion Jason Niblett from Horsham, patrons will be treated to some top racing on the fast 250 metre board track.
Around 200 entries are expected for the 2000 metre/eight lap feature handicap event, which will be determined in a 20-strong final, following a series of heats during the night.
Snowgum and ITS to sponsor MTB Round 2 in Victoria
Snowgum Adventure Clothing has signed on as the Naming Rights Sponsor of the 2nd Round of Cycle Sport Victoria's MTB State Trophy. The race to be held on Sunday the February 10, 2002 on the beautiful grounds of the award winning Tuck's Ridge Winery, Red Hill will see riders rewarded with quality prizes for hard work put in during training and competition. Race Director and Promoter Dean Langenberg said of the deal, "this is a great show of support by an Australian company in what we believe to be a sport that offers both the competitor and spectator so much. "
Melbourne based logistics company, International Trade Services joins Snowgum as the latest company to get behind MTB racing in Victoria. International Trade Services (ITS) has become the naming rights sponsor of the Men's Sport Class Race. John Gaunt, Managing Director of ITS said "this is a great opportunity for our company to be associated with a professionally run event and at the same time help develop an exciting sport."
Dean Langenberg welcomed the involvement of ITS and commented on the fact that, "it was encouraging to see non-cycling companies enthusiastic about their association with our great sport."
Recent results and new features on Cyclingnews
Major Races and Events
September 7-29, 2002: Vuelta a España (GT) - Preview, stage list
May 11-June 2, 2002: Giro d'Italia (GT) - Preview, stage list, photos
July 6-28, 2002: Tour de France (GT) - Full preview & official route details
December 8: Superprestige Rd 5 (Cat. 1) - Erwin Vervecken
November 29-December 4: Six Days of Noumea (6D) - Sassone/Neuville victorious
November 26-December 1: Six Days of Zurich (6D) - Day 6 - McGrory/Gilmore/Schnider win
December 1: Melbourne Cup on Wheels (IM) - Scott Moller, Keirin, Sprint, Support races
December 2: Cyclo-cross World Cup #2 (CDM) - Sven Nijs again
November 24-December 3: Juegos Deportivos Centroamericanos (JR) - Final results
December 8-9: Frankfurter Rad-Cross (Cat. 2) - Alex Mudroch, UK National Trophy Series #4 (Cat. 3) - Roger Hammond, Grote Prijs Industrie Bosduin - Kalmthout (Cat. 1) - Bart Wellens, Int. Radquer Obergösgen (Cat. 2) - Björn Rondelez, Trofeo Mamma e Papa Guerciotti (Cat. 3) - Enrico Franzoi, Premio Egondo (Cat 3) - David Seco, Irish cyclo-cross championships - Robin Seymour

Results: local racing
Australia - CycleWest Promotions Omnium Series #2, Eastern Suburbs Summer Criterium Series, Carnegie Caulfield Tuesday criterium, Southern Cross Junior Track Open & Madison Cup, Manly Warringah CC, George Town Track Carnival, Carnegie Caulfield CC, Randwick Botany CC, Gold Coast CATS CC, Caesar's Illawarra CC, Caesar's Illawarra (track)
Denmark - Danish cyclo-cross Post Cup #3
Italy - Gran Premio Città di Bassano
Luxembourg - GP De Kopstal
New Zealand - Cyco Criterium series
Spain - Elorrio cyclo-cross
USA - Georgia Cross Series Championship, Chimborazo Grand Prix cyclo-cross, Boulder Cross Rd 6, New Mexico State Cyclo-x Champs, Sorrento Cyclo-x & California State Champ's, Boulder Cross Rd 5, Verge New England series, Northampton CC Cyclo-cross Championships, Chris Cross International CycloCross


Recently on Cyclingnews
Latest Photos - Olympic Armstrong, Boulder & California 'cross, More Pan-Am, Canberra, Boston & REI 'cross (December 13)
Cyclingnews survey - Reader Poll 2001 - Vote for your favourite riders
Letters - VDB, Lance, Boring Tour, Coastal Post, Respect (December 13)
Cyclingnews Interview - Ryan Bayley - the KFC-fuelled world champ (December 13)
Cyclingnews Interview - David McKenzie - Macca's back (December 12)
Cyclingnews Interview - Laurent Jalabert - Jalabert looks ahead (December 11)
Cyclingnews Interview - Charly Wegelius - A coffee stop with Charly (December 8)
Cyclingnews Interview - Sven Montgomery - Moving up in the world (December 6)
Cyclingnews Interview - Rochelle Gilmore - Road scholar (December 6)
Tales from the Peloton - 12 Hours of Oleta - MTB endurance race in Miami (December 6)
Tales from the Peloton - Tony Cruz - back to his roots (December 7)
Marco Polo Diary - Tour du Faso - Part II - Nathan Dahlberg's report (December 3)
Tech maintenance - Wheels - how to keep them true and tight
Tech letters - Headsets, Pegoretti, Carbon cage, gloves & tubes (December 10)
Tech news - Navigators power-tap, Headsets, Carbon cages (December 7)
Tech- Recycling - How to protect your chainstay for free
Tech Reviews: Egg Beater pedals; Park Tool belt; Shimano shoes; Speedplay
Breaking the Chain  - Dope planning and testing - From Willy Voet's book


cyclingnews.com Copyright ©1995-2000 Knapp Communications
Systems:

Adrian Butterworth