15th Tour du Faso - 2.5
Burkina Faso, October 31-November 11, 2001
Main Page Results Previous stage
Rest Day- November 4: Ouahigouya
Back to cycling's roots
It was a rest day for the riders, so local amateur racers took centre stage in a race round the streets of Ouahigouya, as Denis Descamps reports.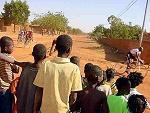 Almost a cyclo-cross
Photo: © Denis Descamps

On Sunday November 4 the Tour du Faso's riders were granted a rest day. And they had the opportunity to attend an incredible show: an amateur race in the streets of Ouahigouya. Imagine old one-gear bicycles, imagine single colored jerseys, imagine riders aged from 15 to 45, imagine a circuit passing through sandy roads, imagine a rider repairing his own bike on the roadside, imagine a hot crowd cheering on the riders, imagine a fabulous & funny speaker talking for hours, imagine cows on the finish line a few minutes before the finish, imagine a Northern town of Burkina Faso, one of the poorest countries in the world… Then you can guess what an amateur race is here: a moment of pure happiness!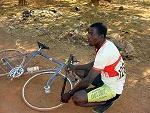 Where's that damn team car?
Photo: © Denis Descamps
Belgian rider Patrice Hemroulle (Aliplast), winner of Tour du Faso Stage 3, was like a kid: "I can't believe my eye ! It's the most spectacular race I've ever seen. No cheating. Just fun. It's so moving. It looks like images I've seen from the first Tour de France."
Imagine Cycling's First Ages…
---