World Track Championships - CM
Melbourne, Australia, May 26-30, 2004
Tales from the track
News and gossip from day 3 of the Melbourne World Track Championships
By Karen Forman in Melbourne
Tchalykh wins Russian battle for IP bronze
By Karen Forman in Melbourne
Tchalykh (right) on the women's IP podium
Photo ©: Mark Gunter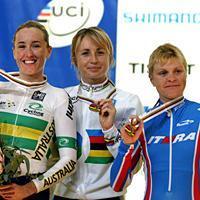 Elena Tchalykh knew it would be difficult to win a gold medal in the women's individual pursuit at the 2004 World Track Championships - because everyone was there with an Olympic dream just like her own.
The 30 year old Russian has contested every world championships since 1990, when she won the individual pursuit in England. While she hoped she might be in with a chance, she had been realistic about her chances of becoming the world's best again.
"It's an Olympic year so everybody is trying to do well enough to qualify for Athens," she said. "This is the last chance."
"Inside I was always hoping I would win the gold," she said. "But I didn't know if I could."
In the end she didn't, but Tchalykh, whose personal best time is two seconds outside New Zealander Sarah Ulmer's new world record of 3.30.604, did clinch the bronze medal after a gutsy ride against her Russian teammate Olga Slyusareva in 3.34.199 (3.36.943).
"I am very happy with this," the diminutive blonde told Cyclingnews in Russian through her team manager, Dimitri Bulat. "This is the only event I came to do and now I have qualified for Athens which is what I wanted to do. I will try to break the world record at the Olympics."
She doesn't think racing in the northern hemisphere again will change her performance much. "If you're ready it doesn't matter where you are."
A full-time bike rider, she is coached by her partner, with whom she hopes to have a baby after the Olympic Games. She won't be swapping her bicycles or nappies completely, however. "I will keep racing until I am really old. I don't feel I have done everything I wanted to yet."
Like her peers, she wants an Olympic gold.
Day 3 News from the Melbourne World Track Championships
By Karen Forman in Melbourne