World Track Championships - CM
Melbourne, Australia, May 26-30, 2004
Event program and results Final start list
Men's Scratch Race - May 28, 2004
Henderson continues kiwi gold rush
By Mal Sawford
Greg Henderson celebrates
Photo ©: Mark Gunter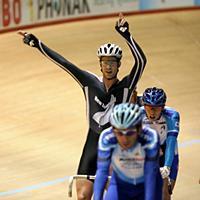 May 28, 2004: Greg Henderson won New Zealand's first Men's World Track Cycling Championship gold medal on a special night for the Kiwi's, with his win following countrywoman Sarah Ulmer's come-from-behind win in the Individual Pursuit.
In a similar scenario to the Men's Points Race, 27 riders had qualified for an event restricted to 24 riders. Once again, two 10 kilometre heats were run, to eliminate three unfortunates. The first heat was uneventful save for a brief solo effort from Milan Kadlec (Czech Republic). He would pay for his effort later as he finished last in the dash to the line, trailing Italian Samuele Marzoli and Hong Kong's Kam Po Wong.
Wong was elevated to the final, however, after the Italian was relegated for moving off his line in the final 200 metres. The second heat lacked much excitement until Tomas Margalef (Uruguay) attacked with six laps remaining, stretching out the field. Canadian Martin Gilbert was caught at the back, and lost two lengths to the bunch, but clawed his way back into contention, snatching the final qualifying spot from Miquel Alzamora (Spain), who realised too late he was in danger.
Greg Henderson (New Zealand)
Photo ©: Mark Gunter

The 60 lap final was a much more entertaining affair, with the opening laps producing a salvo of attacks. Australia's Mark Jamieson was clearly feeling good, bridging to the first move from Ilya Chernyshov (Kazakhstan), Wong and Yauhen Sobal (Bielorussia), after nine laps. The bunch reformed two laps later, before Henderson went on the attack, opening a 50 metre lead. Japan's Kei Uchida set off in pursuit, followed by Jamieson.
With the bunch in go-slow mode, Henderson eased a little to allow Jamieson to reach him, after Uchida had found the pace too hot. Sobal blasted across the gap, and with 40 laps remaining the leading trio had a five second lead. Sobal and Jamieson reeled off some hard turns, and by the half-way mark, the tail of the bunch was in sight.
As the leaders latched onto the field to take their lap, a counter-attack jumped away led by Robert Slippens (Netherlands), Walter Perez (Argentina) and Volodymyr Rybin (Ukraine). The bunch didn't chase, and the second group was able to lap the field in only a dozen laps.
Franco Marvulli (Switzerland), the winner of the only two Scratch races contested at previous World Championships, attacked shortly after Slippens' group made contact, and split the field. Sobal was the only rider on the leading lap to make the split, forcing Jamieson to fire up again to close the move down. The last attack came from Linas Balciunas (Lithuania) with eight laps remaining, but a fresh looking Sobal brought things back together.
Mark Jamieson (Australia)
Photo ©: Mark Gunter

The pace lifted remarkably in the final laps, with Slippens leading out at the bell and looking good. Henderson was well positioned, and despite having to battle past lapped rider Alex Rasmussen (Denmark) in the final bend, sprinted clear in the home straight to relegate Slippens to the Silver medal. Bronze went to Walter Perez.
An elated Henderson, who rides in the USA for the Health Net-Maxxis team, celebrated his win with a succession of victory laps. When he finally forced himself off the track, he was quickly back to the New Zealand enclosure saying, "I'm the World Champion! Just 30 laps of pumping hard and I'm World Champion! I've got to ring someone. This is the best day of my life - World Champion, Rainbow stripes, golly gosh!"
Henderson admitted Ulmer's big win had motivated him, revealing, "I was hoarse mate - you should have seen me. I got on my bike and I had goose bumps. I thought right, got nothing to lose."
Silver Medallist Robert Slippens thought he had read the race to perfection, saying, "the first guys to attack took a very long time to take a lap. When I attacked I did not go too hard, so two came with me, and although it was not easy, it was quick to take a lap.
The points race podium
Photo ©: Mark Gunter

"In the end I was fresh, and I tried but Henderson was too good." Asked if he felt he was sprinting to the Gold Medal as he led into the back straight, he said, "I was not sure in the back straight because its still a long way to go, but coming off the last banking I thought f…, I'm going to win, but then Henderson came past."
This was Slippens' best result to date, and his first podium finish. "I'm happy, but it was one metre!" The Madison is his main goal this week, and Slippens feels "that's my main event, that's what I'm going for. My condition is good."
Bronze Medallist Walter Perez is another targeting a good result in the Madison, but felt he could have done even better if things had gone to plan. "I feel some anger that my plan to hit the lead with one and a quarter laps to go did not eventuate. I hit the lead over one and a half laps to go and was stuck at the bottom of the track. My preferred tactic is to sprint over the top, but in the end we play the cards we are dealt. I didn't go too deep into the tank tonight, so my form bodes well for the Madison, where I will be looking for a Gold Medal with my partner Juan Curuchet."
Greg Henderson
Photo ©: Mark Gunter

Mark Jamieson was one of the three riders to finish on the leading lap, but out of the medals, which he attributed to being "still a bit young and naive. I'm happy with the result but would have liked to see what I could have done with what was left in my legs. At the finish I didn't know who had come across with Slippens, so I wasn't sure who I had to beat, so for a while I thought I might come away with a Bronze."
Photography
Images by Mark Gunter
Results
Final - May 28, 2004
 
1 Greg Henderson (New Zealand)
2 Robert Slippens (Netherlands)
3 Walter Perez (Argentina)
4 Yauhen Sobal (Bielorussia)
5 Mark Jamieson (Australia)
6 Volodymyr Rybin (Ukraine)
7 Alex Rasmussen (Denmark)
8 Vasilis Anastopoulos (Greece)
9 Roland Garber (Austria)
10 Martin Gilbert (Canada)
11 Kei Uchida (Japan)
12 Mathieu Ladagnous (France)
13 Juan Pablo Forero Carreno (Colombia)
14 Serguei Koudentsov (Russia)
15 Tomas Margalef (Uruguay)
16 Dean Downing (Great Britain)
17 Dimitri De Fauw (Belgium)
18 Franco Marvulli (Switzerland)
19 James Carney (USA)
20 Sven Teutenberg (Germany)
21 Kam Po Wong (Hong-Kong)
22 Linas Balciunas (Lithuania)
23 Jean-Pierre Van Zyl (South Africa)
24 Ilya Chernyshov (Kazakhstan)

Results of qualifying heats
Heat 1 - May 28, 2004
 
1 Sven Teutenberg (Germany)
2 Dimitri De Fauw (Belgium)
3 Serguei Koudentsov (Russia)
4 Greg Henderson (New Zealand)
5 Robert Slippens (Netherlands)
6 Walter Perez (Argentina)
7 Vasilis Anastopoulos (Greece)
8 Franco Marvulli (Switzerland)
9 Yauhen Sobal (Bielorussia)
10 Mathieu Ladagnous (France)
11 Volodymyr Rybin (Ukraine)
12 Kam Po Wong (Hong-Kong)
13 Milan Kadlec (Czech Republic)
REL Samuele Marzoli (Italy)
 
Heat 2 - May 28, 2004
 
1 Tomas Margalef (Uruguay)
2 Mark Jamieson (Australia)
3 Linas Balciunas (Lithuania)
4 Kei Uchida (Japan)
5 Jean-Pierre Van Zyl (South Africa)
6 James Carney (USA)
7 Ilya Chernyshov (Kazakhstan)
8 Juan Pablo Forero Carreno (Colombia)
9 Alex Rasmussen (Denmark)
10 Dean Downing (Great Britain)
11 Roland Garber (Austria)
12 Martin Gilbert (Canada)
13 Miquel Alzamora Riera (Spain)

Start lists
Finals
22 Dimitri De Fauw (Belgium)
169 Greg Henderson (New Zealand)
5 Walter Perez (Argentina)
203 Franco Marvulli (Switzerland)
76 Mathieu Ladagnous (France)
125 Kam Po Wong (Hong-Kong)
221 Tomas Margalef (Uruguay)
145 Linas Balciunas (Lithuania)
183 Jean-Pierre Van Zyl (South Africa)
141 Ilya Chernyshov (Kazakhstan)
60 Alex Rasmussen (Denmark)
19 Roland Garber (Austria)
12 Sven Teutenberg (Germany)
192 Serguei Koudentsov (Russia)
158 Robert Slippens (Netherlands)
115 Vasilis Anastopoulos (Greece)
30 Yauhen Sobal (Bielorussia)
217 Volodymyr Rybin (Ukraine)
13 Mark Jamieson (Australia)
138 Kei Uchida (Japan)
223 James Carney (USA)
41 Juan Pablo Forero Carreno (Colombia)
86 Dean Downing (Great Britain)
32 Martin Gilbert (Canada)
Qualifying Heat 1 
 
169 Greg Henderson (New Zealand)
111 Sven Teutenberg (Germany)
192 Serguei Koudentsov (Russia)
5 Walter Perez (Argentina)
22 Dimitri De Fauw (Belgium)
128 Samuele Marzoli (Italy)
30 Yauhen Sobal (Bielorussia)
158 Robert Slippens (Netherlands)
203 Franco Marvulli (Switzerland)
76 Mathieu Ladagnous (France)
115 Vasilis Anastopoulos (Greece)
125 Kam Po Wong (Hong-Kong)
52 Milan Kadlec (Czech Republic)
217 Volodymyr Rybin (Ukraine)
 
Qualifying Heat 2 
 
60 Alex Rasmussen (Denmark)
86 Dean Downing (Great Britain)
223 James Carney (USA)
62 Miquel Alzamora Riera (Spain)
13 Mark Jamieson (Australia)
138 Kei Uchida (Japan)
19 Roland Garber (Austria)
183 Jean-Pierre Van Zyl (South Africa)
141 Ilya Chernyshov (Kazakhstan)
41 Juan Pablo Forero Carreno (Colombia)
145 Linas Balciunas (Lithuania)
32 Martin Gilbert (Canada)
221 Tomas Margalef (Uruguay)