World Track Championships - CM
Melbourne, Australia, May 26-30, 2004
Event program and results Men's TT
Women's 500m time trial - May 30, 2004
Meares takes Australia's first individual gold medal
By Karen Forman in Melbourne
Anna Meares (Australia)
Photo ©: Mark Gunter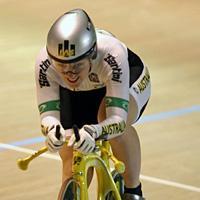 Queenslander Anna Meares won Australia's first individual gold medal at the 2004 World Track Championships and confirmed her country's berth in the Olympic time trial with a sensational no-holds-barred ride in the women's 500 metre time trial this afternoon.
Meares completed the distance in a dazzling personal best of 34.342, beating a talented field which included the current world record holder Jiang Yonghua from China (whose record stands at 34.000) and the gold medallist for the past two years, Natallia Tsylinskaya of Belarus. Yonghua took the silver medal today with 34.675 while Lithuanian Simona Krupeckaite took the bronze with 34.788.
The 20 year old from Rockhampton's gold was also the first gold medal won by an Australian female at world championships since Lucy Tyler Sharmen won the women's individual pursuit in Bordeaux, France, in 1998.
She was understandably ecstatic with her win, which followed her silver medal in the women's sprint yesterday and, she said, came "about two years" sooner than what she had even dreamed of.
Overcome with emotion, Anna Meares
Photo ©: Mark Gunter

"I was just trying to go for broke," she said after she completed the ride. She was 11th in a field of 18. "I couldn't see the time but I knew after a lap that I was up because the crowd was going wild."
Still, she "wanted to hide" while she waited for her rivals to go through their paces. "I couldn't sit down but I couldn't stay on the rollers because I thought I'd fall off. I didn't want to look at the scoreboard but I knew from the crowd's reaction that I had it."
First on hand to congratulate her was big sister Kerrie Meares, who won the bronze medal in this event in Denmark in 2002. As the sisters hugged, Anna was crying tears of joy. She then went for a lap of honour bearing the Australian flag, to tumulturous applause from the capacity crowd.
The Australian camp was jubilant. Australian Cycling Federal president Mike Victor personally congratulated Meares.
"I think the beauty of it was that nobody expected it," Meares said. "It (the time trial) wasn't really my big goal. I felt really good surprisingly, because after last night's sprints I questioned where my legs would be at - it was hard racing last night.
"It is an unbelievable feeling, I can't explain it. It's my personal best so far. Yep. I probably didn't expect results like this . . .I thought it would be another year of two away. "
Anna Meares
Photo ©: Mark Gunter

Meares confirmed that coach Martin Barras had changed her training program in the lead up to the worlds. "We went back to the basic building blocks then trained me up for this," she said. "But I can't tell you what we did. That's a secret."
Meares now plans to go home to Rockhampton for a few days before returning to AIS headquarters in Adelaide to prepare for the Olympics. She had previously qualified for the Australian shadow Olympic team.
Kerrie Meares was full of adoration for her little sister. "This year she has taken it to another level," she said. "She is just absolutely flying. It's great to see the support she is getting, she really needs it. She has been working so much harder."
Kerrie has been forced to take time off completion with a back injury . . . and her absence has been fully taken advantage of by her younger sister.
Photography
Images by Mark Gunter
Results
1 Anna Meares (Australia)               19.483 (2)   34.342 (52.413km/h)
2 Yonghua Jiang (China)                 19.398 (1)   34.675 (51.910km/h)
3 Simona Krupeckaite (Lithuania)        19.747 (5)   34.788 (51.741km/h)
4 Yvonne Hijgenaar (Netherlands)        19.567 (3)   34.859 (51.636km/h)
5 Natallia Tsylinskaya (Bielorussia)    19.693 (4)   34.913 (51.556km/h)
6 Cuihua Jiang (China)                  19.793 (7)   34.953 (51.497km/h)
7 Tamilla Abassova (Russia)             20.059 (9)   35.193 (51.146km/h)
8 Elisa Frisoni (Italy)                 19.897 (8)   35.250 (51.063km/h)
9 Nancy Contreras (Mexico)              19.764 (6)   35.313 (50.972km/h)
10 Victoria Pendleton (Great Britain)   20.261 (14)  35.360 (50.904km/h)
11 Lori-Ann Muenzer (Canada)            20.154 (11)  35.454 (50.770km/h)
12 Clara Sanchez (France)               20.097 (10)  35.678 (50.451km/h)
13 Tanya Lindenmuth (USA)               20.210 (12)  35.794 (50.287km/h)
14 Antonella Bellutti (Italy)           20.222 (13)  35.815 (50.258km/h)
15 Susan Panzer (Germany)               20.296 (15)  35.973 (50.037km/h)
16 Evgenia Radanova (Bulgaria)          21.559 (16)  37.741 (47.693km/h)
17 Anastasia Tchulkova (Russia)         21.639 (17)  38.010 (47.355km/h)
Start list
56 Anastasia Tchulkova (Russia)
8 Evgenia Radanova (Bulgaria)
28 Susan Panzer (Germany)
50 Tamilla Abassova (Russia)
37 Elisa Frisoni (Italy)
41 Simona Krupeckaite (Lithuania)
34 Antonella Bellutti (Italy)
62 Tanya Lindenmuth (USA)
21 Clara Sanchez (France)
6 Anna Meares (Australia)
24 Victoria Pendleton (Great Britain)
9 Lori-Ann Muenzer (Canada)
13 Yonghua Jiang (China)
46 Yvonne Hijgenaar (Netherlands)
12 Cuihua Jiang (China)
44 Nancy Contreras (Mexico)
7 Natallia Tsylinskaya (Bielorussia)