World Track Championships - CM
Melbourne, Australia, May 26-30, 2004
Tales from the track
News and gossip from day 3 of the Melbourne World Track Championships
By Karen Forman in Melbourne
Fiedler eyes retirement after Athens
Shane Kelly & Jens Fiedler (Germany)
Photo ©: Shane Goss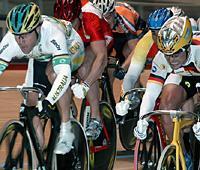 Two times Olympic sprint champion and twice world keirin champion, Jens Fiedler, will probably swap cycling for coaching and sport management and retire at the end of the year.
The much decorated rider from Chemnitz, south of Berlin, who won gold in the sprints in Barcelona and Atlanta and was world keirin champion in 1998 and 1999, says he has already achieved all his dreams and it looks like the 2004 season could be his last.
"I have many things I want to do," he told Cyclingnews before lining up for the keirin at the 2004 World Track Championships in Melbourne this week.
"I am 34 now. I will stay in cycling - I would like to look at management and also doing something for the government and the [cycling] federation. I will be happy."
He has, after all, been a long time on the bike. "I started when I was 10. I went to see the world championships and I said, 'that is what I want to do', so that was what I did," he said.
His performance at these world's might be seen by some as disappointing for a rider with so much history, but Fiedler says it wasn't so important to be going perfectly here.
"The focus is more on the Olympics," he said. "I have been going not bad. I was fourth in the teams sprint two days ago after qualifying fourth [with Carsten Bergemann and John Matthias in 44.765 after losing to Great Britain's Chris Boy, Craig McLean and Jamie Staff]."
The gold and silver went to France and Spain.
"This is a normal placing for us," he said. "We will be fine for Athens."
With the team sprint out of the way, he was planning on concentrating on the keirin and the sprint.
"For me I like all three events," he said. "I want to get good results in all three in Athens. Nothing is certain yet but I would be one of the guys with the best chance to be in the German team if we qualify."
But while Fiedler finished second behind Australian Shane Kelly in the third heat of the first round to earn his way to the second round, he finished fourth in the first heat of the second round behind Australian Ryan Bayley, Dutch rider Teun Mulder and Briton Jamie Staff and didn't get through to the final.
His third and final appearance in Melbourne will be on Saturday, in the sprint qualifying. Fiedler will ride off 27th of the 28-strong field and faces some strong competition in the form of 2002 world champion, Australian Sean Eadie, 1999 and 2003 champion French Laurent Gane, 1996,97 and 98 champion Florian Rousseau and 2000 champion Jan Van Eijden from Germany.
"I arrived in Australia one and a half weeks ago and have been using this as preparation for my fourth Olympics," Fiedler said. "It would be great to get some medals, but really I don't have many more dreams. I have realised them all. What I would like now is just a good finish, a good result to say goodbye with."
Day 3 News from the Melbourne World Track Championships
By Karen Forman in Melbourne