World Track Championships - CM
Melbourne, Australia, May 26-30, 2004
Tales from the track
News and gossip from day 3 of the Melbourne World Track Championships
By Karen Forman in Melbourne
Adda outa pursuit contention but still smiling for peace
Cherifa Adda (Algeria)
Photo ©: Mark Gunter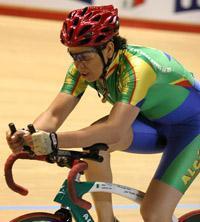 She finished a minute and 21 seconds behind the fastest qualifier, which left her in 21st (last) place and not able to move forward to the first round.
That meant Algerian rider Cherifa Adda was still a very long way from her dream of Olympic selection, but still the proud 40 year old could not wipe the smile off her elated face at Melbourne's Vodafone Arena velodrome today.
Rather than allow herself to feel dejected, the Algerian-born temporary resident of Belgium (for training purposes) remained on the trainer in the French team compound in the centre of the track for almost an hour after her ride, chatting in animated French to journalists and talking about the main reason she rides the bike.
"I am old, 40 years old," she told Cyclingnews through interpreter Selina Hughes. "I have been riding the bike since I was very tiny and since 1991 at this level. The reason I ride is to promote peace. I want to get rid of the fear. I want to encourage African women and Arabian women but especially Algerian women to go ahead, not to give up, and to achieve all their dreams."
This self proclaimed ambassador of peace even wears on her skinsuit the words: "Amitie + Communicate = Paix" (friendship and communication is peace) and "Solidarite + Amour = Paix (solidarity and love is peace) .
She doesn't really like to talk about why she embarked on this path - and obviously it's not an easy thing for a 40 year old from to make it to world championship level in a tough sport like cycling. But she does tell us that a lot of her passion stems from her own experiences in a home country she loves fiercely, but which has had more than its fair share of political difficulties and seen incredible violence against its people.
You can't help but be inspired by this rider. In fact, this reporter left Cherifa (still happily pedalling on the rollers) with a swell in her heart and a tear in her eye, a sharp reminder of how precious life is and how nothing is impossible, no matter how hard it appears.
Sometimes cycling isn't only about the gold medals . . .
Adda's bike spreads the message
Photo ©: Mark Gunter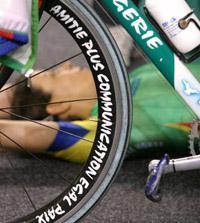 Adda was kidnapped in Algeria in 1991 and suffered two years of hell. In 1993 she escaped to Senegal where she remained for six years. In 1998 she did a rally for peace individually, travelling through Senegal, Mali, France and Algeria. Her journey was 6,350km long and took her 50 days including rest days .
"That was to denounce the violence done by the fundamentalists in 1991."
And then, at the end of 1999 she moved to Belgium where she could experience cycle training at European levels. Her only goal, her prime motivation, was to contest the Athens Olympics in 2004. In Athens she wants to showcase her country. And further spread the message of peace.
"By using my bike I give my message of tolerance to the world," she said." It is very hard work, because I am old. I have been preparing since 1991. I am on a pathway, but it's a fight. I will not give up. I have to move and talk and go well."
Now in Melbourne riding at her first world championships - where she is doing her utmost to qualify in the pursuit and points race for Athens - Adda, who is a suburban architect in the world outside cycling and a pseudo step mother to her partner's two children (her bikes are her own kids, she says), is also on her first visit to Australia and she loves it. "The people are very welcoming. I think there is good and bad in everybody but here, mostly good."
She is incredibly grateful to everyone who has helped her on her way. "I want to thank Europe for giving me the possibility to train in peace and in particular Belgium and France. I also want to thank the UCI and the CAC and also Australia for hosting such an event and everybody's welcome back at my place in Algeria."
She said it was the violence in Algeria and the world that motivated her to get in and do her best.
"Cycling in Africa is difficult. In Europe it's another level. If I can be an example to young people and show them how to lead the way, I will be happy. If I can get more support for cycling in Algeria, I will be happy. I will do all it takes. I want to communicate with everyone in the world and I will do it on my bike.
"You journalists do it with your pen. I speak with my bike."
Adda will ride in the women's points race on Saturday night. With sell-out crowds expected, Australians should give their Algerian visitor an extra special wave of support.
She's not only brave to be putting herself among riders half her age and travelling at greater speeds than she . . . but deserves to be commended for even making it to Australia for the world championships.
Most of us wouldn't bother with something so hard. We'd just give in and stay at home.
Day 3 News from the Melbourne World Track Championships
By Karen Forman in Melbourne