World Track Championships - CM
Melbourne, Australia, May 26-30, 2004
Event program and results Qualifying First round Repechages Second round Quarter Finals Semi Finals Finals
Men's Sprint Second round
Dutch riders move up, while Eadie moves out and Rousseau calls it a day
By Mal Sawford
Jens Fielder (Germany)
Photo ©: Mark Gunter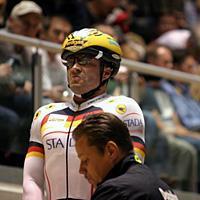 May 29, 2004: The Dutch riders moved into the 1/4 Finals into similar, straight forward fashion. Teun Mulder came over the top of Matthias John (Germany), and Theo Bos flew past Florian Rousseau (France) after their opponents had led out with a lap and half to travel.
Mickaël Bourgain (France) tried something different, facing Polish speedster Damian Zielinski. While the Polish rider lurked high on the banking, Bourgain kept his foot off the throttle until well past the start of the final lap, not hitting top speed until well into the back straight. Zielinski started his sprint at the same time, but was too close to the finish for him to make any impression on the Frenchman.
Jamie Staff (Great Britain) drew the lead position in the third heat, but once underway Jens Fiedler (Germany) was quick to assume the lead. From there, his tactic was to wind up a long way from home, and he had the strength to hold Staff on his hip all the way to the line for a convincing win.
In the next heat, Laurent Gane (France) despatched Lukasz Kwiatkowski (Poland) using the same page of the Sprint Tactics Handbook!
Ryan Bayley and Sean Eadie met in an all Australian final heat, with Bayley attracting noticeably more of the noisy crowd's support as the pair rolled off. Eadie drew the lead position, but at two to go, Bayley snuck past.
The 'Big Man' was having none of that, forcing his way back to the lead, and Bayley opted to take up position at the top of the track. Eadie kept a close eye on his younger rival, and as Bayley swooped from the clouds, matched the acceleration.
The two drag-raced side by side for the entire last lap, with Bayley victorious by an airborne half wheel, such was the force of his throw to the line. Forty five minutes later, the six defeated riders had one last chance to continue, through two repechage heats.
Eadie was outgunned in the first heat, losing ground to a rampaging Staff as they charged down the back straight. Looking for more speed, Eadie moved wide in the straight, but the extra pace as he dove off the banking wasn't enough. Staff ended up with an easy ride to the line, as Eadie's manoeuvre baulked Mattias John, and prevented him challenging for the win.
The second repechage heat saw Rousseau matched against the two Poles, but Zielinski proved a convincing winner, accelerating past both opponents for a clear win. The loss for Rousseau will be his final ride, as he had been planning to retire after the Olympics – but failed to earn selection, so as he told Cyclingnews "that was my last race, ever."
Results
Heat 1 
 
1 Teun Mulder (Netherlands)          10.777 (66.808km/h)
2 Matthias John (Germany)
 
Heat 2 
 
1 Theo Bos (Netherlands)             11.004 (65.430km/h)
2 Florian Rousseau (France)
 
Heat 3 
 
1 Mickaël Bourgain (France)          11.042 (65.205km/h)
2 Damian Zielinski (Poland)
 
Heat 4 
 
1 Jens Fiedler (Germany)             10.834 (66.457km/h)
2 Jamie Staff (Great Britain)
 
Heat 5 
 
1 Laurent Gane (France)              10.772 (66.839km/h)
2 Lukasz Kwiatkowski (Poland)
 
Heat 6 
 
1 Ryan Bayley (Australia)            10.984 (65.549km/h)
2 Sean Eadie (Australia)
 
Second round repechages
 
Heat 1 
 
1 Jamie Staff (Great Britain)       10.918 (65.946km/h)
2 Matthias John (Germany)
3 Sean Eadie (Australia)
 
Heat 2 
 
1 Damian Zielinski (Poland)         10.680 (67.415km/h)
2 Lukasz Kwiatkowski (Poland)
3 Florian Rousseau (France)

Start lists
1/8 final repechages
Heat 1
 
105 Matthias John (Germany)
97 Jamie Staff (Great Britain)
11 Sean Eadie (Australia)
 
Heat 2
 
82 Florian Rousseau (France)
179 Damian Zielinski (Poland)
178 Lukasz Kwiatkowski (Poland)
1/8 finals
Heat 1 
 
105 Matthias John (Germany)
155 Teun Mulder (Netherlands)
 
Heat 2 
 
152 Theo Bos (Netherlands)
82 Florian Rousseau (France)
 
Heat 3 
 
179 Damian Zielinski (Poland)
74 Mickaël Bourgain (France)
 
Heat 4 
 
97 Jamie Staff (Great Britain)
103 Jens Fiedler (Germany)
 
Heat 5 
 
75 Laurent Gane (France)
178 Lukasz Kwiatkowski (Poland)
 
Heat 6 
 
11 Sean Eadie (Australia)
8 Ryan Bayley (Australia)