World Track Championships - CM
Melbourne, Australia, May 26-30, 2004
Event program and results Qualifying First round Repechages Second round Quarter Finals Semi Finals Finals
Men's Sprint Repechages - May 29, 2004
France advances
By Mal Sawford
Florian Rousseau (France)
Photo ©: Mark Gunter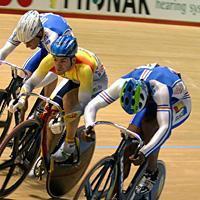 May 29, 2004: Mickael Bourgain (France) outsmarted his two Japanese opponents to win through to the 1/8 Finals later tonight. Kiyofumi Nagai led out, with Hiroyuki Inagaki tailing Bourgain, but the Frenchman was clearly in a different league as he flew past Nagai in the home straight.
Salvador Melia (Spain) was in a similar predicament, facing two French riders in his heat. Gregory Bauge led out strongly a lap and a half out, and Melia looked like he had it won as he drew level in the final straight, only to see Florian Rousseau flash past at the top of the track to take the win by half a wheel.
Jan Van Eijden (Germany) led the final heat off at a cracking pace, and slowly wound up into an all out sprint. Teun Mulder (Netherlands) moved onto Van Eijden's hip in the dash down the back straight, and came out of the bend in front and took the win easily.
The nine winners from the 1/16 round and the three winners from the Repechage move into tonight's 1/8 Finals, which will see eight riders continue to tomorrow's final. Watching from the pits, where he is working as a mechanic for the Argentinean team, World Record holder in the Professional Flying 200 metres, John Kennedy, nominated Keirin winner Jamie Staff as the one to beat on Sunday..
"He's lacking tactically, but he goes like hell!" Poland's Damian Zielinski was another to take his fancy, nominated him as the smartest rider left in the field, while he felt that French stars Florian Rousseau and Laurent Gane were well short of their former glory days, describing them as "creeping."
He admitted to being impressed with local hope Ryan Bayley's speed, he felt that his relative lack of experience would count against him.
Photography
Images by Mark Gunter
Results
First round - 1/16 final repechages

Heat 1 
 
1 Mickaël Bourgain (France)    11.000 (65.454km/h)
2 Kiyofumi Nagai (Japan)
3 Hiroyuki Inagaki (Japan)
 
Heat 2 
 
1 Florian Rousseau (France)    11.369 (63.330km/h)
2 Salvador Melia (Spain)
3 Gregory Bauge (France)
 
Heat 3 
 
1 Teun Mulder (Netherlands)    11.116 (64.771km/h)
2 Ross Edgar (Great Britain)
3 Jan Van Eijden (Germany)


Start lists
1/16 final repechages
Heat 1
 
132 Hiroyuki Inagaki (Japan)
74 Mickaël Bourgain (France)
136 Kiyofumi Nagai (Japan)
 
Heat 2
 
70 Salvador Melia (Spain)
73 Gregory Bauge (France)
82 Florian Rousseau (France)
 
Heat 3
 
155 Teun Mulder (Netherlands)
112 Jan Van Eijden (Germany)
88 Ross Edgar (Great Britain)