World Track Championships - CM
Melbourne, Australia, May 26-30, 2004
Event program and results Qualifying First round Repechages Second round Quarter Finals Semi Finals Finals
Men's Sprint First round - May 29, 2004
Higher-seeded riders go through
By Mal Sawford
Mathias John (Germany)
Photo ©: Mark Gunter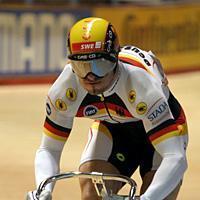 May 29, 2004: The fastest eighteen qualifiers move through to the inaptly named 1/16 Finals, but in an event timed to the thousandth of a second, what happens when there are two riders who recorded identical times in the eighteenth position?
In one of the more arcane rituals in world sport, cycling solves the dilemma by having the riders draw straws – the lucky winner today was Hiroyuki Inagaki (Japan) with Ahmed Lopez Naranjo (Cuba) missing out. The winner in each of the nine heats progresses to the 1/8 Finals, with the losers getting a second chance via a Repechage round only thirty minutes later.
The first four heats all went to the higher seeded riders comfortably, with Matthias John (Germany), Theo Bos (Netherlands) and Jamie Staff (Great Britain) all winning from the front. Damian Zielinski (Poland) gave up the front position to Teun Mulder (Netherlands), but had the strength to come over the top for the win. An all French heat saw Laurent Gane hold off Gregory Bauge, while Sean Eadie (Australia) was too strong for Mikhael Bourgain (France) to pass.
Ryan Bayley (Australia)
Photo ©: Mark Gunter

In another Australia – France battle, Ryan Bayley hit out two and half laps from home and held off three times World Champion Florian Rousseau. The two Australians must now ride off in the next round, with Bayley saying, "It sucks. I'd rather be racing someone else. It would have been good to see us both at the finish. I've raced against Sean at the Commonwealth Games and won, so who knows? My legs are pretty stiff at the moment, but hopefully by tonight everything will be loose."
The final heats saw Lukasz Kwiatkowski (Poland) power past Ross Edgar (Great Britain) in the final bend, while Jens Fiedler (Germany) held off a late charge from Kiyofumi Nagai (Japan) to win by the width of his tyre.
Photography
Images by Mark Gunter
Results
First round - 1/16 finals
 
Heat 1
 
1 Matthias John (Germany)      10.837 (66.439km/h)
2 Hiroyuki Inagaki (Japan)
 
Heat 2
 
1 Theo Bos (Netherlands)       11.082 (64.970km/h)
2 Salvador Melia (Spain)
 
Heat 3
 
1 Damian Zielinski (Poland)    10.986 (65.537km/h)
2 Teun Mulder (Netherlands)
 
Heat 4
 
1 Jamie Staff (Great Britain)  10.925 (65.903km/h)
2 Jan Van Eijden (Germany)
 
Heat 5
 
1 Laurent Gane (France)        10.924 (65.909km/h)
2 Gregory Bauge (France)
 
Heat 6
 
1 Sean Eadie (Australia)       10.834 (66.457km/h)
2 Mickaël Bourgain (France)
 
Heat 7
 
1 Ryan Bayley (Australia)      10.814 (66.580km/h)
2 Florian Rousseau (France)
 
Heat 8
 
1 Lukasz Kwiatkowski (Poland)  11.189 (64.348km/h)
2 Ross Edgar (Great Britain)
 
Heat 9
 
1 Jens Fiedler (Germany)       10.987 (65.531km/h)
2 Kiyofumi Nagai (Japan)

Start list 1-16 finals
Heat 1

Matthias John (Germany)
Hiroyuki Inagaki (Japan)


Heat 2

Theo Bos (Netherlands)
Salvador Melia (Spain)


Heat 3

Damian Zielinski (Poland)
Teun Mulder (Netherlands)


Heat 4

Jamie Staff (Great Britain)
Jan Van Eijden (Germany)


Heat 5

Laurent Gane (France)
Gregory Bauge (France)


Heat 6

Mickaël Bourgain (France)
Sean Eadie (Australia)

Heat 7

Ryan Bayley (Australia)
Florian Rousseau (France)

Heat 8

Ross Edgar (Great Britain)
Lukasz Kwiatkowski (Poland)

Heat 9

Kiyofumi Nagai (Japan)
Jens Fiedler (Germany)