National Road Cycling Championships - NE
Mooloolaba, Sunshine Coast, QLD, September 9-15, 2002
Results Event program and results
Individual Time Trial - Women
Two out of two for Nat
By Anthony Tan in Mooloolaba
The race of truth
Photo: © Tom Balks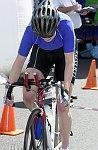 Judy Bates was a happy mum today as she watched her elder daughter Natalie successfully defend her title in the women's individual time trial.
Just before the race got underway, Mrs Bates was a tad unsure as to how her daughter would fare: "Natalie's in her last year of her degree in physiotherapy and only finished her exams last Thursday." But 'Nat', as her friends call her, came through with flying colours.
On a completely closed off circuit, the women's field left at mid-morning, and were exposed to equally formidable conditions - possibly tougher than those experienced earlier by the under 23 men. "The conditions were really tough - it was really windy out there - but it was a great course, really fast," said a pooped Zoe Southwell [Paramatta Cycling Club, 14th].
Zoe wasn't the only one who suffered. "I felt like s&%t!," were the words of defending national road champion Jennifer Manefield. "I'm not a time triallist - I get blown about because I'm too little. I did the best I could - averaging 195 [beats per minute - but I just didn't go very fast!"
The words "tough, windy, hard and fast" obviously crop up frequently in Natalie Bate's cycling vocabulary. Natalie quickly settled into a comfortable rhythm, calling upon on her wealth of experience as a former AIS scholarship holder, and measured the 30 kilometre all-out effort to absolute perfection with a winning time of 46.16.54.
Measured to the second in fact - winning by a hair's breadth over Louise Yaxley (City of Burnie CC) by less than two seconds and third-placed Amy Safe (Norwood CC) by a margin of five seconds.
Playing it safe - Amy Safe
Photo: © Tom Balks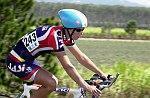 "It was a bloody tough course. I haven't done much racing because I've just had a month's holiday, but this one [the ITT] is a bit easier to target - anything can happen in the road race, but in the time trial, you know exactly what you have to do.
"I felt good, but I thought I was a bit worried I had gone out too hard on the first lap. My battery in my heart rate monitor died during the warm-up, so I just decided to go for it. It felt like it was windier on the second lap, but I think that was more my legs!
"I just went as hard as I could for as long as I could," laughed Natalie in her characteristically good-humoured demeanour.
And that is basically what time trialling is all about really. Natalie Bates just did it better than anyone else.
Photography
Photos by Tom Balks
Photo by Tim Francis/www.yourfotos.com
Results

1 Natalie Bates (NSW) Parramatta Cycling Club                      46.16.54
2 Louise Yaxley (Tas) City of Burnie Cycling Club                   0.01.39
3 Amy Safe (Qld) Norwood CC                                         0.06.24
4 Jennifer Finlay (Qld) Victor Cycle                                0.18.83
5 Helen Kelly (Vic) Carnegie Caulfield Cycling Club                 0.23.27
6 Oenine Wood (NSW) Canberra Cycling Club                           0.24.52
7 Emily Wlliams (Tas) Launceston City Cycling Club                  0.41.85
8 Anna Jones-Perrin (Qld) Hamilton Pine Rivers                      0.45.32
9 Erin Philp (NSW) Nowra Velo Club                                  1.55.29
10 Tania Shipton (Qld) Hamilton Pine Rivers                         2.09.81
11 Emma Rickards (Vic) Carnegie Caulfield Cycling Club              2.45.73
12 Jennifer Manefield (NSW) Parramatta Cycling Club                 3.01.22
13 Jessica Ridder (NSW) Bathurst CC                                 3.13.38
14 Zoe Southwell (NSW) Parramatta Cycling Club                      3.23.35
15 Elizabeth Hickey (ACT) Canberra Cycling Club                     3.49.57
16 Rhonda Clelland (Qld) Hamilton Pine Rivers CC                    4.01.99
17 Elizabeth Williams (Vic) Carnegie Caulfield Cycling Club         5.13.31
18 Elizabeth Georgouras (NSW) Bicisport                             5.30.40
19 Fiona Hedgecoe (ACT) Canberra Cycling Club                       5.50.87
20 Leonie Aisbett (NSW) Parramatta Cycling Club                     6.09.30
21 Sonya Keay (Qld) Hamilton Pine Rivers                            6.20.22
22 Bronwyn Wiseman (ACT) Canberra Cycling Club                      7.49.31
23 Kate Morphett (NSW) Illawarra Cycling Club                       8.23.67
24 Loretta Mabin (Vic) Leongatha                                   10.09.83
DNF Katie Knight (Vic) Footscray CC
DNS Claire Baxter (Vic) Hawthorn CC
DNS Rebecca Preston (Qld) Sunshine Coast Cycling Club
DNS Nicole Tasker (Qld) Broncos CC