National Road Cycling Championships - NE
Mooloolaba, Sunshine Coast, QLD, September 9-15, 2002
Results Event program and results
Elite Women's Road Race
Jenny's Got Some Gun
By Anthony Tan, Cyclingnews correspondent in Yandina
Ominous beginning
Photo: © Tom Balks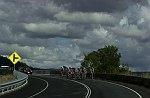 On sun-soaked day, defending champion Jennifer Manefield pulled off her finest win this year by winning the women's elite road championship title for the second year in succession.
The women's elite field got underway under perfect racing conditions, quite a change from the threatening skies that characterised much of the racing during the former half of the week.
With most of the big hitters still in Europe or racing in the US, the race was not able to be controlled or dominated by riders from any one club. Nor was it particularly aggressive: on the main climb of the day, a 14 percent, 550 metre ascension, opportunist attempts were half-hearted, and there was a strong sense that the field had resigned themselves to a bunch gallop well before the race was over.
With three laps to go, Christine Riakos (St George CC) gave the peloton its biggest shakeup of the day. A gaggle of fresh legs in the dwindled-down group of 20 or so riders had no problems keeping her attack at bay, and a regrouping shortly after the descent became a formality.
On the final lap, the blonde-haired Riakos went again, but as she explained at the race's end, it was more a personal strategy to kept up with the lead group at the end rather than an attempt to go solo:
Pocket rocket Jen Manefield
Photo: © Tom Balks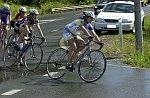 "I didn't expect to get away on the hills - I just rode tempo in the front of the bunch to stay with the group - it was just a bonus that I didn't have to chase back on."
Whatever the case, the speed was enough for newly-crowned time trial champ Natalie Bates (Paramatta CC) to tail off the back. However Nat's got some serious grinta, and toughed it out to get back onto the front group of 10 within a few kilometres.
With a short finishing straight, it became a not-so squeezy task of positioning oneself in the first three riders coming into the final three corners. Defending champion Jennifer Manefield unleashed her fast twitch fibres with 70 metres to go, and had the firepower to take it all the way to the line - claiming her second successive national road title in as many years.
Post race comments
A race of attrition
Photo: © Tom Balks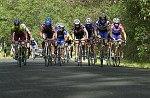 Jennifer Manefield (Paramatta CC), 1st:
"It wasn't that aggressive today - the hill really sorted it out. No one was willing to do much in between. They all knew that the hill was so hard that if anyone did get away on the flat section, it'd be hard to keep going over that hill - plus there was a cross-headwind coming back.
"For the first six laps, I was just hanging in there, thinking: 'I'm not gonna make this [the finish], this is it, this is it' - but you can't go fast up that hill, so I managed to hang on.
"I knew it was going to be a race of attrition, so I just hoped I could hang in there and not have too many people to contend with in the sprint! For me, it was just sit in, sit in, sit in. I knew that everytime I went I little harder I would be losing a bit in the sprint, so I was always trying to conserve myself.
"And it worked - for the second time; I can't believe it! I'm so happy!"
Thought she had it, but "nooooo!"
Photo: © Tom Balks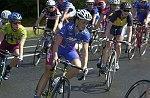 Christine Riakos (St George CC), 2nd:
"I was always trying to get away with one to go, but I anticipated the race to be alot harder. I said to the Queensland girl that 'three laps to go would be too early, but if you put the hammer down on the final lap, I'll go with you.'
"I knew I was in the right position coming into the final corner, but I just couldn't hold it off - Jennifer is a really good sprinter. I actually thought I had it, but then I saw her come round at the last second and thought: 'nooooo!' - but you get that - it's all part of racing, isn't it?
"I'm happy - I came third last year, so I went one better - next year maybe!"
Photography
Photos by Tom Balks
Results

1 Jennifer Manefield (NSW) Parramatta CC                    3.07.13
2 Christine Riakos (NSW) St George CC
3 Helen Kelly (VIC) Carnegie Caulfield CC
4 Lorian Graham (QLD) Astra CC
5 Jessica Ridder (NSW) Bathurst CC
6 Claire Baxter (VIC) Hawthorn CC
7 Amy Safe (SA) Norwood CC
8 Natasha Harrigan (NSW) St George CC
9 Natalie Bates (NSW) Parramatta CC
10 Zoe Southwell (NSW) Parramatta CC
11 Jennifer Finlay (QLD) Victor Cycle
12 Louise Yaxley (TAS) City of Burnie CC
13 Erin Philp (NSW) Nowra Velo Club
14 Oenone Wood (ACT) Canberra CC
15 Bronwyn Wiseman (ACT) Canberra CC
16 Kate Morphett (NSW) Illawarra CC
17 Leonie Aisbett (NSW) Parramatta CC
18 Melissa Vandewater (QLD) CATS
19 Elizabeth Georgouras (NSW) Bicisport
20 Fiona Hedgecoe (ACT) Canberra CC
DNF Elizabeth Hickey (ACT) Canberra CC
DNF Toireasa Ryan (NSW) Bathurst CC
DNF Nicole Carter (QLD) Sunshine Coast CC
DNF Rhonda Clelland (QLD) Hamilton Pine Rivers
DNF Sasha Harvey (QLD) Townsville CC
DNF Anna Jones-Perrin (QLD) Hamilton Pine Rivers
DNF Sonya Keay (QLD) Hamilton Pine Rivers
DNF Tania Shipton (QLD) Hamilton Pine Rivers
DNF Nicole Tasker (QLD) Broncos CC
DNF Emily Williams (TAS) Launceston City CC
DNF Loretta Mabin (VIC) Leongatha
DNF Emma Rickards (VIC) Carnegie Caulfield CC
DNF Elizabeth Williams (VIC) Carnegie Caulfield CC
DNF Kerry Cohen (WA) Northen Districts CC