National Road Cycling Championships - NE
Mooloolaba, Sunshine Coast, QLD, September 9-15, 2002
Results Event program and results
Criterium - Elite Men
Carr vroooms away from the Hot Rod
By Anthony Tan, Cyclingnews correspondent in Mooloolaba
The heat was on right from the get-go
Photo: © Tom Balks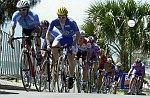 The field for the concluding and main event of the day, the elite men's criterium, lined up on shores of the Mooloolaba beachfront for their mid-morning hitout. With seven riders from the Carnegie Caufield Cycling Club, the Victorians had the clear upper-hand, and were sure to play the numbers game when it mattered most.
The race started off at blistering speed, and it was obvious that at least half the peloton had not fully recovered after yesterday's gruelling road race. In circumstances such as these, it becomes crucial to stay up the front - a dropped wheel early on more often than not signals curtains for those behind.
An (almost) certain Carnegie 1-2
Photo: © Tom Balks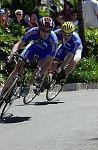 Less than fifteen minutes into the one hour and three laps crit, two distinct groups had formed: one containing those that had the legs and the other containing those that didn't. The contrast in speed between the two packs was so different it was almost as if there were two races being held simultaneously.
No sooner had the lead group cemented their lead before James Taylor (Carnegie Caulfield CC) launched off the front. The boys from one of Victoria's most elite cycling clubs were here to do business, and the deal was to win.
Carnegie clubmate Kristjan Snorrason appeared to bridge across to his fellow rider effortlessly, and the two went into team time trial mode, opening up a lead on the front pack that would surely be unattainable.
The Hot Rod lit up the field
Photo: © Tom Balks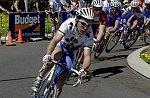 However Rod McGee (Paramatta CC) had other ideas. Macca came here to race, and race hard. So with just over twenty minutes remaining, the Hot Rod lit it up, bursting off the front group. Chris Carr, yet another from the Carnegie clan, saw the move, and McGee was soon joined by this lanky looking Victorian.
With the lead duo almost half a lap ahead, it appeared a formality for a 1-2 Carnegie win - however tragedy struck when James Taylor hit the deck on the bottom hairpin turn - and McGee and Carr now had "Snozza" in sight.
Carr vrooms home
Photo: © Tom Balks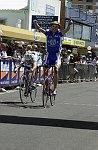 Although Taylor could take a lap out, he was visibly shaken and badly hurt, unable to maintain the pace being set by NSWIS-FDJeux.com manager Rod McGee. Snorrason and Carr tried to rid themselves of their spanner in the works, but McGee couldn't be cracked, and with five minutes to go, it turned out to be Snorrason who tailed off.
In the closing stages, it was evident that Rod McGee had done a mountain of work as his body rocked from side to side in an effort to maintain the gap to Snorrason. But the majority of the crowd was right behind the underdog, and cheered him on as the three laps to go signal was announced.
McGee tried to shake off Carr in the final bend, but Chris Carr was too fresh and vrooomed past the Hot Rod who simply ran out of fuel. Veteran hardman Eddie Sales (Hinchinbrook CC) was the best of the rest, winning the sprint home for a spot on the podium.
Post race comments
Taylor reflects on what might have been
Photo: © Tom Balks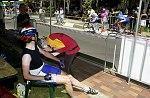 Chris Carr (Carnegie Caulfield), 1st:
"We didn't really have much of a chat before the race - we all know how to race and we knew there were five of us - and that we were the strongest team on the road. Something happened to my lever yesterday, and I had to choose one gear: I decided on a 53x15, and I was revvin' it at about 150 [RPM] down the back straight.
"I was pretty disappointed with a mechanical in yesterday's road race because I thought I was a pretty hot favourite, but coming away with the win today more than makes up for it.
"He [Rod McGee] was definitely tiring, but he was super strong and my job was just to sit on him when Kristjan [Snorrason] kept chasing - he was certainly the best sprinter out of the three of us, so I just had to sit on Rod and wait for Snozza to try and get back.
"If he [McGee] got back on, I would've attacked and Rod would have been isolated, which means it would have been a bit easier because it wouldn't have given him the chance of winning the sprint. But it all worked out well, so no complaints at all! I'm no sprinter, but when you're as fresh as I was, there's nothing you can do about it."
Needed a hand against 5 Carnegie boys
Photo: © Tom Balks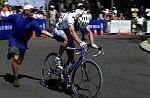 Rod McGee (Paramatta CC), 2nd:
"I wasn't concentrating too much on them [Taylor and Snorrason]; I was just concentrating on keeping a good even pace.
"I just tried to keep a good tempo, but it was a bit hard knowing I had a bloke sitting on me, but I knew I just had to get there, but just not too quick - fortunately I still had a little bit of time up my sleeve.
"The first plan [when James Taylor crashed] was to make sure he didn't get back on; however I knew that I was still open to being attacked with two [Carnegie Caulfield riders] still there - so I figured the best plan of attack was to go on the attack after they attacked me a couple of times.
"It was very hard because I knew Snorrason was right there and I couldn't ease up for even half a lap - I had to keep the pressure.
"I would have preferred to him [Chris Carr] to lead out the sprint, but I couldn't afford to play cat and mouse because he had the upper hand - if I tried to get him to come to the front, Snorrason would have caught us - so basically I had to come out of that corner as hard as I could.
"I still thought I had to legs to do it and I started to come round him again, but I just ran out of legs in the end."
Photography
Photos by Tom Balks
Results

1 Chris Carr (Vic) Carnegie Caulfield                        1.03.20
2 Rod McGee (NSW) Parramatta Cycling Club
3 Kristjan Snorrason (Vic) Carnegie Caulfield Cycling Club
4 Edward Salas (NSW) Hinchinbrook Cycling Club
5 Russell Van Hout (SA) Adelaide Cycling Club
6 Paul Redenbach (Vic) Footscray CC
7 Warren Doyle (NSW) Hinchinbrook Cycling Club
8 Hilton McMurdo (WA) Northen Districts CC
9 Christopher Tymms (Vic) Carnegie Caulfield Cycling Club
10 Craig Cahill (Qld) CATS
11 Jaaron Poad (WA) Northen Districts CC
DNF Chris Marassovich (ACT) Canberra Cycling Club
DNF Martin Mullin (ACT) Canberra Cycling Club
DNF Sam Nelson (ACT) Canberra Cycling Club
DNF Adrian Booth (Qld) FFAST
DNF Andrew Curro (NSW) Bicisport
DNF Brad Glennan (NSW) St George Cycling Club
DNF Liam Kelly (NSW) Eastern Suburbs
DNF Campbell Kerr (NSW) Sutherland Shire CC
DNF Brian King (NSW) St George Cycling Club
DNF Brendan Shipp (NSW) St George Cycling Club
DNF Brent Skippen (NSW) Parramatta Cycling Club
DNF Chris Thomas (NSW) St George Cycling Club
DNF Nicholas Wood (NSW) St George Cycling Club
DNF Alistair Hartley (NT) Darwin Cycling Club
DNF Troy Bunney (Qld) Caboolture CC
DNF Stuart Cowin (Qld) Astra CC
DNF Grant Gaston (Qld) Sunshine Coast Cycling Club
DNF Dean Heathcote (Qld) Gold Coast Goldstars CC
DNF Chris Klem (Qld) Townsville CC
DNF Kane Oakley (Qld) Gold Coast Goldstars CC
DNF Tony Sunderland (Qld) Townsville CC
DNF Des Trindall (Qld) Sunshine Coast Cycling Club
DNF Trent Goatley (Vic) St Kilda Cycling Club
DNF Stephen Storer (Qld) Gold Coast Goldstars CC
DNF Liam Clarey (Qld) Sunshine Coast Cycling Club
DNF Chris Wilson (Qld) Kangaroo Point
DNF Martin Pearce (Qld) FFast
DNF Hilton Clarke (Vic) Carnegie Caulfield Cycling Club
DNS Wayne Bower (NSW) Hunter District Cycling Club
DNS Daniel Di Stefano (NSW) Kooragang Open Cycling Club
DNS Peter Milostic (NSW) Penrith Panthers CC
DNS Jose Rodriguez (NSW) Eastern Suburbs
DNS Todd Sinclair (NSW) Northern Sydney
DNS Phillip Thuaux (NSW) Central Coast
DNS Martin Pearce (Qld) FFAST
DNS Robert Tidey (Vic) Carnegie Caulfield Cycling Club
DNS Justin Davis (Vic) Carnegie Caulfield Cycling Club