National Road Cycling Championships - NE
Mooloolaba, Sunshine Coast, QLD, September 9-15, 2002
Results Event program and results
Road Race - U23 Men
Hannamania
By Anthony Tan, Cyclingnews correspondent in Yandina
A parcours ripe for attacking
Photo: © Tom Balks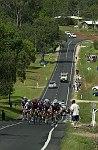 In somewhat of a contrast to the women's race, the under 23 men's championship was 13 laps of pure aggression, with opportunist climber James Hannam stealing the show over his more favoured counterparts.
Teammates David Betts, Jonathan Cantwell (Lifecycle CC) and Bruce McIntosh (Carnegie Caulfield CC) were no sooner out of the neutral zone before launching an attack on the main climb of the day on the very first lap. And while the break consisted of some notable strongmen, the peloton were unshaken, content to leave the trio hanging out in the open for some time longer.
By lap 4 of 13, the break had forged a lead of 2.10 over the main pack that began to create some unease within the peloton. And by lap 7, the trio's lead started to dwindle, more due to blowing chunks rather than the field upping the tempo. And within the space of two laps, almost 70 kilometres of hard work had all but dissolved with the peloton now in sight.
With three to go, the action began in earnest: Ben Johnson (Sunshine Coast CC) launched a vicious counterattack on the climb that left the front group scrambling in his wake. Johnson managed to hold off the field for just over a lap, building a slender lead of just over one minute before being joined by a chasing group of four riders that contained Brendan Cato (Illawarra CC) and James Hannam (Norwood CC).
Betts you didn't count on me!
Photo: © Tom Balks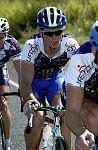 The break contained all the necessary horsepower to take it right to the line, but the cross-headwind along the main drag back to the finish was totally unforgiving to opportunist attacks, and with just one lap remaining the field regrouped once again.
Just when the field thought a bunch gallop was a surety, James Hannam (Norwood CC) launched off the front on the 14 percent climb, burying himself into the mostly block headwind for the next six kilometres.
With just three kilometres remaining and the peloton breathing down Hannam's neck, the Victorian's lead was a tenuous 10 seconds. It looked as though the sprinters had timed their effort to perfection, but it was Hannam who had - clinching the biggest win of his cycling career by no more than an tyre-width from a fast-finishing David Betts (Lifecycle CC).
Post-race comments
Don't look behind you James!
Photo: © Tom Balks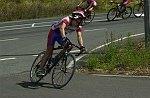 James Hannam (Norwood CC), 1st:
"I wasn't too worried about the early break of three, even though David Betts (Lifecycle CC) has been going very strong. But when Ben [Johnson] went with four to go, no-one followed - but I think it was more that no-one could follow; he was really, really strong today.
"But it was just too hard to stay away in that last 5k - with that headwind blowing it was just too hard to be out there by yourself. You might be able to do it once, but it four to go, it's just too hard.
"When myself, Brendan Cato (Illawarra CC) and five others go across to him, I thought we had a good break, but it just didn't happen. I knew I was going pretty well up the climb, so I just waited for that on the last lap.
Brendan Cato (Illawarra CC), [place]:
"I was a bit worried about the first break, because whenever you have two AIS riders in a break of three, it's always going to be hard to pull them back. I think it was more our luck that they cracked than us pulling them back.
"The course was hard - everytime you try and push it up the climb, you'd get a break of five riders or so, but then coming back into the headwind, it'd all come back together - that made it a little bit demoralising. We needed a climb in the final few k's for our break to be successful.
"I gave it everything on the final time up the climb, but James [Hannam] just got away and to his credit he held us off, so congrats to him."
Photography
Photos by Tom Balks
Results

1 James Hannam (SA) Norwood CC                              3.27.33
2 David Betts (QLD) Lifecycle CC
3 Jonathan Davis (NSW) St George CC
4 Cody Stevenson (NSW) Penrith Panthers CC
5 Luke Bettany (SA) Noarlunga South Coast CC
6 Joel Pearson (VIC) Warragul
7 Aaron Dalton (NSW) Caravello
8 Brendan Cato (NSW) Illawarra CC
9 Nash Kent (NSW) Hinchinbrook CC
10 Bernard Sulzberger (TAS) West Tamar CC
11 Ben Johnson (QLD) Sunshine Coast CC
12 Gonzalo Tagliabue (NSW) Hinchinbrook CC
13 Nathan Jones (WA) Southern Districts CC
14 Troy Glennan (NSW) St George CC
15 Jason Patterson (QLD) Townsville CC                         3.07
16 Scott Dixon (NSW) Dubbo CC                                  4.13
17 Robert Lyte (QLD) Murwillumbah                              5.32
18 Gilbert Gutowski (QLD) Broncos CC                          25.11
19 Peter Jones (NSW) Illawarra CC
DNF Marcus Hayman (ACT) Canberra CC
DNF Fernando Duran (NSW) Hinchinbrook CC
DNF Brett Hall (NSW) Kooragang Open Cycling
DNF Simon Holcombe (NSW) Parramatta CC
DNF Duncan Kidd (NSW) Hunter District CC
DNF Nicholas Lawson (NSW) St George CC
DNF Philip Burns (QLD) Broncos CC
DNF Jonathan Campbell (QLD) Lifecycle CC
DNF Jonathan Cantwell (QLD) Lifecycle CC
DNF Carl Donaldson (QLD) Lifecycle CC
DNF Aaron Kemps (QLD) Coral Isle Cyclicts
DNF Daniel Newnham (QLD) Gold Coast Goldstars CC
DNF Darren Nightingale (QLD) Lifecycle CC
DNF Stephen Rossendell (TAS) Hobart Wheelers/ Dirt Devils
DNF Lee Godfrey (VIC) Geelong West CC
DNF Rod Mason (VIC) Carnegie Caulfield CC
DNF Bruce Mcintosh (VIC) Carnegie Caulfield CC
DNF Tommy Nankervis (VIC) Carnegie Caulfield Cycling
DNF Richard Steele (WA) Northen Districts CC
DNF Daniel Bennett (QLD) Gold Coast Goldstars
DNF Robert Hodgson (NSW) Northern Sydney CC