National Road Cycling Championships - NE
Mooloolaba, Sunshine Coast, QLD, September 9-15, 2002
Results Event program and results
Criterium - Juniors
Required: Plenty of grit for the crits
By Anthony Tan, Cyclingnews correspondent in Yandina
Anything for a photo
Photo: © Tom Balks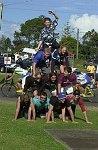 For the second day in succession, the National Road Cycling Championships were held in Yandina to contest the junior grades - however this time on a very different course.
The criterium circuit was as flat as a pancake and perfectly rectangular in shape, so high-speed cornering was the order of the day. For some competitors, the speed was just a tad too high, resulting in a number of crashes from those less-experienced with this style of racing.
All of the crashes occurred on the fourth corner, not so much because it was the final turn before finishing straight, but more due to its slightly off-camber nature and partial resurfacing.
Aggressive racing in all categories disallowed almost all opportunist breakaway attempts - the exception being the junior under 17 men's categories, where Matt Goss (West Tamar CC) did the double up after his victory in the road race only yesterday.
Clearly the most enjoyable race of the day was the junior under 19 women's criterium. Unfortunately much of the crowd had already dispersed after the under 19 men's race - but those who stayed witnessed a veritable display of "no guts, no glory".
Kirby's never-say-die attitude was inspirational
Photo: © Tom Balks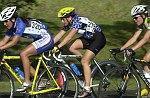 Despite being dropped from the pack on more than one occasion, Kirby Piscioneri (West Tamar CC) just would not give up. Her incessant tenacity paid handsome dividends as the field sat up towards the end, and Kirby had enough gas left in the tank to surprise all (including herself) to take the biggest win of her cycling career to date.
The lucky loser award would have to go to Skye-Lee Armstrong (Parramatta CC) in the under 17 women's criterium, whose desire to attack again and again would have made her a contender for the next Weet-Bix commercial.
Keep it up Sky-Lee - one day it's going to pay off big time!
Reports: Junior U17 Men Junior U17 Women Junior U19 Men Junior U19 Women
Junior U17 Men
Hot Goss-ip
Talk of the town: Matt Goss
Photo: © Tom Balks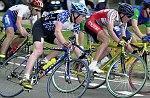 Tassie Devil Matt Goss made it two from two after cleaning up in yesterday's road race and then showing a clean pair of wheels in today's criterium less than 24 hours later.
A typically fast start began proceedings, with a number of riders testing their legs after a hard-fought road race yesterday.
Miles Olman (Rockhampton CC) was one of the first to go but was quickly brought back to the main field. No sooner had Olman been captured before a subsequent counterattack from Ben Mockridge (CATS) and Luke Picton (Southern Cross CC) once again livened up the field. However the peloton were equally attentive, and the duo were caught after two laps.
In the remaining fifteen minutes a flurry of counterattacks ensued, yet the high average speed of 41 km/h kept all of the escapees at bay - until the Mark Bergermin (Adelaide CC) caught the field unawares.
With just under five minutes remaining, Bergermin hit off the front. He was then joined by a chasing duo containing Joseph Depasquale (Central Districts CC) and newly-crowned road champion Matt Goss (West Tamar CC).
The trio worked well together, with the peloton's momentum waning as the break maintained their gap.
Goss he's good!
Photo: © Tom Balks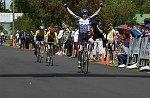 Goss was clearly the danger man after winning yesterday's road race in a bunch gallop, and didn't disappoint: the Tassie Tiger positioned himself behind the wheel of Mark Bergermin who led out the sprint, then effortlessly rolled his accomplices in the final 70 metres.
"My legs were sore for the first fifteen to twenty minutes [after yesterday's road race]. I couldn't get up the front because the speed was so high, but I came good towards the end.
"Everyone was swapping off nice even turns [in the break] which let us stay away. We kept the pace high right up until the finish because we knew that's what we had to do to stay away to the finish.
"I wasn't too sure what the other riders were like in the sprint, so I just tried to get the best position coming into the last corner and tried to come round in the final straight. This is by far my best performance at any nationals - I'm stoked!"
Junior U17 Women
Tanner takes the cake
Fast and aggressive racing appeared to be the order of the day, with the flat as a tack rectangular-shaped criterium circuit playing right into the hands of sprinter Jessica Tanner in the junior under 17 women's criterium.
An unusually fast pace greeted the women's field right from the gun, courtesy of the main protagonist of the day, Skye-Lee Armstrong (Parramatta CC). Skye-Lee's incessant desire to attack was premeditated, and her Para teammate Eve Hood was only too happy to comply:
"We figured that we can't sprint, so we might as well have a go," said a jovial Skye-Lee after the race, satisfied with the fact that she tried everything to break up the field.
The peloton however, had their own ideas, and as soon as Skye-Lee jumped out of the saddle, the field were back on her wheel in a flash.
With ten minutes remaining, the field (this time including Skye-Lee) resigned themselves to a bunch sprint to determine the podium places. Jessica Tanner (Shepparton) relished the opportunity, coming through with the win - and today was clearly a cut above the rest.
"It wasn't a typical girl's race which is usually really slow - it was a much faster than usual and that made it really good," said an elated Jess Tanner. "I was second wheel coming into the final corner; half way down the straight I got out of my seat and gave it everything."
Junior U19 Men
Great Scott!
Wazza wins
Photo: © Tom Balks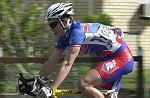 Once again the queen event of the day was the junior under 19 men's criterium, and once again the race produced a surprise winner: first year junior U19 rider Warren Scott.
Predictably, the half-hour criterium got off to a flying start, with FDJeux.com apprentice Chris Sutton (St George CC) being the protagonist - a touch surprising given his wickedly fast finish.
"You can never do too much work" said Sutton after the race. "The way I thought of it was: 'If I'm hurting, everyone else is hurting.' So I gave himself just a good a chance as everyone else did."
Not surprising though was the field's reaction to Sutton's flurry of attacks. The silver medallist in the previous day's road race has been a marked man throughout the National Championships this week, and today was no different; "CJ" as he's known to his mates was almost as quickly usurped as he was to escape.
CJ gave it his all
Photo: © Tom Balks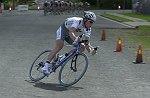 With ten laps to go, CJ found a partner in the form of Dane Cheers (Norwood CC) from South Australia. However the peloton assumed the form of a raging bull, and mitigated any chance of a breakaway ending to the criterium.
David Klyne (Mersey Valley CC) also tried his luck, but quickly gave in as the three laps to go signal was announced. A bunch gallop was inevitable, and the twenty-odd riders left in the peloton were now jostling for a good position for the final corners.
On the last lap the St George CC boys beamed up Scotty to the front of the field, and in the final kick to the line, it was all Warren Scott. "Wazza" took out the biggest win of his career, comfortably winning by two bike lengths from Chris Sutton.
"I struggled early on but I managed to find a bit of form towards the end," gleefully said a knackered Wazza.
And he didn't forget how he got there either: "It was pretty aggressive out there, but I put it [my win] down to all the great teamwork. We wanted a bunch finish - we didn't want anyone to get away."
Not the best place to hop off your bike
Photo: © Tom Balks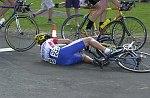 Understandably, second-placed Chris Sutton was spent - not just after a hard week of racing, but more a hard year of racing:
"It's been a very long year for me. As I mentioned yesterday, I've just come out of the junior track worlds and I've only done 200-300 kilometres of road training - so I've sort of come here a bit underdone in that sense.
"I had a hard race. I tried to make it as hard for everyone else as it was for me. Congrats to Warren [Scott] though - he's only a first year [under 19] and he's got a good future ahead of him."
Junior U19 Women
Never, ever give up - because you never know what may happen
Kirby's law: never give up
Photo: © Tom Balks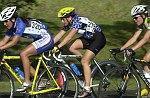 Just when spectators thought about packing their bags to go home, the crowd witnessed what was arguably the most animated race of the day, and without doubt the gutsiest performance.
Just nine riders rolled out for the final event of the day. And with only a handful of riders, it was virtually impossible to get an armchair ride to the finish.
Amy Kirk (Midland CC) and Megan Windsor (Bathurst CC) went off the front on numerous occasions, sometimes solo, sometimes together - regularly breaking the field into pieces - only to have it all come back together again.
The incessant aggression wore out the small field, and with three to go the riders appeared to draw a pact on any further attacks. The only rider to have lost contact was at this stage was Kirby Piscioneri (West Tamar CC), but Kirby never gave up, and to her credit, made contact with the main field with less than two laps remaining.
Driver - Megan Windsor
Photo: © Tom Balks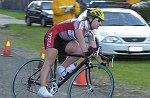 Coming into the final straight, it was a true reversal of fortunes as Kirby Piscioneri, "the human yo-yo", gave it all she had - breaking through the pain barrier for a truly-deserved win.
"I knew I was in for a tough race; there were alot of endurance riders in there," wheezed Kirby soon after the finish. "With ten minutes to go I didn't think I was going to get back on, but plenty of encouragement at the sidelines kept me going.
"I wanted to get on someone's wheel coming into the final straight, but it didn't happen, so I just had to go for it from a long way out."
And did Kirby go for it.
Photography
Photos by Tom Balks
Images by Tim Francis/www.yourfotos.com
Photos by CJ Liao
Results

Junior Under 15 Men, 20 minutes plus 2 laps
 
1 Scott Sunderland (WA) Midland Cycling Club             22.54
2 Greg Beer (NSW) Penrith Panthers CC
3 Hayden Josefski (Qld) Broncos CC
4 Abe Hastwell (Vic) Ararat + District Cycling Club
5 Jack Rhodes (NT) Alice Springs CC
6 Mathew Wild (NSW) Southern Cross Cycling Club
7 Cameron Meyer (WA) Midland Cycling Club
8 Nicholas Spratt (NSW) Penrith Panthers CC
9 Matthew Edmunds (Vic) Echuca-Moama Cycling Club
10 Angus Morton (NSW) Port Macquarie
11 Blake Field (NSW) St George Cycling Cub
12 William Robinson (Tas) Launceston City Cycling Club
13 Travis Meyer (WA) Midland Cycling Club
14 Kieran Murphy (Vic) Carnegie Caulfield Cycling Club
 
B = finished with bunch, exact placing not known
 
B Troy Asimus (NSW) Dubbo Cycling Club
B Luke Barrett (NSW) St George Cycling Cub
B Jonathon Cridland (NSW) Southern Cross Cycling Club
B Troy Dippel (NSW) Hinchinbrook Cycling Club
B Matthew Pettit (NSW) Parramatta Cycling Club
B Joel Lewis (NT) Katherine Cycling Club
B Nicholas Ruscoe (NT) Alice Springs CC
B Jack Hudson (QLD) Sunshine Coast Cycling Club
B David Keevers (QLD) Maryborough
B Lee Chesson (SA) Central Districts
B Craig Mattingly (SA) Adelaide Cycling Club
B Will Ford (VIC) Stawell GT Western
B Pip Grinter (VIC) Castlemaine Cycling Club
B Leigh Howard (VIC) Geelong West CC
B Michael Fitzgerald (WA) Northen Districts CC
B Andrew Ingram (WA) Midland Cycle Club
 
Junior Under 15 Women, 20 minutes plus 2 laps
 
1 Tess Downing (VIC) Carnegie Caulfield Cycling Club       23.19
2 Angela Jones (NSW) Bicisport
3 Grace Sulzberger (TAS) West Tamar CC
4 Elizabeth Church (VIC) Castlemaine Cycling Club
5 Theresa Blumel (QLD) Broncos CC
6 Ingrid Paterson (ACT) Canberra Cycling Club
7 Tiffany Manion (TAS) West Tamar CC
8 Therese Rhodes (NT) Alice Springs CC
9 Erin Peoples (VIC) Shepparton CC
10 Loren Rowney (QLD) C.A.T.S
B Sarah Fiedler (QLD) Sunshine Coast Cycling Club
B Tiffany Cromwell (SA) Sturt Holdfast Marion CC
B Lara Dyus (SA) Norwood Cycling Club
B Georgina Freeland (VIC) Stawell GT Western
B Jade Reid (NSW) Port Stephens
B Jessica Cowman (QLD) Victor Cycle
B Kirsty Bigaila (QLD) Sunshine Coast Cycling Club
DNF Elicia Kelly (SA) Port Adelaide
FELL Laura Meisel-Dennis (ACT) Canberra Cycling Club
FELL Carrie Price (TAS) Launceston City Cycling Club
  
Junior Under 17 Men, 30 minutes plus 2 laps
 
1 Matt Goss (TAS) West Tamar Cycling Club                  32.17
2 Mark Bergamin (SA) Adelaide Cycling Club
3 Joseph Depasquale (SA) Central Districts
4 Cameron Hope (NSW) Wagga Wagga Cycling Club
5 Tyler McLachlan (NSW) Southern Cross Cycling Club
6 Mitchell Docker (VIC) Brunswick
7 Dean Windsor (NSW) Bathurst CC
8 Wesley Sulzburger (TAS) West Tamar
9 Philip Stokes (NSW) Penrith Panthers CC
10 Michael Ford (VIC) Carnegie Caulfield Cycling Club
11 Thomas Greathead (WA) Southern Districts CC
B Luke Cridland (NSW) Southern Cross Cycling Club
B Luke Picton (NSW) Southern Cross Cycling Club
B J-L Rathbone (NSW) Penrith Panthers CC
B Josh Wall (NSW) Illawarra Cycling Club
B Miles Olman (QLD) Rockhampton CC
B Nicholas Adcock (QLD) Sunshine Coast
B Callan Taylor (SA) Central Districts
B Simon Clarke (VIC) Carnegie Caulfield Cycling Club
B Nathan Wise (Vic) Carnegie Caulfield
B Jason Chilcott (WA) Southern Districts CC
B Robert Cater (NSW) Randwick Botany
B Stefan Weland (NSW) Southern HIghlands
B Ben Mockridge (QLD) CATS
DNF Fabio Calabria (ACT) Canberra Cycling Club
DNF Bradley Wright (NSW) Bathurst Cycling Club
DNF Corey Heath (NT) Katherine Cycling Club
DNF Joel Davis (QLD) Broncos CC
DNF Todd Dawson (QLD) C.A.T.S
DNF Matt Dobinson (QLD) Sunshine Coast Cycling Club
DNF Brenton Hetherington (QLD) Sunshine Coast Cycling Club
DNF Trent Clifford (VIC) Geelong West CC
 
Junior Under 17 Women, 30 minutes plus 3 laps
 
1 Jessica Tanner (VIC) Shepparton CC
2 Amanda Spratt (NSW) Penrith Panthers CC
3 Naomi Adams (NSW) Dubbo Cycling Club
4 Victoria Freeland (VIC) Stawell GT Western
5 Brigid Farrell (VIC) Carnegie Caulfield Cycling Club
6 Jaclyn Kejda (NSW) Illawarra Cycling Club
7 Sarah Rota (QLD) C.A.T.S
8 Skye-Lee Armstrong (NSW) Parramatta Cycling Club
9 Genna Crean (SA) Noarlunga South Coast CC
10 Melinda Harris (NSW) Mudgee
B Jessica Armstrong (ACT) Canberra Cycling Club
B Eve Hood (NSW) Parramatta Cycling Club
B Melissa Moffatt (NSW) Wagga Wagga Cycling Club
B Britany Orr (NSW) Randwick Botany
B Nicholas Adcock (QLD) Sunshine Coast
B Hannah Banks (QLD) Broncos CC
B Natasha Mapley (TAS) Mersey Valley Devonport
B Erin Downing (VIC) Carnegie Caulfield Cycling Club
B Michelle Rowe (VIC) Leongatha
DNF Belinda Thompson (ACT) Canberra Cycling Club
DNF Samantha Ward (NSW) Wagga Wagga Cycling Club
DNF Belinda Wild (NSW) Southern Cross Cycling Club
DNF Amelia Hallam (QLD) Broncos CC
DNF Joanna Von Berky (QLD) Caboolture
DNF Amy Phillips (VIC) Carnegie Caulfield Cycling Club
 
Junior Under 19 Men, 30 minutes plus 3 laps
 
1 Warren Scott (NSW) St George Cycling Cub                 33.26
2 Chris Sutton (NSW) St George Cycling Cub
3 Grant Irwin (Qld) Rockhampton
4 Casey Munro (VIC) Brunswick
5 Dane Cheers (SA) Norwood Cycling Club
6 David Kemp (QLD) Toowoomba
7 Chris Pascoe (NSW) Dubbo Cycle Club
8 Andrew Wyper (NSW) Inverell Wheelers
9 Bradley Payne (QLD) Gold Coast Cats
10 Tom Mungoven (ACT) Canberra Cycling Club
B Dwayne Smith (TAS) Launceston City Cycling Club
B Sean Finning (VIC) Castlemaine Cycling Club
B Steven Evans (WA) Midland Cycling Club
B Mark Matear (WA) Northen Districts CC
B Stephen Rossendell (TAS) Hobart Wheelers/ Dirt Devils
B Sam Lee (NSW) St George Cycling Cub
B Dane Crawford (NSW) Hunter District Cycling Club
B David Klyne (TAS) Mersey Valley CC
B Nicholas Adcock (QLD) Sunshine Coast
DNF Aaron Kowald (ACT) Canberra Cycling Club
DNF Ross Taylor (ACT) Tuggeranong Vikings Cycling Club
DNF Luke Dale (NSW) Eurobodalla CTC
DNF Christopher Jenkins (NSW) Randwick Botany
DNF Brendan Jones (NSW) Inverell Wheelers
DNF Brendan Kay (QLD) North Brisbane MTB
DNF Lucien Keene (SA) Norwood Cycling Club
DNF Kato Nixon (SA) Norwood Cycling Club
DNF Joshua Wilson (TAS) Launceston City Cycling Club
DNF Justin Lang (WA) Midland Cycle Club
FELL Andrew Kidd (NSW) Hunter Districts
FELL Ben Nicol (QLD) Kangaroo Point
FELL Alan Schnable (QLD) Balmoral Cycling Club
 
Junior Under 19 Women, 20 minutes plus 2 laps
 
1 Kirby Piscioneri (TAS) West Tamar                        35.44
2 Jessie Maclean (ACT) Canberra Cycling Club
3 Meg Windsor (NSW) Bathurst CC
4 Apryl Eppinger (VIC) Carnegie Caulfield Cycling Club
5 Amber Malone (WA) Northen Districts CC
6 Amy Kirk (WA) Midland Cycle Club
7 Airlie Chalmers (ACT) Canberra Cycling Club