National Road Cycling Championships - NE
Mooloolaba, Sunshine Coast, QLD, September 9-15, 2002
Results Event program and results
Elite Men's Road Race
Klayten The Conqueror
By Anthony Tan, Cyclingnews correspondent in Yandina
Klayten conquered his demons
Photo: © Tom Balks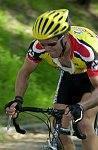 With the most diverse field in terms of cycling ability, the largest group of the day with almost 80 riders and by far the longest distance with 17 laps of a 10 kilometre circuit, the elite men's road race was always going to be an interesting one.
An early break in the form of Stuart Cowin (Astra CC) and Bradley Mills (Parramatta CC) was not at all surprising. Clearly the objective here was to rid themselves of the deadwood early on, and when another three riders bridged across, the break was no doubt for real.
On lap three, the five became seven, and on lap five, the seven became twelve - Caravello were best represented with two very experienced riders: Bart Hickson and Klayten Smith. It may have been early days, but the peloton's anxiety was particularly noticeable as the gap grew to around half a minute at the end of lap four.
From lap five to eight, Brendan Howard (Hinchinbrook CC) was doing the damage in the front group, setting a unrelenting tempo on the climb that none could follow. Howard's gap was never enough to cause permanent damage, and his strongman showing during the middle of the race proved very costly when it mattered - and so Howard's strength became Howard's End.
Too much of a gap, even for McGee
Photo: © Tom Balks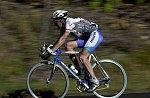 Meanwhile the main field containing the likes of Rodney McGee (Paramatta CC) and Eddie Salas (Hinchinbrook CC) became increasingly fragmented when a group of three containing Nathan Russell (Caravello) attempted to bridge across to the lead group. The closest this group got to the select pack of twelve was 1.15, before blowing out to well over two minutes with the peloton never far behind.
From lap ten onwards, the break was gone for good, and it appeared the duo from Caravello were suffering badly when they let small gaps open on the 550 metre-long climb. However for at least one of the two, it turned out to be a perfect game of bluff - not dissimilar to Lance Armstrong's stage win to Alpe d'Huez in the 2001 Tour de France.
Shortly thereafter, the "go-betweens" that found themselves in the unenviable position of being stuck between the lead group and the peloton conceded any attempt at glory, dropping back to the main field. At this stage, the lead group were now close to three minutes ahead - more than content to take a breather after two hours of dog work, and climbing noticeably slower from lap eleven to thirteen.
Too little, too late
Photo: © Tom Balks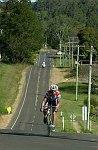 Paul Redenbach (Footscray CC) was clearly the strongest from the "best of the rest", visibly annoyed at missing out on the main move of the day. Redenbach decided to go it alone from lap twelve, venting his frustration in a solo effort that would no doubt prove fruitless. As the front group's lead blew out to over three minutes with three laps remaining, all but ten of the remnants of the peloton decided to call it a day. The race was going to be decided up front, and as the kilometres ticked down, the tension grew accordingly.
On the climb of lap fourteen, a fatigued Liam Kelly (Eastern Suburbs) ran out of cookies, and the lead group dwindled down to eleven riders. With less than 25 kilometres remaining, the final selection would most surely be on the either of the final two ascents - it simply became a matter of anticipating which one and what rider/s.
Super-motivated after a successful stint in Belgium, Klayten Smith from Caravello gave it his all on the penultimate climb, successfully breaking away from his remaining breakaway companions.
And then there were eleven...
Photo: © Tom Balks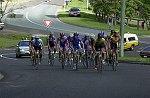 Smith's lead quickly grew to 15 seconds, then 30, then 45. The Caravello rider was flying in the 53x14 - straight into a cross-headwind, burning up the main drag back into the town of Yandina for a final lap of honour.
As Smith approached the 14% climb for the 17th and final time, he was a man possessed; it was clear his game of bluff was played to perfection with the gap now at one minute. Swooping down the technical descent that followed soon thereafter, Smith then drove it home, harder again - back into the wind with less than five to go and hurtling along at 45 clicks an hour.
Coming into the final straight, it was an inspiring sight: the ever-so-lean New South Welshman punched the air as he crossed the line victorious, barely able to hold his bike up. Glen Stojanow stomped home for second place, but today the glory was clearly all Klayten Smith's.
Post-race comments
Go once, go hard
Photo: © Tom Balks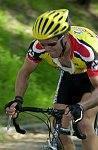 Klayten Smith (Caravello), 1st:
"It was hard but it was a steady pace [in the break]; probably better than being out in the bunch on a course like that. With a long headwind section and a sharp hill, the bunch is not really too keen to chase - so when the early break grew to seven, I was a bit worried - but I was lucky enough to bridge across with a couple of other fellas.
"I knew that I only had enough juice for one [attack]; the plan was to go once and go very hard. But I waited; on a course like this, you don't want to go too early - if you blow up [early on], it's curtains - so I waited and waited, then gave it all I had - and it worked out.
"I've won some races overseas, but they don't mean so much because you don't know what they are - but the national title is something everyone knows."
Stoj stomps home for 2nd
Photo: © Tom Balks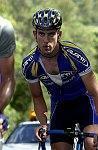 Glen Stojanow, 2nd:
"Last year the same thing happened, so I always had it in the back of my mind that something similar may happen. Once I got in the break, the plan was to hang in there - just survival, because they're really dead roads out there.
"In the kick to the line, I knew I had to come in around third wheel, and I just managed to come around Hilton [McMurdo, Northern Districts CC] - so I'm pretty happy with my performance today with Grafton to Inverell next week."
Photography
Photos by Tom Balks
Results
1 Klayten Smith (NSW) Caravello                             4.21.28
2 Glenn Stojanow (NSW) Parramatta
3 Jaaron Poad (WA) Northen Districts CC
4 Hilton Mcmurdo (WA) Northen Districts CC
5 Bart Hickson (NSW) Caravello
6 James Taylor (VIC) Carnegie Caulfield CC
7 Stuart Cowin (QLD) Astra CC
8 Cameron Jennings (QLD) Rockhampton CC
9 Bart Duraj (QLD) Astra CC
10 Brendan Howard (NSW) Hinchinbrook CC
11 Paul Redenbach (VIC) Footscray CC
12 Russell Van Hout (SA) Adelaide CC
13 Jose Rodriguez (NSW) Eastern Suburbs
14 Anthony Kellen (QLD) Astra CC
15 Daniel Maggiacomo (ACT) Canberra CC
16 Nathan Russell (NSW) Caravello
17 Wayne Anderson (NSW) Caravello
18 Liam Kelly (NSW) Eastern Suburbs
DNF Stephen Blackburn (ACT) Canberra CC
DNF Adrian Booth (QLD) FFAST
DNF Wayne Bower (NSW) Hunter District CC
DNF Ashley Bryant (QLD) Murwillumbah
DNF Troy Bunney (QLD) Caboolture CC
DNF Craig Cahill (NSW) CATS
DNF Chris Carr (VIC) Carnegie Caulfield CC
DNF Mark Chadwick (QLD) Rockhampton CC
DNF Anthony Challinor (NSW) Parramatta CC
DNF Hilton Clarke (VIC) Carnegie Caulfield CC
DNF Andrew Curro (NSW) Bicisport
DNF Justin Davis (VIC) Carnegie Caulfield CC
DNF Daniel Di Stefano (NSW) Kooragang Open CC
DNF Warren Doyle (NSW) Hinchinbrook CC
DNF Grant Gaston (QLD) Sunshine Coast CC
DNF Brad Glennan (NSW) St George CC
DNF Trent Goatley (VIC) St Kilda CC
DNF Luke Gowty (NSW) St George CC
DNF Shem Guthrie (QLD) Astra CC
DNF Alistair Hartley (NT) Darwin CC
DNF Luke Harvey- Palmer (NSW) Bicisport
DNF Patrick Hayburn (NSW) Sydney CC
DNF Dean Heathcote (QLD) Gold Coast Goldstars CC
DNF Shayne Hendren (QLD) Broncos CC
DNF Peter Herzig (QLD) Uni Cycle Club
DNF Ben Hitchens (QLD) Astra CC
DNF Campbell Kerr (NSW) Sutherland Shire CC
DNF Brian King (NSW) St George CC
DNF Chris Klem (QLD) Townsville CC
DNF Chris Marassovich (ACT) Canberra CC
DNF Rod Mcgee (NSW) Parramatta CC
DNF Bradley Mills (NSW) Parramatta
DNF Peter Milostic (NSW) Penrith Panthers CC
DNF Martin Mullin (ACT) Canberra CC
DNF Sam Nelson (ACT) Canberra CC
DNF Kane Oakley (QLD) Gold Coast Goldstars CC
DNF Michael O'Donoghue (QLD) Uni Cycle Club
DNF Cain Pasque (VIC) Camperdown
DNF Martin Pearce (QLD) FFAST
DNF Mark Petterson (WA) Southern Districts CC
DNF Edward Salas (NSW) Hinchinbrook CC
DNF Kirril Shields (NSW) Caravello
DNF Brendan Shipp (NSW) St George CC
DNF Allan Sieper (ACT) Canberra CC
DNF Garry Silk (TAS) Hobart Wheelers/ Dirt Devils
DNF Todd Sinclair (NSW) Northern Sydney
DNF Brent Skippen (NSW) Parramatta CC
DNF Kristjan Snorrason (VIC) Carnegie Caulfield CC
DNF Stephen Storer (QLD) Gold Coast Goldstars CC
DNF Tony Sunderland (QLD) Townsville CC
DNF Chris Thomas (NSW) St George CC
DNF Phillip Thuaux (NSW) Central Coast
DNF Robert Tidey (VIC) Carnegie Caulfield CC
DNF Des Trindall (QLD) Sunshine Coast CC
DNF Steven Williams (NSW) Sutherland
DNF Christopher Tymms (VIC) Carnegie Caulfield CC
DNF Ben Van Der Kamp (QLD) Victor Cycle
DNF Nathan Waddell (QLD) FFAST
DNF Nicholas Wood (NSW) St George CC