National Road Cycling Championships - NE
Mooloolaba, Sunshine Coast, QLD, September 9-15, 2002
Results Event program and results
Criterium - Elite Women
Two pairs are better than a full house
By Anthony Tan, Cylingnews correspondent in Mooloolaba
Dynamic duo(s)
Photo: © Tom Balks
For the second race in succession, the bunch sprinters have been denied glory, with a pair of riders getting the just desserts over the pack and never looking back.
After a crash-infested under 23 men's race, the women were warned about the off-camber bottom corner, and the peloton began with considerably more caution. Though on a circuit suited for speed-freaks, risk-taking is all part of the job, and Lorian Graham (Astra CC) did just that, sprinting out the blocks after just two laps.
Graham was joined almost immediately by Helen Kelly (Carnegie Caulfield CC), with the duo grabbing a few precious seconds at the end of each lap as the peloton mistakenly sat up. It appeared that it was only Christine Riakos (St George CC), yesterday's silver medallist in the road race who foresaw the danger, and urged the field to up the tempo.
Too little, too late
Photo: © Tom Balks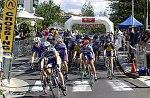 However when the peloton finally got their act together, it was all too late; Graham and Kelly were replicating a two-woman team time trial, and with just over five minutes remaining, the lead had blown out to more than half a lap.
Along the main straight, taking her half-lap turn into the headwind, it was always Lorian Graham; Graham was visibly the stronger of the two - the question now became whether she was the smarter.
Coming along the back straight for the final time, the answer was a resounding yes - Graham upped the tempo on the uphill hairpin bend, just enough to significantly gap Kelly and to claim the most biggest win of her cycling career.
Post race comments
Took her chance and came away with the goods
Photo: © Tom Balks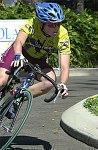 Lorian Graham (Astra CC), 1st:
"Today I thought: 'take the chance, attack when I can; if they chase, then they've still got to bring me back.'
"The wind from the coast was a blowing a strong headwind, so it was good to have another person to help. I seemed to be doing all the turns into the headwind, so I think I was feeling a little bit stronger than Helen [Kelly] down the back.
"I didn't want to play the cat-and-mouse game, because if we did, the bunch may have caught us - so I thought if she attacked, I would jump right on her.
"Coming into the final sprint, I jumped just going slightly up the final rise and managed to get a bit of an edge because I knew I could corner quite well - and I used that speed coming out of the corner to give it the grunt right to the end."
Photography
Photos by Tom Balks
Results

1 Lorian Graham (Qld) Astra CC
2 Helen Kelly (Vic) Carnegie Caulfield
3 Elizabeth Williams (Vic) Carnegie Caulfield
4 Christine Riakos (NSW) St George Cycling Club
5 Kerry Cohen (WA) Northen Districts CC
6 Toireasa Ryan (NSW) Bathurst CC
7 Natalie Bates (NSW) Parramatta Cycling
8 Emma Rickards (Vic) Carnegie Caulfield
9 Jennifer Manefield (NSW) Parramatta Cycling
10 Claire Baxter (Vic) Hawthorn CC
11 Jessica Ridder (NSW) Bathurst CC
12 Oenone Wood (ACT) Canberra Cycling Club
DNF Elizabeth Hickey (ACT) Canberra Cycling Club
DNF Bronwyn Wiseman (ACT) Canberra Cycling Club
DNF Leonie Aisbett (NSW) Parramatta Cycling
DNF Elizabeth Georgouras (NSW) Bicisport
DNF Natasha Harrigan (NSW) St George Cycling Club
DNF Zoe Southwell (NSW) Parramatta Cycling
DNF Rhonda Clelland (Qld) Hamilton Pine Rivers
DNF Sasha Harvey (Qld) Townsville CC
DNF Anna Jones-Perrin (Qld) Hamilton Pine Rivers
DNF Sonya Keay (Qld) Hamilton Pine Rivers
DNF Tania Shipton (Qld) Hamilton Pine Rivers
DNF Nicole Tasker (Qld) Broncos CC
DNF Louise Yaxley (Tas) City of Burnie Cycling
DNF Loretta Mabin (Vic) Leongatha
DNS Fiona Hedgecoe (ACT) Canberra Cycling Club
DNS Rebecca Preston (Qld) Sunshine Coast Cycling
DNS Amy Safe (SA) Norwood Cycling Club
DNS Emily Williams (Tas) Launceston City
DNS Katie Knight (Vic) Footscray CC