National Road Cycling Championships - NE
Mooloolaba, Sunshine Coast, QLD, September 9-15, 2002
Results Event program and results
Criterium - U23 Men
Double trouble with double Jonos
By Anthony Tan, Cylingnews correspondent in Mooloolaba
Jono's fibres twitched fastest
Photo: © Tom Balks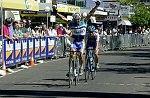 On a fast and furious circuit that rewarded only the most skilful of crit specialists, the under 23 men's criterium was going to be a smorgasboard of fast-twitch fibre action.
In the first ten minutes, there was no shortage of aggression as the peloton pushed their machines to their limits around the bottom harpin bend. One or two riders were sliding out on almost every lap, travellin' on the gravel before adjusting their lean into the off-camber corner.
First to make a move was Lee Godfrey (Geelong West CC), who was later joined by five other riders. Godfrey pressed hard, but it was still early days - the bunch unrelenting in their pursuit, spearheaded by NSWIS-FDJeux.com Brendan Cato (Illawarra).
Davis launched the perfect counter
Photo: © Tom Balks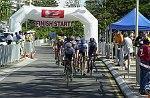 Then the classic counter happened: Jonathan Davis launched out of the blocks on the slight uphill coming into the top corner, and with some tired looking legs back in the pack, Davis immediately assumed a ten second gap on the field.
With just under 15 minutes remaining, Davis was going to have trouble staying out on his own. His call for assistance was soon answered in the form of fellow AIS teammate Jonathan Cantwell; Cantwell bridged across with just over ten minutes to go, and not surpisingly, the pair worked hand in hand to forge their lead over the peloton.
A pact between mates
Photo: © Tom Balks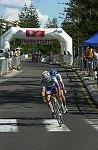 Speaking of the peloton, the field behind the dynamic duo was rapidly disappating. The frustrated riders who missed the move from Davis attempted to get across, but rarely in unison. Cantwell's clubmate and in-form rider David Betts (Lifecycle CC) was the closest, but the pair up front weren't waiting for no man, and Betts dropped back to the peloton in the remaining five minutes.
With no cat-and-mouse tactics coming into play, it was clear Cantwell and Davis had made a pact to sort out the sprint right until the very end. And when the bell was rung, this is what predictably happened.
In the final straight, Jono Davis showed off his awesome sprinting prowess, easily outgunning Jonathan Cantwell and clocking up a terrific championship win in style.
Post race comments
Dished out a lesson in bike handling
Photo: © Tom Balks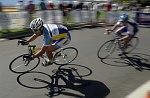 Jonathan Davis (St George CC), 1st:
"Our plan with Dave Sanders [AIS Coach] this morning was to keep attacking and try and ride off from the front. Lee [Godfrey] put in a great attack and I was lucky enough to be up there to counter it and stay away.
"It's always a move of ours [AIS U23] that as soon as a break is established, counter the move and try and get a few more riders across to it; I was just lucky enough to have our second best crit rider in Jonathan Cantwell to come across and jump in with me. I was feeling reasonable but I was really looking for a bit of help - especially from someone like Jono [Cantwell] to keep us out there.
"I wasn't too worried about the sprint. I knew that one of us would get it if we stayed away and that's the most important thing. I really just gave it everything.
Jonathan Cantwell (Lifecycle), 2nd:
"I knew the early break wouldn't go, because everyone was really jumping out of the corners, so I knew it wouldn't go - the course was too fast, and I knew the counterattacks were the ones that would make the move.
"The bottom corner was absolutely crazy; if you laid the brakes on too much, you were just going to slip over.
"Jono [Davis] had the move planned before the start of the race - we're AIS teammates, and I knew what he was going to do and I was going to go with him. I knew that was the right move to go with. There was a crash behind us and we managed to get a gap straight away and maintained it for the rest of the race.
"Jono asked for the win - he was the won that made the move, and he's laid it on the line for me in other races, so I was happy to give Jono the win. I'm very happy with our performance; we had a fantastic ride."
Photography
Photos by Tom Balks
Results

1 Jonathan Davis (NSW) St George Cycling Club                  32.43
2 Jonathan Cantwell (Qld) Lifecycle Cycling Club
3 Lee Godfrey (Vic) Geelong West CC
4 Bernard Sulzberger (Tas) West Tamar CC
5 Joel Pearson (Vic) Warragul
6 David Betts (Qld) Lifecycle Cycling Club
7 Brendan Cato (NSW) Illawarra
8 Gonzalo Tagliabue (NSW) Hinchinbrook Cycling Club
9 Daniel Newnham (Qld) Gold Coast Goldstars CC
10 Luke Bettany (SA) Noarlunga South Coast
11 James Hannam (SA) Norwood Cycling Club
12 Nash Kent (NSW) Hinchinbrook Cycling Club
DNF Marcus Hayman (ACT) Canberra Cycling Club
DNF Scott Dixon (NSW) Dubbo Cycling Club
DNF Fernando Duran (NSW) Hinchinbrook Cycling Club
DNF Troy Glennan (NSW) St George Cycling Club
DNF Simon Holcombe (NSW) Parramatta Cycling Club
DNF Philip Burns (Qld) Broncos CC
DNF Jonathan Campbell (Qld) Lifecycle Cycling Club
DNF Carl Donaldson (Qld) Lifecycle Cycling Club
DNF Ben Johnson (Qld) Sunshine Coast Cycling
DNF Aaron Kemps (Qld) Coral Isle Cyclicts
DNF Leigh Palmer (Qld) Astra CC
DNF Rod Mason (Vic) Carnegie Caulfield Cycling
DNF Tommy Nankervis (Vic) Carnegie Caulfield Cycling
DNF Nathan Jones (WA) Southern Districts CC
DNF Richard Steele (WA) Northen Districts CC
DNF Cody Stevenson (NSW) Penrith Panthers CC
DNS Brett Hall (NSW) Kooragang Open Cycling
DNS Duncan Kidd (NSW) Hunter District Cycling
DNS Gilbert Gutowski (Qld) Broncos CC
DNS Jason Patterson (Qld) Townsville CC
DNS Bruce McIntosh (Vic) Carnegie Caulfield Cycling