National Road Cycling Championships - NE
Mooloolaba, Sunshine Coast, QLD, September 9-15, 2002
Results Event program and results
Individual Time Trial - U23 Men
By Godfrey he's fast!
By Anthony Tan in Mooloolaba
De winner is me - Godfrey!
Photo: © Tom Balks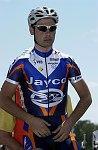 Victorian Lee Godfrey (Geelong West CC) looked unbeatable and today was unbeatable, taking out the men's under 23 national time trial title by almost one and a half minutes.
The weather was a tad cooler than expected, although the ocean breeze was doing its best to create havoc among the young 'uns. On a straight out-and-back course consisting of two 15 kilometre loops, the ugly cross-head wind on the way out and a mostly cross-tail coming back saw a number of less-experienced time triallists falter.
Not so for Monsieur Godfrey: the Geelong Cycling Club young gun started third last when the blustery conditions were doing most of the damage, however Godfrey was unperturbed, and was well up on the rest of the field by the 15km mark. The Victorian kept up his high work-rate and blistered home in a time of 39:41.28.
"It was a hard day - really windy. But it was a fast and flat time trial course, which is how I like them," said the unofficial national champion.
"I started to get some good form the last two weeks and thought I'd be in with a shot - so I gave it everything I had and from the sound of it, it looks like I pulled it off.
"This was the one I wanted to win the most and this is what I came here to win. So now I'll just concentrate on the road race and hopefully one of the AIS boys can win it, if not me."
R-U Jono Davis
Photo: © Tom Balks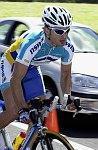 Runner-up Jono Davis (St George CC) echoed Godfrey's comments about the blustery conditions:
"I decided to stick with a four spoke [rear wheel] and was hangin' on to my bike on the way out and even sometimes on the way back. I really struggled the first time on the way out, but managed to get into a rhythm and just tried to bring it home on the second lap.
"Having Lee Godfrey start right behind you and then fly past was also a bit demoralising - he looked unbeatable out there today. Guys like Lee and Bettsy [David Betts - Lifecycle Cycling Club, 3rd] really do well in these conditions."
Photography
Photos by Tom Balks
De winner is Godfrey - Lee Godfrey (Geelong West CC) knew what he had to do today to win and fulfilled his expectations perfectly
Bringing it home - Jonathan Davis (St George Cycling Club) found his groove on the second lap, and allowed him to cement his place on the second step of the podium
Kemp-ing it real - Aaron Kemps (Coral Island CC) powered home to a fine place on the podium
Results

1 Lee Godfrey (Vic) Geelong West CC                                39.41.28
2 Jonathan Davis (NSW) St George Cycling Cub                        1.18.01
3 Aaron Kemps (Qld) Coral Isle CC                                   2.37.16
4 Stephen Rossendell (Tas) Hobart Wheelers/ Dirt Devils             2.46.82
5 David Betts (Qld) Lifecycle Cycling Club                          2.53.26
6 Brendan Cato (NSW) Illawarra Cycling Club                         3.29.54
7 Fernando Duran (NSW) Hinchinbrook Cycling Club                    3.43.09
8 Richard Steele (WA) Northen Districts CC                          3.50.53
9 Leigh Palmer (Qld) Katherine Cycling Club                         4.20.23
10 James Hannam (SA) Norwood Cycling Club                           4.24.30
11 Jason Patterson (Qld) Townsville CC                              4.38.52
12 Robert Lyle (NSW) Murwilliambar                                  5.15.90
13 Gilbert Gutowski (Qld) Broncos CC                                5.45.11
14 Marcus Hayman (ACT) Canberra Cycling Club                        5.48.74
15 Scott Dixon (NSW) Dubbo Cycling Club                             7.41.80
16 Tommy Nankervis (Vic) Carnegie Caulfield Cycling Club            8.40.67
17 Brett Hall (NSW) Kooragang Open Cycling Club                     8.41.51
DQ Troy Glennan (NSW) St George Cycling Cub                         3.11.54
DNF Joel Pearson (Vic) Warragul
DNS Duncan Kidd (NSW) Hunter Districts
DNS Peter Jones (NSW) Illawarra Cycling Club