National Road Cycling Championships - NE
Mooloolaba, Sunshine Coast, QLD, September 9-15, 2002
Results Event program and results
Individual Time Trial - Men
Givin' it some Milos-stick
By Anthony Tan in Mooloolaba
Cheer up Pete - you won!
Photo: © Tom Balks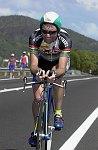 One of Australian cycling's longest-serving names from Penrith Panthers Cycling Club, Peter Milostic, laid down the gauntlet for the rest of the week with an impressive time trial win in Coolum today.
And speaking of well known cycling identities, Rod McGee (Parramatta CC), brother of FDJeux.com Tour de France stage winner Bradley, posted a great time to place second. Russell Van Hout (Adelaide CC) rounded off the podium places, finishing just over a minute down on Milostic.
Milostic let his legs do the talking, channeling his frustration out on what has been described as a course tailor-made for TT specialists, and gave his motor as much Milos-stick as it could handle, blitzing the field with a time of 51.35.60.
Although when Cyclingnews caught up with the newly-crowned winner soon after his effort, he wasn't so sure:
"I wasn't stomping today - I wasn't flying at all, but I recently won the NSW time trial championships by a huge margin - so if I won today, I won on good form.
"I'm always focusing on time trialling, because time-trialling helps my road racing, and I put a lot of effort into these events - so hopefully it paid off.
Hot Rod
Photo: © Tom Balks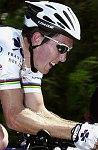 Second placed Rod McGee was noticeably more optimistic, however "Macca's" attention is focused more on the criterium on Sunday:
"It was a very tough course mainly because of the cross winds, but as far as the circuit goes, it was perfect. The wind was the same for everyone, so it didn't really matter. I got to the heart rate zones I wanted to and I was feeling pretty good out there today.
"Today's time trial gave me a good idea of where I'm at, but my favourite event will be the criterium in a few days from now.
Speaking about the complexities in managing the NSWIS-FDJeux.com development team and balancing his own training, Rod McGee considers himself fortunate just to be able to both:
"I wouldn't say I've got a set program that I follow. When I get the opportunity to train I do - so I don't train as much as I'd like to, but then again it's [managing the NSWIS-FDJeux team] a job - so I'm pretty lucky really."
Photography
Photos by Tom Balks
Givin' it some Milos-stick - Peter Milostic (Penrith Panthers CC) didn't have the best sensations out on the bike today, but had the form that enabled him to capture his first national ITT title
Manager - rider - champion - Rod McGee (Paramatta CC) has managed his time on and on the bike well, riding very strongly to place second on a course tailored for TT specialists
Go Russ! - Russell Van Hout (Adelaide Cycling Club) gave it everything today, but it was only enough for third
Results
1 Peter Milostic (NSW) Penrith Panthers CC        51.35.60
2 Rod McGee (NSW) Parramatta                       0.41.69
3 Russell Van Hout (SA) Adelaide Cycling Club      1.06.22
4 Kristjan Snorrason (VIC) Carnegie Caulfield      1.34.41
5 Allan Sieper (ACT) Canberra Cycling Club         3.47.82
6 Brian King (NSW) St George Cycling Cub           3.48.49
7 Alistair Hartley (NT) Darwin Cycling Club        3.56.55
8 Daniel Brickell (NSW) Sutherland                 4.14.57
9 Adrian Booth (QLD) Ffast Flight Centre           4.51.96
10 Jaaron Poad (QLD) Northern Districts            5.00.70
11 Wayne Bower (NSW) Hunter District               5.13.18
12 Chris Carr (Vic) Carnegie Caulfield             5.33.27
13 Sam Nelson (ACT) Canberra Cycling Club          5.45.83
14 Peter Herzig (QLD) Uni Cycle Club               6.05.72
15 Michael O'Donohue (QLD) UQ Cycling Club         6.17.55
16 Kevin Margetson (NSW) St George                 8.04.82
17 Kane Oakley (QLD) Gold Coast Goldstars          8.27.33
18 Chris Thomas (NSW) St George Cycling Cub        8.39.49
19 Martin Mullin (ACT) Canberra Cycling Club       9.06.23
20 Patrick Hayburn (NSW) Sydney CC                 9.37.63
21 Brad Glennan (NSW) St George Cycling Cub       11.26.70
22 Chris Marassovich (ACT) Canberra Cycling Club  11.33.08
23 Luke Harvey- Palmer (NSW) Bicisport            13.37.05
24 Daniel Di Stefano (NSW) Kooragang Open         16.09.00