National Road Cycling Championships - NE
Mooloolaba, Sunshine Coast, QLD, September 9-15, 2002
Results Event program and results
Individual Time Trial - Juniors
Junior U19 Men
Birthday Boy gets his pressie
By Anthony Tan in Mooloolaba
Can have his cake and eat it.
Photo: © Tom Balks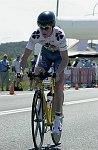 New South Welshman Chris Sutton got the birthday pressie he always wanted, clocking the fastest time in the individual time trial - and thereby becoming national junior U19 ITT champion.
Sutton, the son of high-profile junior road coach Gary, beat pre-race favourite and recently crowned NSW state ITT champ Shaun Higgerson (Randwick Botany CC) by the narrowest of margins, posting a time of 26.01.1.
Both Sutton and Higgerson lapped up the miles along the Coolum motorway, and were clearly a level above the rest. Less than four seconds separated the two at the finish, yet almost half a minute separated the duo from third-placed Marc Williams (Canberra Cycling Club).
Looks like "Sutto" can have his cake and eat it too. Happy 18th birthday from the Cyclingnews crew Chris.
Photography
Photos by Tom Balks
General
Men
Birthday bash - Chris Sutton (St George Cycling Club) got his best ever birthday pressie today, winning the junior U19 men's ITT on his 18th birthday
Women
Results
Junior Under 15 Men, 10km


1 Cameron Meyer (WA) Midland Cycling Club                  15.24.7
2 Hayden Josefski (QLD) Broncos CC                          0.26.2
3 Leigh Howard (VIC) Geelong West CC                        0.27.9
4 Scott Sunderland (WA) Midland Cycling Club                0.37.2
5 Travis Meyer (WA) Midland Cycling Club                    0.40.7
6 Greg Beer (NSW) Penrith Panthers CC                       0.42.0
7 Pip Grinter (VIC) Castlemaine Cycling Club                0.43.9
8 Angus Morton (NSW) Port Macquarie                         0.47.3
9 Matthew Pettit (NSW) Parramatta Cycling Club              0.53.1
10 Luke Barrett (NSW) St George Cycling Cub                 1.00.4
11 Blake Field (NSW) St George Cycling Cub                  1.08.2
12 Abe Hastwell (VIC) Ararat + District Cycling Club        1.08.4
13 Nicholas Spratt (NSW) Penrith Panthers CC                1.08.5
14 David Keevers (QLD) Maryborough                          1.14.4
15 Edward Pethey (SA) Norwood Cycling Club                  1.18.5
16 Michael Fitzgerald (WA) Northen Districts CC             1.20.1
17 Nicholas Ruscoe (NT) Alice Springs CC                    1.24.8
18 Matt Daley (QLD) Gold Coast Gold Stars CC                1.26.2
19 Ben Young (SA) Whyalla Cycling Club                      1.30.2
20 Jesse Foster (VIC) Geelong West CC                       1.31.6
21 William Robinson (TAS) Launceston City Cycling Club      1.31.6
22 Mathew Wild (NSW) Southern Cross Cycling Club            1.32.6
23 Will Ford (VIC) Stawell GT Western                       1.40.1
24 Craig Mattingly (SA) Adelaide Cycling Club               1.44.8
25 Jack Hudson (QLD) Sunshine Coast Cycling Club            1.51.6
26 Matthew Edmunds (VIC) Echuca-Moama Cycling Club          1.56.7
27 Kieran Lee (SA) Noarlunga South Coast                    1.58.3
28 Tom Mulligan (VIC) Warragul Cycling Club                 2.03.6
29 Lee Chesson (SA) Central Districts                       2.04.2
30 Joel Lewis (NT) Katherine Cycling Club                   2.08.8
31 Troy Asimus (NSW) Dubbo Cycling Club                     2.11.2
32 Neil Yeoh (SA) Norwood Cycling Club                      2.28.6
33 Daniel Herrick (NT) Alice Springs CC                     2.32.3
34 Jack Rhodes (NT) Alice Springs CC                        2.33.4
35 Troy Dippel (NSW) Hinchinbrook Cycling Club              2.33.9
36 Kieran Murphy (VIC) Carnegie Caulfield Cycling Club      2.36.1
37 Gareth Coffee (SA) Norwood Cycling Club                  2.38.2
38 Aaron Jones (TAS) City of Burnie Cycling Club            2.39.9
39 Jonathon Cridland (NSW) Southern Cross Cycling Club      2.52.7
40 Alex Holden (TAS) City of Burnie Cycling Club            3.02.1
41 Thomas Robinson (TAS) Launceston City Cycling Club       3.31.7
42 Benjamin Laskey (TAS) Launceston City Cycling Club       3.33.9
43 Charles Seaman (NSW) Dubbo Cycling Club                  3.41.2
44 Randall Laffin (SA) Port Pirie CC                        3.45.6
45 Strachan Kerswill (QLD) Sunshine Coast Cycling Club      4.40.7
 
Junior Under 15 Women
 
1 Grace Sulzberger (TAS) West Tamar                         8.16.8
2 Tess Downing (VIC) Carnegie Caulfield Cycling Club        0.04.9
3 Therese Rhodes (NT) Alice Springs CC                      0.19.3
4 Jessica Cowman (QLD) Victor Cycle                         0.26.8
5 Angela Jones (NSW) Bicisport                              0.28.5
6 Georgina Freeland (VIC) Stawell GT Western                0.30.7
7 Elizabeth Church (VIC) Castlemaine Cycling Club           0.33.7
8 Theresa Blumel (QLD) Broncos CC                           0.41.7
9 Laura Meisel-Dennis (ACT) Canberra Cycling Club           0.43.5
10 Sarah Fiedler (QLD) Sunshine Coast Cycling Club          0.53.0
11 Loren Rowney (QLD) C.A.T.S                               0.54.7
12 Jade Reid (NSW) Port Stephens                            0.54.8
13 Tiffany Manion (TAS) West Tamar CC                       0.58.8
14 Erin Peoples (VIC) Shepparton CC                         0.59.8
15 Lara Dyus (SA) Norwood Cycling Club                      1.15.6
16 Elicia Kelly (SA) Port Adelaide                          1.22.2
17 Tiffany Cromwell (SA) Sturt Holdfast Marion CC           1.23.3
18 Ingrid Paterson (ACT) Canberra Cycling Club              1.23.5
19 Deena-Maree Faulkner (NSW) Southern Cross                1.42.7
 
Junior U17 Men, 15km
 
2 Josh Wall (NSW) Illawarra Cycling Club                   21.46.3
3 Miles Olman (QLD) Rockhampton CC                          0.24.9
4 Michael Ford (VIC) Carnegie Caulfield                     0.27.3
5 Todd Dawson (QLD) C.A.T.S                                 0.40.7
6 Dean Windsor (NSW) Bathurst CC                            0.49.1
7 Simon Clarke (VIC) Carnegie Caulfield                     0.49.2
8 Philip Stokes (NSW) Penrith Panthers CC                   0.54.0
9 Adam Davis (NT) Alice Springs CC                          1.04.0
10 Hayden Brooks (QLD) Victor Cycle                         1.13.1
11 J-L Rathbone (NSW) Penrith Panthers CC                   1.18.7
12 Luke Warren (NSW) Bathurst CC                            1.20.4
13 Mitchell Docker (VIC) Brunswick                          1.20.7
14 Matthew James (ACT) Canberra Cycling Club                1.21.4
15 Ben Mockridge (QLD) C.A.T.S                              1.25.5
16 Cameron Hope (NSW) Wagga Wagga                           1.27.0
17 Matthew Stephens (NT) Alice Springs CC                   1.33.5
18 Robert Cater (NSW) Randwick Botany                       1.33.8
19 Jason Chilcott (WA) Southern Districts CC                1.34.4
20 Stefan Wieland (NSW) Southern Highlands                  1.35.7
21 Thomas Greathead (WA) Southern Districts CC              1.35.8
22 Luke Picton (NSW) Southern Cross                         1.42.0
23 Luke Cridland (NSW) Southern Cross                       1.46.5
24 Callan Taylor (SA) Central Districts                     1.46.6
25 Joseph Depasquale (SA) Central Districts                 1.48.7
26 Luke Anderson (QLD) C.A.T.S                              1.49.2
27 Mitchell Black (QLD) Rockhampton CC                      1.54.0
28 Bobby Gallagher (QLD) Kangaroo Point                     1.56.7
29 Dorian Gray (WA) Albany Cycle Club                       1.57.6
30 Jeremy Davis (QLD) Broncos CC                            2.05.9
31 Corey Heath (NT) Katherine Cycling Club                  2.06.3
32 Matthew Hood (NSW) St George Cycling Club                2.07.6
33 Matt Goss (TAS) West Tamar Cycling Club                  2.10.0
34 Matt Dobinson (QLD) Sunshine Coast                       2.11.5
35 Peter Spencer (QLD) CATS                                 2.15.8
36 Trent Clifford (VIC) Geelong West CC                     2.17.6
37 Tyrone Devery (QLD) Sunshine Coast                       2.24.7
38 Mark Bergamin (SA) Adelaide Cycling Club                 2.25.3
39 Nathan Wise (VIC) Carnegie Caulfield                     2.25.7
40 Tyler McLachlan (NSW) Southern Cross                     2.33.0
41 David Bennett (WA) Northen Districts CC                  2.35.4
42 Daniel Mikus (QLD) Broncos CC                            2.39.5
43 Michael Fountas (SA) Port Pirie CC                       2.40.6
44 Kyle Bateson (QLD) Logan City Cycling Club               2.41.8
45 Mitch Chapman (NSW) Bathurst CC                          2.56.3
46 Nathan Silleto (ACT) T'nong Vikings                      3.01.3
47 Wesley Sulzberger (TAS) West Tamar CC                    3.03.5
48 Nicholas Adcock (QLD) Sunshine Coast                     3.07.4
49 Michael Bernhagen (QLD) Kangaroo Point                   3.18.1
50 Timothy Walker (TAS) West Tamar                          3.20.4
51 Brenton Hetherington (QLD) Sunshine Coast                3.26.9
52 Jacob Kerswill (QLD) Sunshine Coast                      3.33.3
53 Joe Neeman (ACT) Canberra Cycling Club                   3.35.2
54 Luke Horjus (SA) Central Districts                       3.56.1
55 Simon Buzacott (SA) Sturt Holdfast Marion CC             4.02.6
56 Fabio Calabria (ACT) Canberra Cycling Club               4.36.6
57 Sam Trevor (QLD) Broncos CC                              4.40.6
58 Joshua Heathcote (QLD) Ipswich Cycling Club              4.49.9
59 Sam Walton (ACT) Canberra Cycling Club                   5.55.2
60 Ben Powell (QLD) Sunshine Coast                          6.31.8
 
Junior Under 17 Women, 10km
 
1 Britany Orr (NSW) Randwick Botany                        15.57.6
2 Sarah Rota (QLD) C.A.T.S                                  0.43.1
3 Natasha Mapley (TAS) Mersey Valley Devonport              0.48.8
4 Joanna Von Berky (QLD) Caboolture                         0.51.7
5 Melissa Moffatt (NSW) Wagga Wagga Cycling Club            0.59.8
6 Jaclyn Kejda (NSW) Illawarra Cycling Club                 1.00.5
7 Amanda Spratt (NSW) Penrith Panthers CC                   1.01.5
8 Victoria Freeland (VIC) Stawell GT Western                1.04.3
9 Skye-Lee Armstrong (NSW) Parramatta Cycling Club          1.07.2
10 Fiona Streit (QLD) Balmoral Cycling Club                 1.11.4
11 Hannah Banks (QLD) Broncos CC                            1.12.3
12 Brigid Farrell (VIC) Carnegie Caulfield Cycling Club     1.18.1
13 Genna Crean (SA) Noarlunga South Coast CC                1.23.6
14 Tamara Hammermeister (QLD) Broncos                       1.24.1
15 Amelia Hallam (QLD) Broncos CC                           1.34.2
16 Naomi Adams (NSW) Dubbo Cycling Club                     1.42.1
17 Jessica Tanner (VIC) Shepparton CC                       1.48.9
18 Eve Hood (NSW) Parramatta Cycling Club                   1.56.2
19 Hannah Bush (VIC) Shepparton CC                          1.59.0
20 Melinda Harris (NSW) Mudgee                              2.13.8
21 Erin Downing (VIC) Carnegie Caulfield Cycling Club       2.16.1
22 Amy Phillips (VIC) Carnegie Caulfield Cycling Club       2.39.3
23 Ilana Boon (QLD) Sunshine Coast Cycling Club             2.43.2
24 Michelle Rowe (VIC) Leongatha                            2.44.2
25 Jessica Armstrong (ACT) Canberra Cycling Club            2.44.3
26 Belinda Wild (NSW) Southern Cross Cycling Club           2.48.3
27 Samantha Ward (NSW) Wagga Wagga Cycling Club             3.29.9
28 Belinda Thompson (ACT) Canberra Cycling Club             3.50.9
 
Junior U19 Men, 20km
 
1 Chris Sutton (NSW) St George Cycling Club                26.01.1
2 Shaun Higgerson (NSW) Randwick Botany                     0.04.5
3 Marc Williams (ACT) Canberra Cycling Club                 0.27.5
4 David Klyne (TAS) Mersey Valley CC                        0.29.9
5 David Kemp (QLD) Toowoomba                                0.30.4
6 Luke Dale (NSW) Eurobodalla CTC                           1.03.9
7 Dane Cheers (SA) Norwood Cycling Club                     1.28.1
8 Sam Lee (NSW) St George Cycling Club                      1.33.9
9 Dwayne Smith (TAS) Launceston City                        1.38.9
10 Sean Finning (VIC) Castlemaine Cycling Club              1.57.1
11 Ben Miles (WA) Southern Districts CC                     2.07.3
12 Casey Munro (VIC) Brunswick                              2.09.8
13 Warren Scott (NSW) St George Cycling Club                2.24.9
14 Joshua Wilson (TAS) Launceston City                      2.29.5
15 Andrew Wyper (NSW) Inverell Wheelers                     2.32.8
16 Chris Jenkins (NSW) Randwick Botany                      2.33.9
17 Bradley Payne (QLD) C.A.T.S                              2.41.6
18 Steven Evans (WA) Midland Cycling Club                   2.49.0
19 Dane Crawford (NSW) Hunter District                      2.49.4
20 Kato Nixon (SA) Norwood Cycling Club                     3.04.9
21 Brendan Jones (NSW) Inverell Wheelers                    3.18.6
22 Tom Mungoven (ACT) Canberra Cycling Club                 3.21.8
23 Ben Nicol (QLD) Kangaroo Point                           3.27.5
24 Justin Lang (WA) Midland Cycle Club                      3.47.5
25 Nicholas Dyriw (ACT) Canberra Cycling Club               3.50.4
26 Mark Matear (WA) Northen Districts CC                    3.54.4
27 Grant Irwin (QLD) Rockhampton Cycling Club               3.57.4
28 Timothy Dawson (NSW) Dubbo CC                            4.00.9
29 Aaron Kowald (ACT) Canberra Cycling Club                 4.31.4
30 Lucien Keene (SA) Norwood Cycling Club                   4.42.4
31 Ross Taylor (ACT) T'nong Vikings                         6.36.4
 
Junior Under 19 Women, 15km
 
1 Jessie Maclean (ACT) Canberra Cycling Club               23.54.7
2 Amy Kirk (WA) Midland Cycle Club                          0.22.0
3 Sarah McLachlan (NSW) Southern Cross Cycling Club         0.27.1
4 Amber Malone (WA) Northen Districts CC                    0.27.3
5 Meg Windsor (NSW) Bathurst CC                             0.32.4
6 Kirby Piscioneri (TAS) West Tamar                         1.10.7
7 Apryl Eppinger (VIC) Carnegie Caulfield Cycling Club      2.16.7
8 Airlie Chalmers (ACT) Canberra Cycling Club               2.58.0
9 Corrine Seegers (NSW) Parramatta Cycling Club             3.16.1