News for October 25, 2001
Today is Tour Day
The offical 2002 Tour de France presentation will be held today in Paris, noon, local time (6am US EDT, 8pm Aus EST). Whilst Cyclingnews will be covering the announcement (so make sure you check back in!) there has been plenty of speculation about the nature of the 2002 Tour. Cyclingnews has been covering the Tour course story since October 13.
Whilst the exact distance and official course details will only be known after the Société du Tour de France annoucements, French website, Velo 101, have published a leaked report giving course dates and route. It is already known that the race starts in Luxembourg on Saturday July 6, 2002. The prologue and first stage will be held in Luxembourg with the second stage moving into Germany.
From there the course will move across the north of France in a westerly direction with the Team Time Trial, on Wednesday 10 July between Epernay and Château-Thierry. The first week ends with an Individual TT between Lanester and Lorient on Monday July 15.
The first rest day is on Tuesday, July 16, then the riders will face the Pyrenees. The Stage 11 finish is a new one for the tour, via La Mongie and finishing on the Col du Tourmalet. The following day the peleton moves on to the Plateau de Beille. Stage 14 (July 21) finishes with the fearsome ascent of Mont Ventoux.
After a rest and transition day on July 22, it's onto the Alps. Stage 15 (Tuesday July 23) will see the Vaison-la-Romaine-Les deux Alpes stage which takes in the infamous Les Deux-Alpes mountain finish, the scene of Jan Ullrich's destruction at Marco Pantani's hands in 1998. Stage 16 finishes on La Plagne, with Stage 17 at Cluses. Three big mountain stages and finishes in a row, which should ensure some great racing and tactics.
The final stages include the last TT on the penultimate day, and the traditional finish on the Champs Elysées on July 28.
The Tour management seem to have responded to past criticisms, such as a dull final week by placing the last mountain stages, and time trial so close to the finish. This should make the 2002 Tour one of the most interesting in recent years, with the 'international' first week, a second week in the Pyrenees and the last in the Alps and five mountain top finishes. Fantastic.
Unoffical 2002 Tour de France Stage list*

Prologue Saturday 6 July 2002 Luxembourg (Luxembourg) 
Stage 1: Sunday 7 July 2002 Luxembourg (Luxembourg)-Luxembourg (Luxembourg) 
Stage 2: Monday 8 July 2002 Luxembourg (Luxembourg)-Sarrebrück (Germany) 
Stage 3: Tuesday 9 July 2002 Metz (Moselle)-Reims (Marne) 
Stage 4: Wednesday 10 July 2002 Epernay (Marne)-Château-Thierry (Aisne) Team TT
Stage 5: Thursday 11 July 2002 Soissons (Aisne)-Rouen (Seine Maritime) 
Stage 6: Friday 12 July 2002 Rouen (Seine Maritime)-Bagnoles de l'Orne (Orne) 
Stage 7: Saturday 13 July 2002 Alençon (Orne)-Avranches (Manche) 
Stage 8: Sunday 14 July 2002 St-Martin-de-Landelles (Manche)-Plouay (Morbihan) 
Stage 9: Monday 15 July 2002 Lanester (Morbihan)-Lorient (Morbihan) Individual TT

Rest Day Tuesday 16 July 2002 

Stage 10: Wednesday 17 July 2002 Bazas (Gironde)-Pau (Pyrénées-Atlantiques)
Stage 11: Thursday 18 July 2002 Pau (Pyrénées-Atlantiques)-La Mongie-Col du Tourmalet (Hautes Pyrénées) 
Stage 12: Friday 19 July 2002 Luchon (Haute-Garonne)-Plateau de Beille (Ariège) 
Stage 13: Saturday 20 July 2002 Tarascon-sur-Ariège (Ariège)-Béziers (Hérault)
Stage 14: Sunday 21 July 2002 Lodève (Hérault)-Mont Ventoux (Vaucluse) 

Rest Day Monday 22 July 2002 

Stage 15: Tuesday 23 July 2002 Vaison-la-Romaine (Vaucluse)-Les deux Alpes (Isère) 
Stage 16: Wednesday 24 July 2002 Bourg d'Oisans (Isère)-La Plagne (Savoie)
Stage 17: Thursday 25 July 2002 Moutiers (Savoie)-Cluses (Haute-Savoie) 
Stage 18: Friday 26 July 2002 Annecy (Haute-Savoie)-Bourg-en-Bresse (Ain) 
Stage 19: Saturday 27 July 2002 Mâcon (Saône-et-Loire)-Régnié (Rhône) Individual TT
Stage 20: Sunday 28 July 2002 Melun (Seine-et-Marne)-Paris-Champs-Elysées (Paris)

*According to a leaked report, published on Velo 101
Team ins and outs
Again we are moving into the area of speculation, however Cyclingnews' Jeff Jones has studied the UCI regulations and come up with his Tour de France preselection list. This list - although strictly unofficial! - has gained widespread acceptance in the cycling community.
According to UCI regulations, the first 10 classified teams at the end of the year get an automatic berth in the three Grand Tours. In the case of the Tour de France, you also need to add the winner's team (Armstrong's US Postal), the team of the World Cup winner,(Dekker's Rabobank) and the winner of the team classification in the three Grand Tours (Giro: Alessio; Tour: Kelme; Vuelta: iBanesto.com). There is some overlap between these teams. The remainder of the 16 teams are made up from the UCI rankings at the end of 2001, provided all eligible teams have registered by December 20.
Based on the latest UCI rankings (October 14, 2001), the following is a very unofficial Tour de France preselection list.
1 Fassa Bortolo
2 Team Deutsche Telekom
3 Rabobank
4 Mapei-Quick Step
5 Lotto-Adecco
6 iBanesto.com
7 O.N.C.E.-Eroski
8 Cofidis
9 US Postal Service
10 Domo-Farm Frites 

and 

Alessio
Kelme-Costa Blanca
Lampre-Daikin
CSC Tiscali
Euskaltel-Euskadi
Tacconi Sport-Vini Caldirola 
Further speculation: Saeco and Credit Agricole are theoretically next on this list. But Credit Agricole would only be the second French team here, after Cofidis, and they should be selected based on their performance in 2001. That would leave a maximum of four more wild-card positions to make up 21 teams...
For further information as to the Teams that may make up the Tour see Cyclingnews report from October 22 and October 18
Also see Cyclingnews Tour de France 2002 section.
Pantani talks about the future
As reported in Yesterday's news, Marco Pantani won his appeal yesterday against a conviction for sporting fraud at a court in Bologna.
Pantani spoke to Bloomberg's Alessandra Bacchetta and Darren Tulett about the verdict, and where it leaves Pantani for the coming season.
"I take this sentence as the first chapter of a new story that begins with the new team next season. We are all looking forward to new experiences and challenges and we certainly have a new-found energy and enthusiasm. While I am happy at the outcome, I can't help but feel a little bitterness about what I had to go through, with people bad-mouthing me for a whole year," he said.
"I haven't stopped training since last month's Tour of Spain, and finally I can do it with a smile on my face now I don't have to worry about other things. To be in top shape you need to be able to fully concentrate and that's hard when people have got their teeth into you."
Pantani said that missing the Tour de France was his greatest disappointment of the season. "Not being invited to the Tour de France was the biggest blow of the whole season. You plan the whole season around the Tour de France," he said. "It was announced before the Tour of Italy and it compromised all that came afterwards. When you're told you can't even prove what you can do because you're out of it, can you imagine what the feeling is? It's just the biggest setback you can have."
However given all this years setbacks, Pantani still retains his self-confidence. "I still think I'm the best climber," he said.
Next season will be a watershed year for Pantani, with his role as manager and rider with the Mercatone Uno team. "I have put a lot of effort into this new team and it has given me new energy and enthusiasm. I need to work hard to achieve the best possible results. I just want to concentrate on the future and be finally in good shape again, proving it with good results. And I believe I have a concrete chance to do this with my new team," he said.
"The fact I haven't stopped training since the Vuelta proves what my intentions are. I have shown my will to ride. More than ever I am determined and enthusiastic, and want to repay my supporters who always believed in me with good results. Hopefully, I will regain the trust of those who stopped supporting me, that's another thing I want to do. By winning."
"What I need now is to be competitive again. I just want to not look back anymore and just look at the future. Sport is about results, not words. What I need is good results and to prove that I am competitive again. I can't afford any more vacations now, they'll have to wait until next year."
Watch out world, it sounds like Pantani is back, and wants his time in the sun again.
Desperate French Riders
Todays unveiling of the 2002 Tour de France will perhaps only add to the concern for many of the pro-riders without a team for next season, particularly the French pro's.
The main problem has been the withdrawal of Festina from team sponsorship after 13 seasons,which left 26 riders bikeless, so to speak. Adding to this French Team Cofidis reduced the size of their squad from 33 to 26, while La Francaise des Jeux is having problems finalising their budget. Although the Tour de France is the gem of the pro cycling season, only Team Cofidis managed to be pre-selected for the race.
Some of the top riders without contracts include Christophe Rinero, the 1998 Tour de France best climber, Pascal Lino, who wore the yellow jersey in 1993, and Festina's Pascal Chanteur.
Minimum Salary For The Pros
The representatives of professional cyclists and the teams have unanimously voted on October 13, to set a minimum salary floor for professional cyclists. In a meeting in Lisbon, the representatives decided to set the salary to 15,000 euros (US$13,365) for neo pros and 18,000 euros (US$16,038) for other riders.
New Pro team in Switzerland
It looks like Switzerland will have a new pro team. Jacques Jolidon says the team already has the budget for UCI division 3, but hopes to pick up a new sponsor to become a Division 2 team.
The team will be based in the region Jura (North Switzerland) with sponsors and partners also likely to come from this region.
At present the riders will be:
Pierre Ackermann (Swi) ex Post Swiss Team
Christian Sidler (Swi) ex Post Swiss Team
Michel Klinger (Swi) ex Festina
David Chassot (Swi) ex Ficonseils
Vincent Bader (Swi) neo Swiss Champion U23 2001
Fraser McMaster (Nzd) neo
Olivier Wirz (Swi) neo
Guiseppe Ribolzi (Ita) neo
Stefan Czekeres (Swi) neo
Tour of Sweden Upgraded
The 21st edition of the 2002 Tour of Sweden has been upgraded from a UCI 2.5 to 2.2. The 2002 Tour will run from June 12-16 with Postgirot contining to be the events main sponsor. Postgirot have sponsored the event over its 21 year history.
"We have an attractive race thanks to our organisation," says race director Björn Mattsson. "The standards set by UCI are very hard, and despite the good responce we have had from the international commissaires, I am a bit surprised over this development. The upgrading will make our race more interesting both for individual riders as well as the big teams," he said.
Postgirot Bank was also pretty exicted about the upgrade with vice president Per-Eric Skotthag saying, "We are very proud over this upgrading. We will now be able to offer our costumers, patners and everyone else who supports cycling an even bigger cycling spectacle, and an even more exciting cycling race next summer."
The stages
Stage 1 - June 12: Uppsala Time trial
Stage 1b - June 12: Uppsala-Eskilstuna
Stage 2 - June 13: Eskilstuna-Motala
Stage 3 - June 14: Motala-Skövde
Stage 4 - June 15: Skövde-Huskvarna
Stage 5 - June 16: Jönköping-Göteborg
2nd Annual Mission to Mission "Wheels for Meals" Family Bike Ride
The 2nd Annual Mission to Mission "Wheels for Meals" Family Bike Ride will be held on Saturday, December 8th at Mission County Park, San Antonio, Texas. The 34 mile bike ride is combined with a 13 mile "Family Tour" bike ride to benefit the Christian Senior Services and their Meals on Wheels program.
Both rides start at Mission County Park and ride the newly finished hike and bike trail through the majority of the Mission Trail and back to start. The 34 miler continues past the Mission Espada and on to Braunig Lake and back.
Cost is $20.00 advance registration and $25.00 day of event. for further information contact Richard Contreras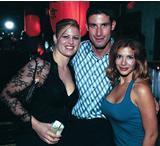 George Hincapie and friends
Photo: © J Devich

Pro-cycling benefits

Ok, so this is hardly a news item.

For anyone doubting the benefits that pro-cycling can bring, have a look at US Postals George Hincapie at the Miami Classic post race party.
Napa Valley Marathon Set For Year No. 24
For anyone looking for a change of pace, or perhaps just a few hours out of the saddle, the 24th Napa Valley Marathon is set to take place on Sunday, March 3, 2002
Race applications are now available for the 2002 event. The Napa Valley Marathon the self proclaimed "Best Little Marathon In The West." in held on rolling asphalt through the traditional wine country of Napa Valley.
For the fifth consecutive year, the race will serve as the Road Runners Club of America (RRCA) National Marathon Championships.
Print applications can be picked up at running store locations throughout Northern California. Entry forms can also be printed on the marathon's web site: www.napa-marathon.com. Online registration is also available.
Recent results and new features on Cyclingnews
Major Races and Events
September 7-29, 2002: Vuelta a España (GT) - Preview, stage list
May 11-June 2, 2002: Giro d'Italia (GT) - Preview, stage list, photos
July 6-28, 2002: Tour de France (GT) - Full preview & official route details
December 8: Superprestige Rd 5 (Cat. 1) - Erwin Vervecken
November 29-December 4: Six Days of Noumea (6D) - Sassone/Neuville victorious
November 26-December 1: Six Days of Zurich (6D) - Day 6 - McGrory/Gilmore/Schnider win
December 1: Melbourne Cup on Wheels (IM) - Scott Moller, Keirin, Sprint, Support races
December 2: Cyclo-cross World Cup #2 (CDM) - Sven Nijs again
November 24-December 3: Juegos Deportivos Centroamericanos (JR) - Final results
December 8-9: Frankfurter Rad-Cross (Cat. 2) - Alex Mudroch, UK National Trophy Series #4 (Cat. 3) - Roger Hammond, Grote Prijs Industrie Bosduin - Kalmthout (Cat. 1) - Bart Wellens, Int. Radquer Obergösgen (Cat. 2) - Björn Rondelez, Trofeo Mamma e Papa Guerciotti (Cat. 3) - Enrico Franzoi, Premio Egondo (Cat 3) - David Seco, Irish cyclo-cross championships - Robin Seymour

Results: local racing
Australia - CycleWest Promotions Omnium Series #2, Eastern Suburbs Summer Criterium Series, Carnegie Caulfield Tuesday criterium, Southern Cross Junior Track Open & Madison Cup, Manly Warringah CC, George Town Track Carnival, Carnegie Caulfield CC, Randwick Botany CC, Gold Coast CATS CC, Caesar's Illawarra CC, Caesar's Illawarra (track)
Denmark - Danish cyclo-cross Post Cup #3
Italy - Gran Premio Città di Bassano
Luxembourg - GP De Kopstal
New Zealand - Cyco Criterium series
Spain - Elorrio cyclo-cross
USA - Georgia Cross Series Championship, Chimborazo Grand Prix cyclo-cross, Boulder Cross Rd 6, New Mexico State Cyclo-x Champs, Sorrento Cyclo-x & California State Champ's, Boulder Cross Rd 5, Verge New England series, Northampton CC Cyclo-cross Championships, Chris Cross International CycloCross


Recently on Cyclingnews
Latest Photos - Olympic Armstrong, Boulder & California 'cross, More Pan-Am, Canberra, Boston & REI 'cross (December 13)
Cyclingnews survey - Reader Poll 2001 - Vote for your favourite riders
Letters - VDB, Lance, Boring Tour, Coastal Post, Respect (December 13)
Cyclingnews Interview - Ryan Bayley - the KFC-fuelled world champ (December 13)
Cyclingnews Interview - David McKenzie - Macca's back (December 12)
Cyclingnews Interview - Laurent Jalabert - Jalabert looks ahead (December 11)
Cyclingnews Interview - Charly Wegelius - A coffee stop with Charly (December 8)
Cyclingnews Interview - Sven Montgomery - Moving up in the world (December 6)
Cyclingnews Interview - Rochelle Gilmore - Road scholar (December 6)
Tales from the Peloton - 12 Hours of Oleta - MTB endurance race in Miami (December 6)
Tales from the Peloton - Tony Cruz - back to his roots (December 7)
Marco Polo Diary - Tour du Faso - Part II - Nathan Dahlberg's report (December 3)
Tech maintenance - Wheels - how to keep them true and tight
Tech letters - Headsets, Pegoretti, Carbon cage, gloves & tubes (December 10)
Tech news - Navigators power-tap, Headsets, Carbon cages (December 7)
Tech- Recycling - How to protect your chainstay for free
Tech Reviews: Egg Beater pedals; Park Tool belt; Shimano shoes; Speedplay
Breaking the Chain  - Dope planning and testing - From Willy Voet's book


cyclingnews.com Copyright ©1995-2000 Knapp Communications
Systems:

Adrian Butterworth