News for November 22, 2001
Edited by John Stevenson
Armstrong family adds two
Lance Armstrong's family is currently celebrating two additions after his wife Kristin delivered twin girls Grace Elizabeth (5 lb 2 oz) and Isabelle Rose (5 lb 12 oz) just before 9pm Tuesday, November 20.
Mother and babies are doing well, and the the proud poppa told his webmaster, "They are so cool... Luke came over this morning and was holding them and giving kisses..."
According to the announcement on lancearmstrong.com, "Lance would like to personally thank Dr. Marco Uribi for all of his great help during the pregnancy. In lieu of gifts, the Armstrongs would ask that if you are so inclined you make a donation to the Lance Armstrong Foundation cancer charity in the twins' name here."
BMcG to lead FdJ at JCTDU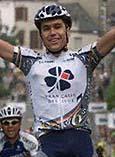 Brad McGee at the Midi Libre
Photo: ©AFP
Australian cyclist Brad McGee will lead his Française des Jeux team for the first time on home soil in next year's Jacob's Creek Tour Down Under, January 15-20.
McGee will be joined by two other Australians, Baden Cooke and Matt Wilson, and five French team-mates. Cooke, formerly of Mercury, and Wilson whose stagaire spell at Mercury included a stage win at the Tour de l'Avenir both make their debuts with FdJ at the TDU.
Wilson's recent history is all the more remarkable for including 14 months off the bike fighting Hodgkin's disease, a cancer of the lymphatic system.
Among the French riders accompanying the three Australians are 2000 Dauphiné Libére stage winner Frédéric Guesdon and lively climbing specialist Nicolas Vogondy.
La Française des Jeux TDU roster
Brad McGee
Thomas Bodo
Frédéric Guesdon
Baden Cooke
Régis Lhuillier
Matt Wilson
Nicolas Vogondy
Carlos Da Cruz
Tchmil plans mid-season exit

Tchmil before Paris-Roubaix
Photo: © Cyclingnews
Andrei Tchmil will leave the world of professional cycling in May 2002, according to the Reuters new service. Speaking at a press conference yesterday, Tchmil said, "I plan to end my cycling career on May 31 next year."
"I want to compete in several big races next April and then I will retire from professional cycling after 25 years in a saddle because I'll be 39 by then."
"I'm hoping to go out on a high note by winning one of the World Cup races. If I win the Paris-Roubaix one more time, it would be a great way to end my career."
Born January 22 1963 in Khabarovsk, Russia. Tchmil began his career in 1989 with Alfa Lum and has spent the last very successful eight years at Lotto. His forty-odd professional victories include the 1999 World Cup series, Paris-Roubaix, Milan-San Remo, Paris-Tours, Kuurne-Brussel-Kuurne (twice), the Tour of Flanders, Coppa Sabatini and stages of Paris-Nice, Driedaagse van De Panne and the Tour of Luxembourg.
Festina affair appeal considers governing body damages
The advocate general of the court of appeal in Douai on Tuesday declared admissible the requests for damages by the UCI and French Cycling Federation in the wake of last year's Festina trial.
In last November's judgement against Richard Virenque, bruno Roussel and Willy Voet, among others, the trial judge was severely critical of the governing bodies for not doing more against doping.
But Advocate General Eric Devos told lawyers for the UCI and FFC that "the two federations did what they could" and he would consider their claim for damages as part of the damage to the image of cycling caused by the Lille judge's comments.
The court also heard appeals from two minor players in last year's Festina trial, former la Francaise des jeux soigneur Jeff D'Hont and ONCE team doctor Nicolas Terrados. D'Hont and Terrados were fined 30,000 Francs and given nine month suspended sentences. The appeal judge will deliver his ruling on the appeals March 5 2002.
Suances salutes Casero
The Spanish town of Suances will pay tribute to 2001 Vuelta winner Angel Casero as part of the festivities in the town's eleventh 'Día de la Bicicleta' at the end of this month.
The evening before, a handful of lucky cycling fans will get the chance to have dinner with their hero in a 'brotherhood supper'.
The town will also present certificates of achievement to Oscar Freire, and Iván and David Gutiérrez
Antequera laments easy 2002 world's course
Spanish team selector Francisco Antequera has commented that the course for the 2002 world road race championship sin Zolder Belgium lacks challenges.
"It is completely flat," said Antequera. "Of all the circuits that I have seen as a rider or manager where a world championship has been contested, this one has without a doubt the fewest complications . It is not difficult nor dangerous, since the highways are quite wide. The only climb is about 200 meters in three kilometers, but that rises without difficulty."
However, Antequera believes that it's the riders who make the race, not the course.
" I have always said that the world's is very hard, because of the distance and because many riders try to win. This will be a very open race, and it will be very quick. Although it is a route for the sprinters, that does not mean they will have it easy."
The course for the road world's, to be held October 13 2002, consists of 13.1km loop. The riders will complete 21 laps between starting and finishing in the Zolder car racing stadium.
Indian cycling federation rules against island team
By Ray Marcelo
A technical rules dispute between the Cycling Federation of India (CFI) and a regional cycling team has marred the cycling events in India's national games taking place this week.
A team of thirteen cyclists from the eastern Indian islands of Andaman and Nicobar were told by the CFI's secretary, Mr JS Garewal that they were not eligible to compete as a team and were allowed only "token participation" in the games.
According to the CFI, the island team was prevented from racing because CFI rules allow only seven state teams and one Indian military team to compete in national cycling events.
But the Andaman and Nicobar Olympic Association sent a full cycling team on the 3000 km trip from the Bay of Bengal islands to the national games at Ludhiana expecting to participate in medal events.
The island cyclists were first aware of their ineligibility to compete a day after they arrived at the games.
The dispute adds to the problems of regional Indian cycling teams, with one team, the Punjab police, serving a suspension because of "indiscipline".
According to the CFI's deputy secretary, Mr Jagvir Singh, ten riders from the Punjab police team have been suspended until March 31 2002 because they failed to attend scheduled national training camps.
It is understood the Punjab region produces strong track cycling teams, but the ban has affected Indian cycling's medal prospects against other nations who are participating in the national games.
"We may not win medals at the games, but we will not tolerate indiscipline at any cost," said the CFI secretary-general , Mr JS Garewal.
The games continue this week, and the cycling events take place on Monday the 27th and Tuesday the 28th of November.
2002 Mont 24 Hour date
The MTBA and organising club Canberra Off-Road Cyclists have announced the date of the 2002 Mont 24 Hour, which will be held at Deeks Drive, Stromlo Forest, Canberra, ACT on October 12 - 13. With around 950 riders the 2001 edition was the biggest mountain bike race ever held in Australia. The organisers plan to increase the number of places to 1,200 in 2002.
Bonjour goes Full Speed Ahead
The French Bonjour team will use cranks, bottom brackets and headsets from US-based Full Speed Ahead (FSA) in the 2002 season. Bonjour's Time-framed bikes will be fitted with FSA's Carbon Pro Team Issue carbon fiber crankset, Orbit I integrated threadless headsets and Ultimax Xtreme titanium and chromoly ISIS Drive bottom brackets.
UCD NORD 87 seeks riders
French club UCD NORD 87 is looking for foreign riders for the 2002 season. Lawrence Brown of the Limoge-based club, writes, "UCD NORD 87 is based in the Limousin region of France and we are looking for elite standard riders for next season. The club has a long standing link with British, American and Australian riders. Last year we had eightforeign riders. We are moving up a level next year to division three status and I need three riders, regardless of nationality but who have a good level and the motivation to mix it in French elite races."
Riders who are interested in a French stint should contact Lawrence by email.
Recent results and new features on Cyclingnews
Major Races and Events
September 7-29, 2002: Vuelta a España (GT) - Preview, stage list
May 11-June 2, 2002: Giro d'Italia (GT) - Preview, stage list, photos
July 6-28, 2002: Tour de France (GT) - Full preview & official route details
December 8: Superprestige Rd 5 (Cat. 1) - Erwin Vervecken
November 29-December 4: Six Days of Noumea (6D) - Sassone/Neuville victorious
November 26-December 1: Six Days of Zurich (6D) - Day 6 - McGrory/Gilmore/Schnider win
December 1: Melbourne Cup on Wheels (IM) - Scott Moller, Keirin, Sprint, Support races
December 2: Cyclo-cross World Cup #2 (CDM) - Sven Nijs again
November 24-December 3: Juegos Deportivos Centroamericanos (JR) - Final results
December 8-9: Frankfurter Rad-Cross (Cat. 2) - Alex Mudroch, UK National Trophy Series #4 (Cat. 3) - Roger Hammond, Grote Prijs Industrie Bosduin - Kalmthout (Cat. 1) - Bart Wellens, Int. Radquer Obergösgen (Cat. 2) - Björn Rondelez, Trofeo Mamma e Papa Guerciotti (Cat. 3) - Enrico Franzoi, Premio Egondo (Cat 3) - David Seco, Irish cyclo-cross championships - Robin Seymour

Results: local racing
Australia - CycleWest Promotions Omnium Series #2, Eastern Suburbs Summer Criterium Series, Carnegie Caulfield Tuesday criterium, Southern Cross Junior Track Open & Madison Cup, Manly Warringah CC, George Town Track Carnival, Carnegie Caulfield CC, Randwick Botany CC, Gold Coast CATS CC, Caesar's Illawarra CC, Caesar's Illawarra (track)
Denmark - Danish cyclo-cross Post Cup #3
Italy - Gran Premio Città di Bassano
Luxembourg - GP De Kopstal
New Zealand - Cyco Criterium series
Spain - Elorrio cyclo-cross
USA - Georgia Cross Series Championship, Chimborazo Grand Prix cyclo-cross, Boulder Cross Rd 6, New Mexico State Cyclo-x Champs, Sorrento Cyclo-x & California State Champ's, Boulder Cross Rd 5, Verge New England series, Northampton CC Cyclo-cross Championships, Chris Cross International CycloCross


Recently on Cyclingnews
Latest Photos - Olympic Armstrong, Boulder & California 'cross, More Pan-Am, Canberra, Boston & REI 'cross (December 13)
Cyclingnews survey - Reader Poll 2001 - Vote for your favourite riders
Letters - VDB, Lance, Boring Tour, Coastal Post, Respect (December 13)
Cyclingnews Interview - Ryan Bayley - the KFC-fuelled world champ (December 13)
Cyclingnews Interview - David McKenzie - Macca's back (December 12)
Cyclingnews Interview - Laurent Jalabert - Jalabert looks ahead (December 11)
Cyclingnews Interview - Charly Wegelius - A coffee stop with Charly (December 8)
Cyclingnews Interview - Sven Montgomery - Moving up in the world (December 6)
Cyclingnews Interview - Rochelle Gilmore - Road scholar (December 6)
Tales from the Peloton - 12 Hours of Oleta - MTB endurance race in Miami (December 6)
Tales from the Peloton - Tony Cruz - back to his roots (December 7)
Marco Polo Diary - Tour du Faso - Part II - Nathan Dahlberg's report (December 3)
Tech maintenance - Wheels - how to keep them true and tight
Tech letters - Headsets, Pegoretti, Carbon cage, gloves & tubes (December 10)
Tech news - Navigators power-tap, Headsets, Carbon cages (December 7)
Tech- Recycling - How to protect your chainstay for free
Tech Reviews: Egg Beater pedals; Park Tool belt; Shimano shoes; Speedplay
Breaking the Chain  - Dope planning and testing - From Willy Voet's book


cyclingnews.com Copyright ©1995-2000 Knapp Communications
Systems:

Adrian Butterworth