Cyclingnews 2007 Reader Poll Results
Male Mountain Bike Racer of the Year
Julien Absalon (France) celebrates on his way
Photo ©: Didier Weemaels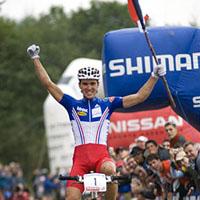 No one could stop Julien Absalon from topping the reader poll for his third time. The Frenchman was the man to beat on the international cross country circuit and only a few men like José Antonio Hermida and Fredrik Kessiakoff were able to do so at the major races. Besides winning his fourth consecutive World Championship title in Fort William, Scotland, Absalon also claimed victory four World Cups in Offenburg, Champéry, Mt. Saint Anne and St Felicién and took second in Houffalize.
If there were a rider of the year award for consistency, Absalon would be in the running for it, too. He previously won the reader poll in 2004 and 2006 and finished second in 2005. The Frenchman is looking ahead to the Olympic Games in Beijing, China, where he will attempt to defend the gold medal he won in Athens in 2004.
"It was a strange day in Athens," said Absalon to Cyclingnews in an interview during the run-up to the World Championships. "I was very prepared mentally and physically for the race and it was like in a dream. I was strong physically and I was like a machine - just prepared to pedal and to go fast. I can get this sensation only one time during the season." There is no doubt he will be hoping that day is in Beijing for 2008.
Canadian Geoff Kabush finished a strong second place with 14.75% of the vote. The reader poll rider of the year in 2005 was the man to beat on the North American circuit in 2007 when he won the National Mountain Bike Series cross country and short track overall classifications, he finished third on home turf at the Mt Saint Anne World Cup.
World downhill champion and Australian Sam Hill finished third with 10.88% of the vote, just ahead of US National Champion and Singlespeed World Champion Adam Craig with 10.35%.
Four cross World Champion Brian Lopes, who was also a regular on the World Cup 4X podium, finished fifth with 6.71% while the regular podium visitors José Antonio Hermida, Christoph Sauser and Fredrik Kessiakoff (cross country) and Fabien Barel and Matti Lehikoinen (downhill) rounded out the top ten.
Results

                            Votes        %ge
1 Julien Absalon             2883      36.45%
2 Geoff Kabush               1167      14.75%
3 Sam Hill                    861      10.88%
4 Adam Craig                  819      10.35%
5 Brian Lopes                 531       6.71%
6 José Antonio Hermida        473       5.98%
7 Christoph Sauser            422       5.34%
8 Fredrik Kessiakoff          256       3.24%
9 Fabien Barel                250       3.16%
10 Matti Lehikoinen           248       3.14%


                  Total:     7910