Cyclingnews 2007 Reader Poll Results
Best female road rider
Armstrong edges out Cooke
Kristin Armstrong (TEAm Lipton) wins
Photo ©: Frank Rowe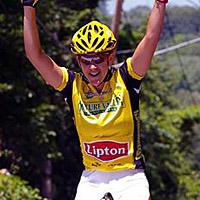 American Kirsten Armstrong may not have been able to defend her world time trial title against the onslaught of power from German Hanka Kupfernagel in 2007, but she powered her way to the top of our reader poll, edging out Great Britain's Nicole Cooke by a slim 50 votes.
Armstrong took another US time trial championship in 2007, as well as the Holland Ladies Tour overall thanks to her strength against the clock. She stormed to victory in the Nature Valley Grand Prix, and then took that silver medal at the World Championships in Stuttgart.
Your second placed rider, Nicole Cooke, had a spectacular year, beginning with wins in Geelong and Ronde van Vlaanderen, and led the UCI World Cup until the last round when a bum knee cost her the series victory at the Rund um die Nürnberger Altstadt. Cooke lost out to the outgoing World Champion Marianne Vos, who took third in our poll.
German Judith Arndt squeaked out a win in the Thüringen-Rundfahrt by just 0.4 seconds, and she narrowly bested the up and coming American talent Mara Abbott to take fourth by 11 votes. Abbott, with her surprise second place in the Montreal World Cup and US road championship caught the attention of nearly 500 of you.
German World Time Trial champion Hanka Kupfernagel was sixth, ahead of sprinter Ina Teutenberg, while World Road Race champion Maria Bastianelli only garnered 1.87% of the vote to take eighth ahead of British rider Emma Pooley.
Results
                                                   Votes     %ge
1 Kristin Armstrong                                 2573      28.79%
2 Nicole Cooke                                      2523      28.23%
3 Marianne Vos                                      1868      20.90%
4 Judith Arndt                                       509      5.70%
5 Mara Abbott                                        498      5.57%
6 Hanka Kupfernagel                                  348      3.89%
7 Ina-Yoko Teutenberg                                176      1.97%
8 Maria Bastianelli                                  167      1.87%
9 Emma Pooley                                        110      1.23%
10 Fabiana Luperini                                   79      0.88%
11 Giorgia Bronzini                                   44      0.49%
12 Noemi Cantele                                      42      0.47%
                                             Total: 8937