Cyclingnews 2007 Reader Poll Results
Best female cyclo-cross rider
Compton cruises to victory
Compton with the spoils of victory
Photo ©: Mark Legg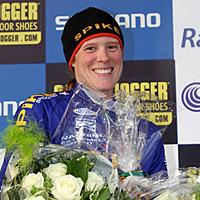 American Katie Compton seems to have hit her stride in the cyclo-cross world. She's taken the silver medal in the World Championships in 2007, won her first World Cup, took her fourth consecutive US title, and led the UCI rankings for a time during this season. Compton had more success in Europe than ever before, taking the Pijnacker World Cup, Superprestige in Gavere and a second place at the Kalmthout World Cup in one short outing overseas, in addition to double wins in Southampton, Ohio, Louisville and Colorado.
She now sits atop the 2007 Cyclingnews Reader Poll by a large margin.
With the last year's winner Marianne Vos, who edged Compton out of the top spot in 2006, exiting the 'cross World to focus on the track and road in preparation for the Olympics, Compton cruised to victory with whopping 36.12 percent of the vote. Compton bested second placed Canadian Lyne Bessette by 1430 votes. While our poll was dominated by North American readers, the American also made a name for herself in Australia, which represented our second largest poll base.
Former World Champion Hanka Kupfernagel took third, while another American, US Gran Prix winner Georgia Gould, was fourth.
We have to look down to fifth place to see the current UCI rankings leader, Dutch woman Daphny Van Den Brand, who has been on fire this season. Van Den Brand has taken three World Cups this season: Kalmthout, Koksijde and Milan, as well as the European Continental Championships, the Superprestige in Veghel-Eerde, Scheldecross and Koppenbergcross. Van Den Brand was the overwhelming favourite in European countries, with the exception of Eastern Europe, who favoured sixth place Pavla Havlíková.
Canadian Wendy Simms snuck into seventh place ahead of the UK's golden girl Helen Wyman, who took that country's best ever women's 'cross result, coming second in Milan, while the reigning World Champion was a distant ninth after being a virtual no-show for much of the 2007-08 season.
Belgian Sanne Cant took the final spot, but this promising young rider won't be a virtual unknown for long. At just 18, she's already worked her way into the top ten of the UCI rankings.
Results

                                                                      Votes     %ge
1 Katie Compton                                                        2830     36.12%
2 Lyne Bessette                                                        1400     17.87%
3 Hanka Kupfernagel                                                     961     12.27%
4 Georgia Gould                                                         748     9.55%
5 Daphny Van Den Brand                                                  544     6.94%
6 Pavla Havlíková                                                       366     4.67%
7 Wendy Simms                                                           352     4.49%
8 Helen Wyman                                                           293     3.74%
9 Maryline Salvetat                                                     189     2.41%
10 Sanne Cant                                                           152     1.94%
                                                                Total: 7835