US Cyclo-cross Championships - CN
Kansas City, Kansas, USA, December 13-16, 2007
Main Page Results Overall standings Live report Previous Race Next Race
Race 13 - December 16: Elite Women
Compton's US 'cross dynasty continues
Lloyd, Gould battle for second
By Mark Zalewski, North American Editor in Kansas City, Kansas
Katie Compton (Spike Shooter) wins her fourth title in a row.
Photo ©: Dave McElwaine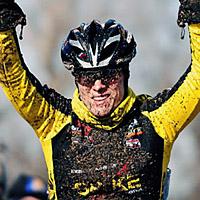 Katie Compton (Spike Shooter), the current world number two in women's cyclo-cross, showed why she deserves that ranking during the US nationals Sunday. She blasted away from the rest of the women's field, beating all but one by more than a minute. This was even more impressive considering the parcours was quite treacherous after a week of foul weather that bombarded the area, and merely staying upright was, at times, as much luck as it was skill.
"I tried to be towards the front when we hit the snow, and then try to ride a smooth race," said Compton. "I tried to not follow anyone into the ruts because it's easy to get caught behind a crash. I didn't have a good start because I couldn't get my foot into my pedal. But I didn't want to lead on the start anyway because it was uphill and I wanted to go hard on the course."
Compton then went to work, setting a regular tempo that was just head and shoulders above the rest. Before the race, everyone was looking at Georgia Gould (Luna Women's Mtb Team) as the only likely challenger to Compton's crown – but Compton knew the conditions favoured another, Rachel Lloyd (Proman/Paradigm).
"I was hoping it would stay a little icier!" said Lloyd. "I got behind people at the start and I hadn't actually done any warm-up laps where I was close to people, so I was like 'whoa!' It probably would have been a good idea. It was really hard to go hard! So I was just riding smooth."
Georgia Gould (Luna)
Photo ©: Jon Devich

Gould was in contention early in the race, behind Compton and ahead of Llloyd. But she could not seem to find any luck breaks... or ruts, as it were. "I just made a bunch of little mistakes and that added up," said Gould. "There are like 18 lines but you have to hope you are in the right one!"
"The barrier tape had magnets on it, and the other magnet was on my bike!" joked Gould. "The part that wasn't pavement was giving me a little trouble. Really I was making dumb mistakes – some days you can ride your bike, some days, not so much! Me, today, not so much!"
From there it was Compton holding off the steadily gaining Lloyd, but the race just was not long enough for her. "We only did four laps because it was really slow laps," said Compton. "I crashed a couple of times, and on the last lap I crashed, so I lost some time on Rebecca."
For Compton, the fourth win in a row was business as usual on the path to the World Championships, with the next step a well-earned rest before returning to Europe. "I definitely need to do some work to do well at worlds, so I am going to head back home and do some training and rest up. I had gotten sick in Belgium and it lingered for a couple of weeks – it really affected my training and recovery time."
Photography
For a thumbnail gallery of these images, click here
Images by Jonathan Devich/

Images by Dave McElwaine/www.trailwatch.net
Images by Mitch Clinton/www.clintonphoto.com
Images by Kurt Jambretz /www.actionimages.cc
Results

1 Katie Compton (Spike Shooter)                        0.33.47
2 Rachel Lloyd (Proman/Paradigm)                          0.22
3 Georgia Gould (Luna Women'S Mtb Team)                   1.17
4 Kerry Barnholt (Tokyo Joes / Van Dessel)                1.53
5 Maureen Bruno Roy (If/Wheelworks/Sram P/B Gen)          2.21
6 Sue Butler (River City Bicycles)                        3.47
7 Shelley Olds (California Giant Berry Farms)             4.10
8 Melissa Thomas (Maxxis/Lightspeed)                      4.16
9 Amy Wallace (Rgm Watches - Richard Sach)                4.17
10 Wendy Williams (River City Bicycles)                   4.19
11 Josie Jacques-Maynes (California Giant Berry Farms)    4.50
12 Lara Kroepsch (Team Lipton)                            5.25
13 Megan Monroe (Bmc-Sports Garage)                       5.35
14 Sarah Kerlin (Hrs/Rock Lobster)                        5.49
15 Sarah Tescher (Durango Devo)                           5.51
16 Kathy Sherwin (Velo Bella-Kona)                        6.02
17 Barb Howe (Velo Bella - Kona)                          6.11
18 Amy Dombroski (Velo Bella - Kona)                      6.23
19 Carolyn Popovic (Team Cicle)                           6.30
20 Linda Sone (Ridley Factory Team)                       6.32
21 Lindsey Bishop (Team Bulldog/Campmor)                  6.49
22 Stephanie White (Velo Bella/ Kona)                     6.51
23 Kathy Sarvary (Gear Works Cyclery)                     6.57
24 Cris Rothfuss (Nebc/Cycle Loft/Devonshire D)           6.59
25 Melanie Swartz (Velo Bella - Kona)                     7.01
26 Kacey Manderfield (Blue)                               7.14
27 Christie Pleiss (Team Cicle)                           7.39
28 Shannon Gibson (Velo Bella - Kona)                     7.42
29 Melodie Metzger (California Giant Berry Farms)         7.57
30 Anne Schwartz (Flying Rhino Cycling Club)              8.11
31 Sara Cushman (Gear Works/Spin Arts)                    8.24
32 Catherine Walberg (Team Kenda Tire)                    8.38
33 Anna Milkowski (Velo Bella - Kona)                     8.44
34 Betsy Shogren (Fort Factory Team)                      8.48
35 Natasha Cowie (Velo Bella-Kona)                        8.54
36 Samantha Schneider (Mesa Cycles)                           
37 Maria Stewart (Velo Bella - Kona)                      8.58
38 Kris Walker (Kriegcycling.Com)                         9.08
39 Jennifer Tilley (Velo Bella - Kona)                    9.22
40 Kari Studley (Velo Bella - Kona)                       9.25
41 Sydney Brown (Badger Cycles)                           9.35
42 Devon Haskell (Team Get A Grip Cycles)                 9.41
43 Arley Kemmerer (Hub Racing)                           10.05
44 Megan Elliott                                         11.05
45 Marne Smiley (Zias Cycle)                             11.13
46 Clara Beard (Cheerwine Cycling)                       13.43
 
One Lap Down
 
47 Kristin Wentworth (Team Kenda Tire)                        
48 Dorothy Wong (Team C.I.C.L.E.)                             
49 Andi Burnum (Tough Girl Cycling)                           
50 Jennifer Greenberg (Xxx-Athletico)                         
51 Rebecca Wellons (Ridley Factory Team)                      
52 Heidi Kanayan (Team Cicle.Org/ Velo Bella)                 
53 Kim Sawyer (Bmw-Bianchi)                                   
54 Marci Titus Hall (Desalvo Custom Cycles)                   
55 Allison Beall (Vanderkitten)                               
56 Jane Rynbrandt (Tough Girl/Contessa)                       
 
Two Laps Down
 
57 Anne Grofvert (Badger Cycles/Founders Ale)                 
58 Sami Fournier (Sunnyside Sports)                           
59 Kristen Bowers (Atomic Race Team)                          
60 Lynn Bush (Tough Girl / Contessa)                          
61 Colleen Wanty (Big Swingin Cycles)                         
62 Susan Prieto (Blue Sky Velo)                               
63 Patti Kaufmann (Planet Bike)                               
64 Rachel Cieslewicz (Monavie/Cannondale)                     
65 Holly Klug (Killjoy Cycling)