US Cyclo-cross Championships - CN
Kansas City, Kansas, USA, December 13-16, 2007
Main Page Results Overall standings Live report Previous Race Next Race
Race 6 - December 14: Men 45-49
Tilford crushes competition
By Wendy Booher
Steve Tilford (HRRC Trek Stores)
Photo ©: Kurt Jambretz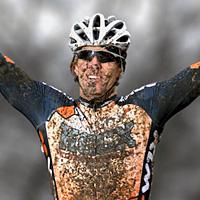 Steve Tilford (Kccx/Verge/Eriksen Cycles) has coughed and wheezed his way through this cyclo-cross season, battling illnesses that have kept him from achieving top form.
But you wouldn't have known it by watching the Topeka, resident speed his way around the mud-choked course that he actually helped design. The KCCX/Verge/ Kccx/Verge/Eriksen Cycles racer captured his fifth cyclo-cross event by nearly two minutes over Kevin Hines.
"I woke up pretty nervous today," Tilford said. "It's different from when I was winning mountain bike worlds. After I won that a few times, I kind of got more of a relief than actual happiness, so I kind of quit going at that point. Cyclo-cross is just plain fun."
Although the 47 year-old didn't repeat his now-legendary plunge into a small pond on the Wyandotte County course (from which he recovered to win the race), Tilford's ride Friday afternoon was not without a few close calls.
"I got a lot of (barrier) ribbon wrapped around my bars today because I was trying to stay up on the grass," Tilford said. "All of a sudden, you hit the ribbon and then there's a stake. On Sunday, it's going to be like a Belgium race. We'll be sliding all over the place."
Despite his success in today's race, Tilford is realistic about his chances of winning this weekend's elite men's race. "Realistically, four or five guys would have to have pretty off days for me to win the race," he said. "A good result for me in that race would be between fifth and 12th place. You look at the speeds and the maturity of the sport in the last three years and the way it's going now guys are really keying in on it."
Photography
For a thumbnail gallery of these images, click here
Images by John Peterson/www.johnpetersonphotography.com
Images by Kurt Jambretz /www.actionimages.cc
Results
45-49 men
 
1 Steve Tilford (KCCX/Verge/Eriksen Cycles)          43.03
2 Kevin Hines                                         1.50
3 Gunnar Shogren (Fort Factory Team)                  4.03
4 Todd Cassan (Westwood Velo)                         4.19
5 Samuel Morse (Corner Cycle)                         4.27
6 Chris Daluisio (Morgan Stanley/Specialized)         4.29
7 Dennis Farrell (Red Rocks Velo)                     4.32
8 Thomas Price (Localcycling.Com/Trek KC)             5.07
9 Colman O'Connor (Bicycle Link/MBRC)                 5.14
10 John Mosher (MBRC/Bicycle Link)                    5.28
11 Ethan Froese (Mesa Cycles)                         5.46
12 Randy Iddings (Redline)                            6.04
13 Robert Bobrow (Papa Johns Racing Team)             6.41
14 Russell Kappius (Red Rocks Cyclery)                6.48
15 Thomas Feix (Peninsula Velo Cycling Club)          6.55
16 Christopher Long (Independent Fabrication/Goth)    7.13
17 Steve Songer (Team V Cycling)                      7.39
18 Michael Bernard (Gear Works/Spin Arts)             7.50
19 Andy Lucas (Team X Cycling)                        7.53
20 Geoffrey House (Housatonic Wheel Club)             7.55
21 Charles Mcdaniel (Secret Henry's)                  8.10
22 Bobby Langin Sr (Platinum Performance)             8.53
23 Thomas Fox (Rock Lobster)                          8.53
24 Greg Goblirsch (Loon State Cyclists)               9.25
25 Don Langley (Specialized/Morgan Stanley)           9.45
26 Jim Pappe (Action Sports)                          9.58
27 Paul Mckinney (The Hub Cycling League)            10.06
28 John Mandrola (Papa John's Racing)                10.19
29 Brendan Sullivan (Emag Solutions Llc.)            10.43
30 Tim Godby (Team Louisville Cyclery)               11.01
31 Tim James                                         11.11
32 Bill Irving (Sicklers Racing/Table Rock T)        11.17
33 Kenneth Smith (OKC Velo)                          11.27
34 Andy Klumb (Bicilibre)                            11.42
35 Jeff Stoen                                        11.45
36 Daren Cottle (Porcupine / Specialized Racing)     15.46
37 Logan Kelsey (Vertical Online)                    11.56
38 Charles Morris (Celo Pacific)                     12.11
39 Joel Howes (Spike)                                12.17
40 James Clevenger (Runningshoes.Com)                12.47
41 Tim Shea (Bob/Shift-Stonyfield Farm)                   
42 Terry Keele                                       12.58
43 Paule Bates (Roaring Mouse Cycles)                13.06
44 Jon Dellios (Nobhill Velo)                             
45 Jeffrey Anderson (HPC/List)                            
46 Joe Burtoni (Durango Wheel Club)                       
47 Richmond Frasier (Freedom Chevrolet/Joe's Pro)         
48 Doug Felkley (Boulder Cycle Sport CX Team)             
49 Patrick Houtakker (Kcoi Boulevard)                     
50 James Behning (GTC Gwinnett Touring Club)              
51 Don Raskey (Midwest Cycling Community)                 
52 Sean Myers (Team 14 Productions)                       
53 Jorge Hernandez (Minuteman Road Club)                  
54 Michael Vanrandwyk (Ridley/Southwest Cyclesport)       
55 Andy Wilson (Veloshop)                                 
56 Jim Rank (Ridley Factory Team)                         
57 Tom Bowmaster (Liberty Cycle)                          
58 Paul Fancher (Localcycling.Com)                        
59 William Anderson (Team X Cycling)                      
60 Scott Wilson (Evolution Racing)                        
61 David Libby (Kaiser Permanente)                        
62 Telford Crisco                                         
63 Tim Brennan (California Road Club)                     
64 Louis D'amelio (Van Dessel Factory Team)               
65 Mitch Dorris (KCOI/Blvd)                               
66 Jay Mongillo (Ccc/Keltic Construction/Zane)            
67 John Riedel (Independent Fabrication)                  
68 Mike Berning (KCOI/Boulevard Racing)                   
69 Jerry Cutright                                         
DNF David Pitt (Trekbicycle of KC )                       
DNF Larry Kaufman (Van Dessel Factory Team)               
DNF Dan Hansen (Trekbicycle of KC)                        
DNF Gary Wolff (Team Maxxis)                              
DNF Charlie Brown (Mountain Pedaler)                      
DNF Richard Toler (Team Kreitler Rollers)                 
DNF Russ Murphy (Mesa Cycles Racing)                      
DNF Paul Watkins (Pedalers Racing Team)                   
DNF James Perren (Breakaway Racing)                       
DNF Joey Carlin (Team Otis Guy)                           
DNF Fafar Bayat (Highland Park Hermes)                    
DNF Vin Mancuso (Skylands Cycling)                        
DNF Mark Lovejoy (Ann Arbor Velo Club)                    
DNS Martin Jones (Team Somerset/Van Dessel)               
DNS Mark Noble (Time Factory Team)                        
DNS Frederick Huxham (Hup United)                         
DNS Jeff Cordisco (C3-Sollay.Com)                         
DNS David Boyd (Team Bike Lane)                           
DNS Geoffrey Proctor (Montana Velo)                       
DNS John Baxter (Carolina Master)                         
DNS Christian Zauner (Papa John's Racing)                 
DNS Craig Hilton (Red Rocks Velo)                         
DNS Blair Whitaker                                        
DNS Daniel Junick                                         
DNS John Blaszczak (Tripower)                             
DNS Paul Krebsbach (Oh Boy Oberto/Redline)                
DNS Gary Oliveira (Flying Rhino Cycling Club)             
DNS Joseph Jakofcich (KCBC Racing Team)                   
DNS Mark Featherman (Guys Cycling)                        
DNS Joseph Jakofcich (KCBC Racing Team)                   
DNS Mark Gunsalus (Bikebarnracing.Com)                    
DNS Bruce Hodgkins (Excel Sports)                         
DNS Stewart Stafford (Austin Flyers)                      
DNS Chip Ellison (QCW)                                    
DNS Gregg Rupp (KCOI/Boulevard Racing)                    
DNS Brian Rosenblatt (Team Somerset)                      
DNS Frank Hibbitts (Sibex Cycling Team)                   
DNS Michael Keough (Clnoonankamcoasttocoast)              
DNS Mark Mettler (MCT/Tonka)                              
DNS Kevin Barton (Freedom Chevrolet/Joe's Pro)            
DNS Robert Abell (Durango Wheel Club)                     
DNS Calvin Ridgeway (Rio Grande Racing Team)              
DNS Randy Guymer (Rbs Cycling Team)                       
DNS Paul Warloski (Beans And Barley)                      
DNS George Hebner (Bethel Cycle Sport Club)               
DNS John Grenier (Bob/Stony Field Farms)                  
DNS John Fiore (Montana Velo)                             
DNS Darrell Davis (Contender Bicycles)                    
DNS Rick Seaborn (Sportzoutdoor)                          
DNS Jan Wiejak (Verge Sports/Test Pilot)