US Cyclo-cross Championships - CN
Kansas City, Kansas, USA, December 13-16, 2007
Main Page Results Overall standings Live report Previous Race Next Race
Race 5 - December 14: Women 30-34, 35-39, 40-44, 45-49, 50-54, 55-59, 60+
Bruno Roy takes second title
By Wendy Booher
Maureen Bruno Roy (IF Wheelworks)
Photo ©: Kurt Jambretz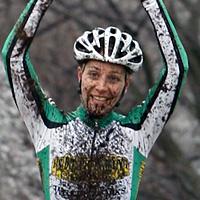 Two years ago Maureen Bruno Roy (Independent Fabrication-Wheelworks) claimed the national title in the Masters Women 30-34 on a course that had been pounded by a Nor'easter snowstorm the day before. The muddy, icy, and technically demanding mix proved to be the perfect match for her superlative bike handling skills.
So, after surveying the course Friday, Bruno Roy must have thought, 'I'll take that'. And it didn't take long before she distanced herself from the field.
"I'm not paid and I don't race another sport professionally, so the Masters category is really where I belong in terms of my commitment to training and racing," Bruno Roy said.
By the end of the first lap, Bruno Roy had already pedaled away from second wheel, Sally Annis (NEBC-CycleLoft), who became the target for third-place finisher Josie Jacques-Maynes (California Giant Berry Farms). Riding nearly flawlessly, Bruno Roy lengthened her lead by more than a minute to collect her second national title.
Jacques-Maynes went on to Annis to finish second, while Annis delivered team NEBC-CycleLoft its fourth podium finish of the day.
Photography
For a thumbnail gallery of these images, click here
Images by Dave McElwaine/www.trailwatch.net
Images by John Peterson/www.johnpetersonphotography.com
Images by Kurt Jambretz /www.actionimages.cc
Results

Master 30-34 Female
 
1 Maureen Bruno Roy (If/Wheelworks/Sram P/B Gen)        36.20
2 Josie Jacques-Maynes (California Giant Berry Farms)    1.20
3 Sally Annis (Nebc/Cycleloft/Devonshire De)             2.22
4 Kristi Berg (Redline Bicycles)                         2.52
5 Melodie Metzger (California Giant Berry Farms)         4.14
6 Rebecca Wellons (Ridley Factory Team)                  4.53
7 Jennifer Tilley (Kona-Velo Bella)                      5.10
8 Annajean Dallaire (Barbasol)                           5.15
9 Christie Pleiss (Team Cicle)                           5.49
10 Betsy Shogren (Fort Factory Team)                     5.50
11 Cara Mccauley (Bmw - Bianchi)                         6.54
12 Corey Coogan (Ridley Factory Team)                    7.17
13 Sara Cushman (Gear Works/Spin Arts)                   8.19
14 Kristal Boni (Twin Peaks Racing)                      8.29
15 Anna Milkowski (Gear Works-Spinarts)                  8.34
16 Kristen Bowers (Atomic Race Team)                    11.32
17 Shawnee Brenner                                      14.22
18 Catherine Johnson (Organicathlete P/B Vegnews)       14.26
19 Melody Chase (Velo Bella-Ko)                         16.51
20 Stephanie Swan (Durango Wheel Club)                  16.51
One lap down
21 Shannon Rogers (Kcoi/Boulevard)                           
22 Trish Albert (Otr Cycling/Strenflex)                      
DNF Lindsay Jones                                            
DNS Sarah Kerlin (Hrs/Rock Lobster)                          
DNS Heidi Von Teitenberg (C3-Sollay.Com)                     
DNS Colleen Flaherty (Fts)                                   
DNS Jessica Wittwer (Birchwood)                              
DNS Carolyn Popovic (Team Cicle)                             
DNS Sara Brokaw (Gopher Wheelmen)                            
DNS Tara Moeller (Specialized Bicycles)                      
 
Master 35-39 Female
 
1 Sue Butler (River City Bicycles)                      39.32
2 Sydney Brown (Badger Cycles)                           1.02
3 Lauren Costantini (Sycip Racing)                       1.46
4 Marci Titus Hall (Desalvo Custom Cycles)               2.08
5 Pauline Frascone (Independent Fabrication)             3.21
6 Linda Sone (Ridley Factory Team)                       3.51
7 Kim Sawyer (Bmw-Bianchi)                               4.16
8 Megan Bilodeau (Hup United)                            5.18
9 Heidi Gault (Ctca Tulsa Wheelmen)                      6.38
10 Deb Whitmore (Asheville Bicycle Racing Club)          8.11
11 Stella Carey (Hrs-Rock Lobster)                       9.20
12 Jennifer Herrell                                     10.47
13 Holly Klug (Killjoy Cycling)                         12.53
14 Laura Mizener                                        13.05
15 Allison Baker (Bicycle Shack)                        13.39
16 Kimberly Nuffer (Hammer Racing Team/Tvg L)           14.40
One lap down
17 Janet Trubey (Asheville Bicycle Racing Club)              
18 Arianne Caporiccio (Red Rocks Velo)                       
19 Renee Callaway (Capitol Velo Club)                        
20 Laura Kozlowski                                           
21 Julie Stark (Trekbicycleofkc)                             
DNS Beth Mason (C3-Sollay.Com)                               
DNS Heidi Godsil (Chipotle/Titus)                            
DNS Debbie Dust (Team Kenda Tire)                            
DNS Stacey Moseley                                           
DNS Susanne Delaney (Nebc/Cycle Loft/Devonshire D)           
 
Master 40-44 Female
 
1 Shannon Gibson (Velobella-Ko)                         39.25
2 Cris Rothfuss (Nebc/Cycle Loft/Devonshire D)           0.58
3 Karen Hogan (Chipotle - Titus)                         2.10
4 Lauri Webber (Henrys Bikes)                            3.05
5 Sami Fournier (Sunnyside Sports)                       3.15
6 Anne Schwartz (Flying Rhino Cycling Club)              4.02
7 Dorothy Wong (Team C.I.C.L.E. Presented B)             4.10
8 Beverly Chaney (Roaring Mouse Cycles)                  4.57
9 Michele Fulton-Bliss (Rocky Mounts - Izze Racing)      8.09
10 Leah Sanda                                           11.47
11 Rebecca Cato (Velo Force)                            11.49
12 Darcy Tiglas                                         15.22
13 Kayla Thomason (Schwab Cycles Racing Team)           17.14
14 Amy Strahan (Big Shark)                              17.49
DNS Patti Plagmann (Team Bike Lane)                          
DNS Sherri Curcuru (Sherri Curcuru)                          
DNS Michele Harrison (Essex County Velo)                     
DNS Cathy Rowell (Nebc/Cycle Loft/Devonshire D)              
DNS Nicola Cranmer (Proman/Paradigm)                         
 
Master 45-49 Female
 
1 Catherine Walberg (Team Kenda Tire)                   40.54
2 Kris Walker (Kriegcycling.Com)                         0.08
3 Julie Lewis Sroka (Lake Effect Cycling Team)           3.20
4 Linda Cooper (Great Plains Cycling Club)               4.13
5 Susan Prieto (Blue Sky Velo)                           5.46
6 Brenda Bahnson (Independent Fabrication)               8.49
7 Julie Bates (Roaring Mouse Cycles)                     9.42
8 Kerry Combs (Hup United/Zanconato Custo)              10.24
9 Tammy Ebersole (Evolution Racing)                     10.40
10 Teri Carilli (Nebc/Cycle Loft/Devonshire D)          12.30
11 Deirdre Garvey (Team Louisville Cycle)               12.44
12 Lynn Pitson (Carolina Masters)                       12.58
13 Lisa Meils (Team Giant)                              14.17
14 Amy Hutner (Kahala Lagrange)                         16.04
15 Donna Stevens (Local Cycaling.Com)                   17.15
One lap down
16 Jan Lischer (Hammer Racing)                               
17 Teresa Jarzemkoski (Trek Of Kc/Localcycling.Com)          
18 Amy Dykema                                                
DNS Susan Wilson (Inland Btd)                                
DNS Cathy Morgan (City Cycle)                                
DNS Jitka Cole (Ti Cycles)                                   
DNS Colleen Wanty (Big Swingin Cycles)                       
DNS Anne Lannan (Vitamin Cottage Cycling Team)               
DNS Margo Seaborn (Sportzoutdoor)                            
 
Master 50-54 Female
 
1 Kathy Sarvary (Gear Works Cyclery)                    42.39
2 Susan Maclean (Gear Works/Spin Arts)                   4.16
3 Anne Grofvert (Badger Cycles/Founders Ale)             4.25
4 Patti Kaufmann (Planet Bike)                           5.26
5 Glenda Taylor (Wheatland Cycling Team)                 7.38
6 Debbie Pielet (Alberto'S)                              8.24
7 Pam Reid (Team Rose City)                              9.22
8 Tracy Lea (T.E.A.M. Fuji)                             11.30
One lap down
9 Frances Summerhill (La Forza)                              
DNS Sheila Senft (Colavita New Mexico)                       
DNS Tammy Spray (Trek Of Kc/Local Cycling)                   
 
Master 55-59 Female
 
1 Diane Ostenso (Spring Street Sports)                  49.26
2 Tove Shere (Khsnm.Com Cycling Team)                    1.35
3 Carol Ruckle (Team Possibilities)                      2.16
4 Barbara Thiele (Unattached)                            5.18
5 Charlotte Miller (Hammer Racing Team/Tvg L)            5.34
6 Martha Iverson (Durango Wheel Club)                    8.11
One lap down
7 Andrea Carvey (Team Cross)                                 
 
Master 60+ Female
 
1 Julie Lockhart (Nebc / Cycleloft)                     44.24
One lap down
2 Nancy Brown