Cyclo-Cross World Cup #1 - CDM
Kalmthout, Belgium, October 21, 2007
Popular foreigner Stybar steams through Kalmthout
By Brecht Decaluwé in Kalmthout
Zdenek Stybar of Fidea
Photo ©: Isosport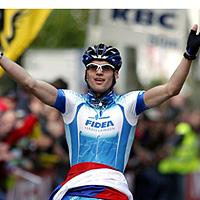 With an outstanding team performance Fidea launched Czech rider Zdenek Stybar to the front in the second lap and the Belgian team made sure nobody would get back to him. The 21 year-old never looked back and in the last lap he could wave to his fans and fly the Czech Republic flag. Nys' dominance was broken for once – he already won four times in Kalmthout - and the Belgian Rabobank rider had to settle for second. With a blistering fast last lap Nys distanced the strong French opposition from Francis Mourey.
Belgian champion Bart Wellens was set back by a flat tyre in the penultimate lap but still managed to finish sixth. Sven Vanthourenhout's injury worries are completely over, proven by fourth place, while world champion Erwin Vervecken is currently adding one bad performance after another unlucky race. Fidea team manager Hans Van Kasteren didn't worry too much about his world champion. "The team has won today so I'm a happy man. Erwin isn't going too bad, today he was set back by bad luck; he had a broken chain."
A unique start procedure made sure that there was at least one rider from every participating country in the first part of the starting bunch; a bad decision for the Belgians who have been dominating cyclo-cross for decades. Some Belgians had to start from third or fourth row and they never managed to fight their way back to the first groups; the result was that only five Belgians finished in the top-10. The home crowds weren't too disappointed though, since today's winner Zdenek Stybar has been supported like a local boy.
The Czech has been living in Kalmthout during the past two years and is planning to build a house in Essen, which is a small town next to the World Cup hosts. "I've got two home races, and that is Kalmthout and Tabor," Stybar said to Cyclingnews before the race, stipulating he was extremely motivated. When asked if he had expected to round-up his solo attack, Stybar smiled and said "No!"
The former double U23 world champion from 2005 and 2006 had attacked the bunch in the second lap from eleven. "I never looked back and rode as hard as I could," Stybar pointed out how he attacked the bunch. "I thought someone would bridge up to me but the gap always grew bigger. Suddenly I heard a beep from my watch and realized there was another 30 minutes to go, and I said to myself – oh no – I thought I would lose strength. Luckily my fans were going wild and supported me through that tough moment," Stybar explained how he felt halfway through the race. "During the last lap I was full of emotions, winning here as a neo-professional makes me extremely happy."
Another motivation today came from his team manager Van Kasteren. The Dutch manager promised Stybar a quick delivery from a Pedros-tool if Stybar would finish in the top-3. "I guess that was why he didn't hesitate to be in the attack," Van Kasteren laughed. "That was another motivation besides the €5000 bonus he receives for winning a World Cup event."
Sven Nys is granted the best
Photo ©: Brecht Decaluwé

Last year's winner Sven Nys was clearly the best rider from the chasing group and he explained he felt very strong today. "This is a lesson for my adversaries," Nys said at the post race press grill. "They're always waiting for me to react on attacks but if I reacted they would have some shots left so I decided to do nothing. I expected Boom would close the gap but he wasn't strong enough. Mourey waited too long and then I realized it would be too hard for me as well. I realized I needed to save my energy to secure the second place. With my fast last lap I realized what I wanted to do, so I'm not disappointed. I could've won today but Stybar has shown good form recently so he's certainly the deserved winner," Nys applauded Stybar.
Frenchman Francis Mourey confirmed that his second place from last year wasn't just a lucky shot, the French champion finished third today. "I feel that this was the best possible place for me today. Stybar was unreachable for us and when Nys attacked I was too far [back] to react immediately," Mourey explained to Cyclingnews. "On this course you just had to make sure you were in the right group. I'm very happy with this result since my form will get even better towards January, for the Worlds in Treviso."
The Frenchman was the first of a bunch that stayed together for most of today's race. The fast but technical course couldn't make a bigger selection and nobody – besides Stybar – launched a serious attack. These tactics offered the chance to less expected riders to emerge in the spotlight. One of those was Christian Heule; the Swiss champion rode a remarkably strong race today and finished seventh.
Jonathan Page was allowed to start from the front row but couldn't turn that into a top result. Nevertheless he finished on a good eleventh place after a race where he was always struggling to stay in the first chasing group. "My start wasn't the best. I had a great spot but didn't take full advance from that. During the race I had only one sector – on the road – to move up but I never could fully recover to gain more positions," Page explained after the race.
US-champion Ryan Trebon was confident before the race, claiming it was a fast and challenging course but after the race he was hammered. "This was really weird, I had no power; my left leg seems dead. Everything went wrong today: my tyre pressure was too low, I slipped and twisted my ankle... I think I twisted it on the stairs," Trebon explained. This World-Cup should have been the crown on his two-week visit to the European cross scene but couldn't be part of the plan. "It's frustrating when things don't get going. I had good sensations during the first week but this week clearly wasn't so good."
Other English speaking riders were Paul Oldham (46th) and David Collins (49th) who finished within six minutes from winner Stybar. Jonathan Baker (51th) and Stuart Bowers (52th and last) were lapped.
The women's race was dominated by a Dutch-US coalition between 2003 world champion Daphny Van Den Brand and Katie Compton. The Dutch woman jumped away from Compton in the last technical sectors of the course and kept a couple of metres on this year's Worlds silver medallist. "I'm just better than the rest today. Actually at the start of the season I'm always atop of the field," Van Den Brand explained after her win.
Meanwhile Katie Compton was wondering if she should be happy or sad. "I made a few mistakes and missed that last ten percent, I didn't have that extra kick," Compton explained to Cyclingnews. More than a minute later, Christelle Ferrier-Bruneau – sixth at the Worlds last year – outsprinted Sanne Van Paassen (DSB Bank) for third place. World champion Maryline Salvetat struggled on the fast but technical course and finished in a disappointing eighth place.
Her compatriot and 2002/2004 world champion Laurence Leboucher finished even further back, in 12th. "It's strange to see that Salvetat and Leboucher aren't going well since they just finished their road season," Van Den Brand wondered. "I came here to gather the UCI-points that are needed to earn a good start position at the World Championships. Finishing second in my second ever World Cup race is moral-boosting. It's too bad Lyne [Besette] isn't here and obviously Hanka [Kupfernagel] is not here, either," Compton explained she found the opposition rather weak.
The reason why three-time world champion Hanka Kupfernagel didn't start in Kalmthout was partially due to her taking a break after a long season that ended with a time trial win in the road World.Championships. But also, the German was heard to react against the low price money for the women in the World Cup races. That's a sad decision for the sport since women's cyclo-cross received another blow earlier this year when Marianne Vos announced that she would no longer combine road racing with cyclo-cross. Helen Wyman finished on a decent 11th place. Further back there were more US women riding in Kalmthout. Christine Vardaros placed 22th and Sarah Kerlin crossed the finish line as 29th from 39 starters.
How it unfolded
Riders were given unusual start positions in this World Cup race since every nation was allowed to give only one rider a good position. Then from row three on the other top riders were lining up. This caused top riders like world champion Erwin Vervecken and Sven Vanthourenhout to be lined up in third row between less fancy riders from the UK, Spain...
At 15:00 55 men shot away from the start line in sunny Kalmthout. Temperatures were enjoyable for this time of the year, especially when hearing that next week's World Cup course in Tabor is currently covered with snow. The hole shot was for Francis Mourey, the French champion was followed by Sven Nys and Bart Wellens. While world champion Vervecken and Sven Vanthourenhout were riding in 20th position, it was Belgian champion Bart Wellens who took over the command from Mourey.
Six men joined Wellens in front with the bunch closely behind. Just after crossing the finish line for the first time Czech youngster Zdenek Stybar (Fidea) attacked the bunch. Nobody responded to his attack and it was Dutch champion Lars Boom who paced the bunch through the woods, small climbs and the sand pit. Apparently the speed from the Dutch champion wasn't high enough since former 2005 & 2006 U23 world champion Stybar had gathered 18 seconds on the bunch where all the big names were featuring, except for Vervecken and Trebon.
Bart Wellens leads
Photo ©: Isosport

During the third and fourth lap Enrico Franzoi and Christian Heule led the pursuing group at 26" but there was always a Fidea man to mark any initiative. Meanwhile Vervecken couldn't bounce back from his bad start on the speedy course where overtaking was barely impossible. Vervecken had chain problems and changed bikes, that forced the Belgian to drop even more positions and we never saw the world champion back in the first groups.
During the fifth lap a move from Bart Wellens showed why the Czech youngster could stay in front. The Belgian champion popped ahead of Heule before a series of technical and slow zigzag corners, once Wellens was in the ideal position he touched his breaks and rode through the corners like an old man; with manoeuvres like this the Fidea team clearly showed that they wanted Stybar to go all the way.
Francis Mourey took over the command and accelerated from first position but he was quickly marked by Klaas Vantornout, with Bart Aernouts, Wellens, Sven Vanthourenhout and Nys easily following. The race situation couldn't change if the big guns wouldn't fire a shot, and that's just what happened... there were no serious counter-attacks. After five laps Stybar had 46" on a group of six, with six other chasers not too far behind.
Stybar seemed to be cruising towards victory and apparently Wellens felt his team-mate couldn't be caught back anymore. Wellens launched a fierce attack with Bart Aernouts marking his wheel, when the Rabobank rider made a slipper Vantornout overtook him and suddenly there were three Fidea riders in the lead. The riders behind them united forces and the two Fidea guys were brought back by the end of the sixth lap.
Swiss champion Christian Heule
Photo ©: Brecht Decaluwé

Heule had a good day and he put himself in front of the fourteen other chasers. The Swiss forced everybody to follow his pace – as nobody could overtake him on the fast course - and that allowed Heule to stay comfortable, while Stybar could easily extend his lead up to 53". Behind this cease-fire Cyclingnews spotted a suffering US-champion Trebon who checked his thigh and ankle. Trebon was 2'10" down on Stybar.
The Czech neo-professional didn't lose strength and with four laps to go he had just over one minute on the first pursuing group. Six men were dropped from that group with most Dutch guys featuring, but also Simon Zahner and Jonathan Page. Wellens was spotted talking to his team-mate Vantornout, and it turned out the Belgian champion had a flat tyre. Wellens dropped back to the Page-group but Vantornout made sure that nobody thought about accelerating.
With less than two laps to go Wellens returned to the first chasing group and that's when Nys decided to launch his first acceleration of the race. The Belgian quickly gathered a five second gap on Sven Vanthourenhout, Klaas Vantornout and Mourey, while Wellens was five more seconds back. He was in the main group with Franzoi, Pauwels, Groenendaal, Franzoi and Heule. The latter had a chain problem and lost a couple of positions in this most important part of the race.
While Stybar enjoyed a lap of honour as new local boy, Nys easily stayed ahead of his chasers and captured second place. Mourey out-sprinted Sven Vanthourenhout and Klaas Vantornout for third place. Wellens, Heule, Pauwels, Groenendaal and Franzoi completed the top-10. Jonathan Page concluded a race where he struggled to stay in touch with the first chasers with an eleventh place.
Photography
For a thumbnail gallery of these images, click here
Images by Isosport
Images by Brecht Decaluwé/Cyclingnews.com
Results
Elite men

1 Zdenek Stybar (Cze) Fidea Cycling Team                              1.01.02
2 Sven Nys (Bel) Rabobank                                                0.33
3 Francis Mourey (Fra) Française des Jeux                                0.35
4 Sven Vanthourenhout (Bel) Sunweb-Projob                                    
5 Klaas Vantornout (Bel) Fidea Cycling Team                                  
6 Bart Wellens (Bel) Fidea Cycling Team                                  0.43
7 Christian Heule (Swi) Stevens Racing Team                              0.45
8 Kevin Pauwels (Bel) Fidea Cycling Team                                 0.48
9 Richard Groenendaal (Ned) AA Sport Drinks                                  
10 Enrico Franzoi (Ita) Lampre Fondital                                  0.56
11 Jonathan Page (USA) Sunweb-Projob                                     1.01
12 Bart Aernouts (Bel) Rabobank                                              
13 Simon Zahner (Swi) Bürgis Cycling Team                                    
14 Radomír Simunek (Cze) Palmans Cras                                        
15 Kamil Ausbuher (Cze) Easypay Cyclocross Team                          1.06
16 Thijs Al (Ned) Combi Kennemerland / Bataaf                            1.09
17 Gerben De Knegt (Ned) Rabobank                                            
18 Lars Boom (Ned) Rabobank                                                  
19 Wilant Van Gils (Ned) ZZPR.nl                                             
20 Steve Chainel (Fra) Auber 93                                              
21 Marco Bianco (Ita)                                                    1.34
22 Erwin Vervecken (Bel) Fidea Cycling Team                                  
23 Malte Urban (Ger) Heinz von Heiden Focus                              1.38
24 René Birkenfeld (Ger) Harvestehuder RSV v. 1909                       1.50
25 Milan Barenyi (Svk) CK ZP Sport A.S. Podbrezová                       1.53
26 Dieter Vanthourenhout (Bel) Easypay Cyclocross Team                   1.55
27 Petr Dlask (Cze) Fidea Cycling Team                                   1.57
28 Jan Chrobák (Cze) Johnson Controls AS                                     
29 Václav Metlicka (Svk) Team Kral R.C. Pfeil                                
30 Nicolas Bazin (Fra) US Domont                                             
31 Maarten Nijland (Ned) Ruiter Dakkapellen Wielerteam                   2.30
32 Vladimír Kyzivát (Cze) Johnson Controls AS                            2.37
33 Jan Verstraeten (Bel) Sunweb Pro Job                                      
34 Rob Peeters (Bel) Landbouwkrediet - Tönissteiner                      2.51
35 Rafael Visinelli (Ita) C.C.V. Cyclocross Team Bologna                 3.03
36 Alessandro Fontana (Ita) Corpo Forestale Stato                            
37 Roy Van Heeswijk (Ned)                                                3.11
38 Robert Glajza (Svk) CK ZP Sport a.s. Podbrezová                           
39 David Derepas (Fra) Roubaix Lille Metropole                           3.17
40 Isaac Suarez Fernandez (Spa)                                          3.37
41 Johannes Sickmüller (Ger) Harvestehuder RSV v. 1909                   3.56
42 Ryan Trebon (USA) Kona-Your Key Mortgage Team                             
43 Marek Cichosz (Pol)                                                   4.11
44 Marius Gil (Pol)                                                      4.38
45 Luca Damiani (Ita) Colavita/Sutter Home Presented By Cooking Light    4.41
46 Paul Oldham (GBr)                                                     4.43
47 David Seco Amundarain                                                 5.23
48 Gusty Bausch (Lux)                                                    5.41
49 David Collins (GBr)                                                   6.12
50 Thorsten Struch (Ger) Team Coogee Saar                                6.30
51 Jonathan Baker (USA) Primus Mootry                                        
52 Stuart Bowers (GBr)                                                       

Elite women
 
1 Daphny Van Den Brand (Ned)                                            39.43
2 Katherine Compton (USA)                                                0.03
3 Christelle Ferrier-Bruneau (Fra) Les Pruneaux D'agen                   1.13
4 Sanne Van Paassen (Ned) Team Dsb Bank                                      
5 Pavla Havlikova (Cze)                                                  1.21
6 Stephanie Pohl (Ger) Team Getränke-Hoffmann                            1.23
7 Arenda Grimberg (Ned)                                                  1.25
8 Maryline Salvetat (Fra)                                                    
9 Sanne Cant (Bel)                                                       1.36
10 Reza Hormes-Ravenstijn (Ned)                                              
11 Helen Wyman (GBr) Global Racing Team                                      
12 Laurence Leboucher (Fra)                                              1.47
13 Linda Van Rijen (Ned) Team Dsb Bank                                   2.05
14 Nadia Triquet-Claude (Fra)                                            2.08
15 Veronica Alessio (Ita) S.C. Michela Fanini Record Rox                 2.10
16 Veerle Ingels (Bel)                                                   2.35
17 Vania Rossi (Ita)                                                     2.50
18 Katrien Pauwels (Bel)                                                     
19 Caroline Mani (Fra)                                                   3.00
20 Abke Francissen (Ned)                                                     
21 Susanne Juranek (Ger)                                                 3.03
22 Christine Vardaros (USA) Les Pruneaux D'agen                          3.12
23 Saskia Elemans (Ned)                                                      
24 Anja Nobus (Bel)                                                      3.23
25 Gabriella Day (GBr) Global Racing Team                                3.33
26 Francesca Cucciniello (Ita)                                               
27 Liesbeth De Vocht (Bel) Lotto-Belisol Ladiesteam                      4.16
28 Mika Ogishima (Jpn)                                                       
29 Sarah Kerlin (USA)                                                    4.49
30 Lise Muller (Swi)                                                     5.01
31 Katrien Aerts (Bel)                                                       
32 Ayako Toyooka (Jpn)                                                       
33 Anouk Kesseler-Haarsma (Ned)                                          5.12
34 Gertie Willems (Bel)                                                      
35 Suzie Godart (Lux) Fenixs - Hpb                                       6.23
36 Katrien Vermeiren (Bel)                                               6.42
DNF Aline Parsy (Fra)                                                       
DNF Birgit Hollmann (Ger) Team Getränke-Hoffmann                            
DSQ Elke Riedl (Aut)                                                         
 
Under 23 men
 
1 Niels Albert (Bel) Palmans Collstrop                                  53.45
2 Julien Taramarcaz (Swi) Atlas-Romer's Hausbäckerei                         
3 Robert Gavenda (Svk)                                                       
4 Jonathan Lopez (Fra)                                                   0.48
5 Tom Meeusen (Bel) Fidea Cycling Team                                   1.08
6 Aurelien Duval (Fra)                                                       
7 Lukas Kloucek (Cze)                                                        
8 Ramon Sinkeldam (Ned)                                                  1.14
9 Thijs Van Amerongen (Ned) Van Vliet - Ebh - Advocaten                  1.20
10 Philipp Walsleben (Ger) Heinz Von Heiden Focus                        1.34
11 Ondrej Bambula (Cze)                                                  1.46
12 Wim Leemans (Bel)                                                     1.49
13 Vincent Baestaens (Bel) Fidea Cycling Team                            1.50
14 Mitchell Huenders (Ned) Team Löwik Meubelen                               
15 Kevin Cant (Bel)                                                          
16 Stijn Huys (Bel) Palmans Collstrop                                        
17 Kenneth Van Compernolle (Bel) Sunweb Pro Job                              
18 Jiri Polnicky (Cze)                                                   1.54
19 Quentin Bertholet (Bel) Fidea Cycling Team                            1.57
20 Marco Ponta (Ita)                                                     1.58
21 Matthias Flückiger (Swi)                                                  
22 Romain Lejeune (Fra)                                                  2.05
23 Sylwester Janiszewski (Pol)                                           2.09
24 Hans Becking (Ned)                                                    2.13
25 Bart Verschueren (Bel)                                                2.16
26 David Menger (Cze)                                                    2.44
27 René Lang (Swi)                                                       2.47
28 Ole Quast (Ger)                                                           
29 Ivar Hartogs (Ned)                                                    2.53
30 Twan Van Den Brand (Ned)                                                  
31 Joeri Adams (Bel)                                                     3.19
32 Fabio Ursi (Ita)                                                      3.22
33 Guillaume Perrot (Fra)                                                3.25
34 Stephan Sprinke (Ger)                                                     
35 Tom Last (GBr)                                                        4.18
36 Nico Brüngger (Swi)                                                   4.23
37 Peter Frei (Swi)                                                      4.24
38 Stephen Adams (GBr)                                                   4.26
39 Sascha Wagner (Ger)                                                       
40 Sascha Weber (Ger)                                                    4.39
41 Martin Haring (Svk)                                                   4.59
42 Tomasz Repinski (Pol)                                                 5.20
43 Marcel Meisen (Ger)                                                   5.42
44 Konrad Jasik (Pol)                                                    7.08
DNF Maxim De Busschere (Bel) Sunweb Pro Job                                  
DNF Marcin Sobiepanek (Pol)                                                  
DNF Jan Van Dael (Bel) Sunweb Pro Job                                        
 
Junior men
 
1 Arnaud Jouffroy (Fra)                                                 43.03
2 Lubomir Petrus (Cze)                                                       
3 Elia Silvestri (Ita)                                                   0.39
4 Stef Boden (Bel)                                                       0.41
5 Filip Adel (Cze)                                                           
6 Arnaud Grand (Swi)                                                         
7 Marek Konwa (Pol)                                                          
8 Tijmen Eising (Ned)                                                    1.11
9 Geert Van Der Horst (Ned)                                              1.16
10 Kevin Smit (Ned)                                                      1.28
11 Harm Van Der Sanden (Ned)                                                 
12 Karel Hnik (Cze)                                                      1.34
13 Max Walsleben (Ger)                                                   1.40
14 Petr Marvan (Cze)                                                         
15 Valentin Scherz (Swi)                                                 1.53
16 Ruben Veestraeten (Bel)                                                   
17 Matthias Bossuyt (Bel)                                                    
18 Pierre Garson (Fra)                                                   1.57
19 Valentin Hadoux (Fra)                                                 2.03
20 Sven Beelen (Bel)                                                     2.11
21 Christophe Balanec (Fra)                                              2.28
22 Wietse Bosmans (Bel)                                                  2.34
23 Gerry Druyts (Bel)                                                        
24 Bas Krauwel (Ned)                                                     2.43
25 Steven Galens (Bel)                                                       
26 Michiel Dieleman (Bel)                                                    
27 Scott Thwaites (GBr)                                                      
28 Luca Sportelli (Ita)                                                      
29 Vinnie Braet (Bel)                                                    2.49
30 Guillaume Van Keirsbulck (Bel)                                        2.54
31 Boris Zimine (Fra)                                                        
32 Riccardo Bettoncelli (Ita)                                            3.02
33 Daniele Braidot (Ita)                                                 3.59
34 Bryan Falaschi (Swi)                                                      
35 Toni Bretscheneider (Ger)                                                 
36 Ben Roach (GBr)                                                           
37 Vincent Renaux (Fra)                                                      
38 Dany Lacroix (Bel)                                                    5.02
39 Anthony Grand (Swi)                                                       
40 Philipp Mueller (Ger)                                                 5.18
41 Ian Boswell (USA)                                                     6.35
DNF Steven Van Leijen (Ned)                                                 
DNF Josef Rauber (Ger)                                                      
DNF Massimo Coledan (Ita)                                                   
DNF Gregor Lendenmann (Swi)                                                 
DNF Angelo De Clercq (Bel)