Cyclingnews 2007 Reader Poll Results
Best male track rider
No beating the Bos
By Laura Weislo
Theo Bos waves the Netherlands flag
Photo ©: Mitch Friedman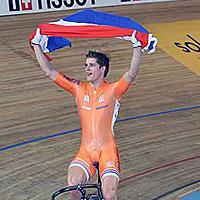 Our poll for best male trackie was as close as a World Championship match sprint, and two World Champions were neck and neck for the win. Dutch sprinter Theo Bos squeaked in ahead of Scot Chris Hoy on the bike throw by just 23 votes, but these two fast men were clearly the most impressive men on the boards in 2007 to our readers.
Bos, winner of the world sprint title in Majorca, must have left the Ahoy velodrome in Rotterdam this week with the Village People's "Macho Man" firmly embedded in his head after winning both the Masters of Sprint and Sprint Six Day titles: each time he won, the song confirmed that he is, indeed, a macho man. As if we needed any further evidence, Bos set the World Record for the flying 200m in Moscow late in 2006 - breaking an 11-year-old record with a 9.772.
Hoy has his own record to crow about to go along with his two world championship titles. The keirin and kilo champ set out to break the 1000m world record in 2007 only to fall just shy. He managed to salvage his trip to La Paz, Bolivia, with a new world record for a flying 500m - smashing the previous record by more than a second.
Another double World Champion was third in our poll. British pursuiter Bradley Wiggins has rainbow bands for both the individual and team pursuit, as well as victories on the road in the Critérium du Dauphiné Libéré, Four Days of Dunkirk and Duo Normand. He beat out perennial favourite Erik Zabel for the podium spot.
In fifth place was the man with the mullet, Bruno Risi, who, along with his fellow Swiss Franco Marvulli, has the world Madison title as well as wins in the Zurich, Copenhagen, Berlin, Hasselt, Munich, Noorden and Dortmund Six Days. Risi came in ahead of the mad Russian, Mikhail Ignatiev, whose attacking style earned him the bronze in the World Championship points race.
Ignatiev beat Australian sprinter Ben Kersten by just ten points, while the top ten was rounded out with World Points Race Champion Juan Llaneras, Belgian Iljo Keisse and Swiss Franco Marvulli.
Results

                                                   Votes     %ge
1 Theo Bos                                          2321      27.88%
2 Chris Hoy                                         2298      27.60%
3 Bradley Wiggins                                   1359      16.32%
4 Erik Zabel                                         694      8.34%
5 Bruno Risi                                         495      5.95%
6 Mikhail Ignatiev                                   360      4.32%
7 Ben Kersten                                        350      4.20%
8 Juan Llaneras                                      176      2.11%
9 Iljo Keisse                                        150      1.80%
10 Franco Marvulli                                   122      1.47%
                                             Total: 8325