Cyclingnews 2007 Reader Poll Results
Best Moment of 2007
O'Grady's monumental moment
A picture-perfect moment
Photo ©: Luc Claessen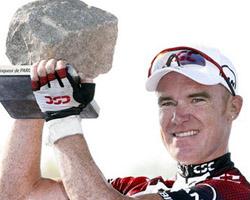 Totally eclipsing anything the Tour de France could offer, Stuart O'Grady's crushing victory at Paris-Roubaix was the runaway winner in our Best Moment of 2007 category, stealing almost one third of the total votes cast. Not only was O'Grady the first Australian to make the Roubaix podium in its 105-year history, but the manner of his triumph made it all the more impressive.
Joining an early breakaway with around 25km covered, the CSC man's race looked to be over when he flatted in the notorious Arenberg forest with 100km to go and lost contact with the leaders. But after riding some of the cobbled sector with a flat tyre, O'Grady steadily worked his way back to the leaders and attacked alone with 20km remaining. Powering through the dust and 80 degree heat - more akin to temperatures in his native South Australia - O'Grady entered the Roubaix velodrome alone to claim his first victory since 2004.
"I was going to win today or die trying," were his words after crossing the line.
Besides being the first Australian winner, O'Grady was also the first English speaker since Sean Kelly in 1986 and the first ever Commonwealth rider to win the Queen of the Classics.
A somewhat distant second was the mountainous duel between Michael Rasmussen and Alberto Contador at the Tour de France. Leaving aside the ensuing chaos when Rasmussen was sent home for lying about his whereabouts in June, the contrasting styles of the Dane and the Spaniard made for an intriguing battle up the Col d'Aubisque on Stage 16. After Rasmussen won the stage, Discovery manager Johan Bruyneel conceded that the race was all but over, only for the race leader to be dramatically ejected later that day and subsequently fired by his team.
Not far behind was Fabian Cancellara's double triumph at the Tour de France. His prologue victory in London and dramatic last-minute breakaway in Compiègne netted over 1000 votes to round out the podium. Jumping from the peloton with 750 metres remaining, the Swiss powerhouse overhauled the day's four-man break and threw his arms aloft - a photographer's delight that also captured our Photo of the Year award.
Results

                                                                                             Votes     %ge
1 Paris - Roubaix: Stuart O'Grady's victory                                                   3059      32.48%
2 Tour de France: Alberto Contador Vs. Michael Rasmussen in the Pyrenees                      1491      15.83%
3 Tour de France: Fabian Cancellara's Prologue/Stage 3 wins, yellow jersey                    1111      11.80%
4 Tour de France: Final Individual Time Trial tension                                          856      9.09%
5 Road worlds: Paolo Bettini's win/shotgun gesture                                             828      8.79%
6 Giro d'Italia: Andy Schleck's determination/Maglia Bianca                                    530      5.63%
7 Tour de France: Linus Gerdamann's Stage 7 win, yellow jersey                                 396      4.20%
8 Cyclo-cross worlds: Jonathan Page challenging for world title                                334      3.55%
9 Crocodile Trophy: Mark Herremans finishing/Rider's tribute                                   221      2.35%
10 Ronde van Vlaanderen: Alessandro Ballan's win over Leif Hoste                               188      2.00%
11 Vuelta a España: Samuel Sánchez's descent to Granada                                        178      1.89%
12 Giro di Lombardia: Three way battle for victory                                             140      1.49%
13 Track Worlds: Anna Mears' 500m World Record                                                  87      0.92%
                                                                                       Total: 9419