Cyclingnews 2007 Reader Poll Results
Best male Cyclo-cross rider
Nys crushes the competition
Nys wins again and again
Photo ©: Isosport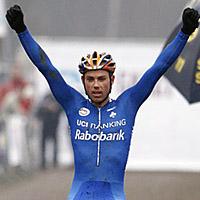 We could just use the same summary every year for this category it seems, since the same man wins again and again by as large a margin as he does in some races. Yes, we're talking about Sven Nys - Belgium's superstar of the muddy, sandy, crazy sport we love: cyclo-cross. Just as Nys crushes his competition on his Dugasts, he simply demolished the other riders on our poll, taking home almost 69 percent of the vote - the largest margin of any category!
Did he deserve it? Why yes, indeed! He's only taken the Belgian championships, four World Cups, leads the UCI rankings (by a whopping 515 points), the Superprestige and Gazet van Antwerpen series, and won 19 races in total in the 2007-08 season alone. But why, oh why, can Nys not win the World Championships? He did it once, but in 2007 his luck was horrible, and a crash ruined his chances.
Our second placed rider came within seconds of a World Championship: American Jonathan Page. He bounced back from injury to have a fantastic race in Hooglede-Gits that had us all on the edge of our seats. His 2007-08 season has had its share of problems, however, but a strong ride at the US championships earned him another silver medal behind Tim Johnson. We had a number of complaints about the absence of Johnson from our list for this category, and we have to apologise to the US champion. Our poll was formulated before he took that title.
Third placed Lars Boom is another deserving rider who topped the non-Nys vote. Dutch champion and winner of the Pijnacker World Cup, this 22-year-old phenom has given his Rabobank team-mate Nys a strong ally in their fight against the Fidea powerhouse team.
Despite winning the overall US Gran Prix title, American Ryan Trebon did not enjoy as much popular support in our poll this year. Second last year, the lanky Kona rider slipped to fourth, ahead of fifth placed Bart Wellens whose poll numbers don't quite equal his abilities on the bike.
Italian champion Enrico Franzoi enjoyed a solid sixth, edging out World Champion Erwin Vervecken. Frenchman Francis Mourey was eighth, ahead of Czech stand-out Zdenek Stybar and Belgian Klaas Vantornout.
Results

                                                                       Votes
1 Sven Nys                                                             5720 	68.95%
2 Jonathan Page                                                         675 	8.14%
3 Lars Boom                                                             595 	7.17%
4 Ryan Trebon                                                           508 	6.12%
5 Bart Wellens                                                          273 	3.29%
6 Enrico Franzoi                                                        151 	1.82%
7 Erwin Vervecken                                                       116 	1.40%
8 Francis Mourey                                                        101 	1.22%
9 Zdenek Stybar                                                          96 	1.16%
10 Klaas Vantornout                                                      61  0.74%
                                                                Total: 8296