Cyclingnews 2007 Reader Poll Results
Most improved rider
Contador claims top honours
By Greg Johnson
Alberto Contador (Discovery Channel)
Photo ©: AFP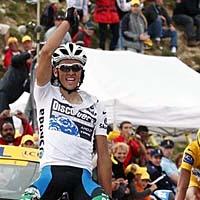 Spain's Alberto Contador impressed his Discovery Channel boss with two stage victories, the young rider's and general classification last March. That same month the then 24 year-old claimed stage wins at the Vuelta a Castilla y Leon, where he also won the combination classification, and the Vuelta a la Comunidad Valenciana.
The strong results in the month of March led team's head honcho Johan Bruyneel to realize the Spaniard could prove useful to his lead rider Levi Leipheimer in July's Tour de France…or so he would have the world believe. Instead Contador conquered all that lay before him, swapping roles with his favoured captain towards the end of the French event to claim the prestigious Grand Tour victory in Disco's last hurrah on French soil.
All were out to watch Contador's gripping battle as he held off a closing Cadel Evans (Predictor-Lotto) by just 23 seconds, even team owner Lance Armstrong flew in for the final days to see the outfit claim its eighth and final Grand Tour win. The Spaniard's journey to victory inspired the hearts and minds of people around the world, including Cyclingnews readers who voted him as the most improved rider of 2007 by a narrow 0.56 % over Team CSC's Andy Schleck.
Just like his July victory, Contador claimed the reader poll victory by the narrowest of margins, with Schleck just 13 votes behind out of the 9379 votes taken. It's the second consecutive year the Schleck name has appeared in the Reader Poll, with Andy coming frustratingly close to mirroring his brother Fränk's win last year.
Andy, who won the Giro d'Italia's young rider competition in May, took a convincing second place over super fast Manxman Mark Cavendish. The T-Mobile rider, who came across the line with 1231 votes, set the world alight in 2007 - his neo-professional year - taking a whopping 11 victories. The 21 year-old also finished the year with two sprint, three points and one young riders jersey.
Ricardo Riccò and Daniele Bennati claimed fourth and fifth spots respectively, while sixth spot was a battle between American road races Mara Abbott and Ben Jacques-Maynes. Abbott, who stormed to a podium position in her first Women's World Cup race in Montreal, Canada, won the battle over the consistent Jacques-Maynes by a slender six votes, or 0.07%.
Results
                             Votes     %ge              
1 Alberto Contador            3008   32.07%
2 Andy Schleck                2955   31.51%
3 Mark Cavendish              1231   13.13%
4 Ricardo Riccò                619    6.60%
5 Daniele Bennati              534    5.69%
6 Mara Abbott                  356    3.80%
7 Ben Jacques-Maynes           350    3.73%
8 Alexandr Kolobnev            178    1.90%
9 Robert Gesink                106    1.13%
10 Klaas Vantornout             42    0.45%
                       Total: 9379