Cyclingnews 2007 Reader Poll Results
Legend of Cycling
Finalmente... Paolo!
Paolo Bettini (Italy) counts his world titles.
Photo ©: Roberto Bettini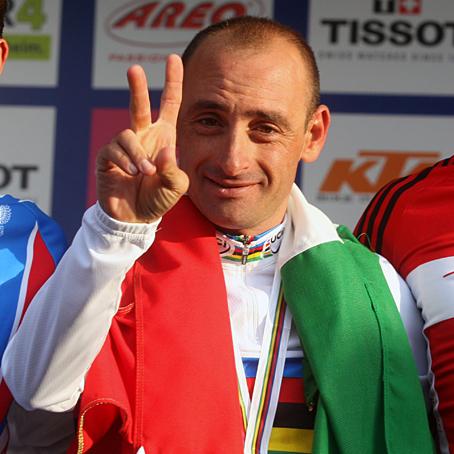 Third last year, third the year before, Paolo Bettini has finally been voted Cyclingnews' Legend of Cycling for 2007. Undoubtedly, it was Bettini's world road race title defence in Stuttgart, achieved after a week of polemics surrounding him and his Italian team, that made him the readers' choice this time round. Such a feat had not been accomplished since Gianni Bugno's double in 1991-92 and before that Rik Van Looy in 1961-62.
Bettini's shotgun gesture as he crossed the line was a message to the UCI, the German TV stations and the race organisers - all of whom tried and failed to remove him from the race after he refused to sign the full UCI Riders' Commitment for a Clean Cycling charter. "Despite all the pressure, we tried during the week to work with tranquility, even if it was not easy," said Bettini at the post-race press conference. "We decided in our team to transform all that happened in a wish to show how you must work in cycling."
Besides this famous double, Bettini can also claim stage victories in every Grand Tour, the 2004 Olympic road race title and host of other wins including Milan-San Remo and the Tour of Lombardy - all of which mean his position as a legend of cycle sport is thoroughly deserved.
The 33 year-old has already said his last race will be the 2008 Tour of Lombardy, and if he wins that again or does the unthinkable world championship treble, we could well be writing a similar piece next year.
Coming in a close second was last year's winner Erik Zabel. The Milram star endured a tumultuous year after his tearful confession to using EPO during his early career. Still, the affable German remains a firm favourite amongst the fans, likely due to his, quite literally, year-long racing schedule. Starting in January and continuing right through the December Six Days, this man just doesn't know the term 'off season'.
In third place, although some distance behind the top two, was Rabobank's Michael Boogerd who announced his retirement in October. Well known for his trademark grimace and gleaming white teeth, Boogie's youthful spirit and occasionally questionable tactics often saw him overhauled in a race's finale, while fans loved his never-say-die attitude.
Only 41 votes shy of the podium was French legend Jeannie Longo. Arguably the greatest female cyclist of all time, she has four world time trial titles, five world road race titles, an Olympic silver and multiple gold medals on the track - not surprising then that Longo is often referred to as the female answer to Eddy Merckx.
Results

                                                   Votes     %ge
1 Paolo Bettini                                     2681      28.03%
2 Erik Zabel                                        2376      24.84%
3 Michael Boogerd                                   1174      12.28%
4 Jeannie Longo                                     1133      11.85%
5 Peter Van Petegem                                  652      6.82%
6 Sven Nys                                           530      5.54%
7 Gunn-Rita Dahle Flesja                             416      4.35%
8 Julien Absalon                                     317      3.31%
9 Arnaud Tournant                                    136      1.42%
10 Cédric Vasseur                                    115      1.20%
11 Nico Mattan                                        34      0.36%
                                             Total: 9564