MTB index page for all MTB content
MTB World Cup XC # 1 - CDM
Houffalize, Belgium, April 22-, 2007
Schedule
Preview
Massive fields take to World Cup opener
By Rob Jones in Houffalize, Belgium
A new start with a very steep climb
Photo ©: Rob Jones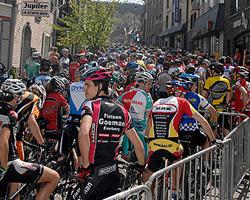 The Cross Country Mountain Bike World Cup season opens tomorrow with a new title sponsor - Nissan - but most of the familiar faces will be on the start line in Houffalize, Belgium for the first cross-country. Houffalize is considered to be the most prestigious European World Cup to win - Christoph Sauser (Specialized) called it the "Queen of races".
This year, it looks like the weather may be the finest ever seen, with temperatures hovering in the high teens (Celcius) under a bright blue sky, on the eve of the event, with more of the same predicted for raceday. This has made the circuit dry and dusty - something not normally associated with Houffalize in the spring!
While much of the course remains similar to past years there have been a couple of changes: First, the start loop will consist of a long paved climb and then half a lap of the 7.4 kilometre circuit. The expectation is that the men will do a start lap and five full laps, with the women doing one less full lap.
This paved climb is causing lots of talk - Jose Hermida (Multivan Merida) said: "this is a hard, hard climb to start the race, over 16 per-cent, I think."
The plus side of this is that it will give the extremely large men's field a chance to spread out a bit before the race enters the single track. The start list for the men is approaching 250 riders (and the women's field is also very large at 128); although officials say that they expect approximately 225 to take the start.
Jose Hermida is expecting a good race
Photo ©: Rob Jones

After complaints about extremely large fields last year, the UCI announced a requirement of 20 UCI points to register for a World Cup. Unfortunately, there are currently hundreds of men with 20 or more points. The UCI says its investigating "alternative methods" to limit fields for 2008.
With the hunt for all important UCI points for Olympic qualification now underway, pretty much every top rider will be in attendance. In the men's field, Liam Killeen (Specialized) and Seamus McGrath (Rocky Mountain-Haywood) are the top seeded riders missing - both are recovering from viral problems. Top riders who will start well back due to low World Cup final rankings last year include Geoff Kabush (Maxxis) in 56th spot, Max Plaxton (Rocky Mountain-Haywood) 69th and Jean-Christophe Peraud (Orbea) in 89th.
The top seed missing in the women's race will be Alison Sydor (Rocky Mountain-Haywood), who is placing less emphasis on World Cup races this season, and building towards doing well in marathon and multi-day off road events later in the season. Georgia Gould (Luna), the dominant woman in the western hemisphere, will also have a bit of a slog up from starting in 40th place, as will Annabella Stropparo (Italy) in 47th and Laurence Leboucher (France), 55th on the grid. Well back is Sue Haywood (Trek-VW) in 80th.
Mmmm - Belgian waffles.
Photo ©: Rob Jones

Julien Absalon has switched from Bianchi to Orbea, but is still considered to be the favourite for the men's race. Other strong contenders are Hermida and Sauser, both coming off Cape Epic (along with Bart Brentjens (Dolphin), Ralph Näf (Multivan Merida) and Roel Paulissen (Cannondale-Vredestein) ). Geoff Kabush, winner of the Pan American title, the United States national series opener at Nova and Sea Otter last weekend could also be an interesting factor in the race.
For the women, it is once again Gunn-Rita Dahle-Flesjaa (Multivan Merida) who is favoured, but neither she nor number two seed Marie-Helene Premont (Rocky Mountain-Haywood) have seen much racing, indeed, Premont says that yesterday was her first time on a mountain bike this year!
"It is my first race, my first time on a mountain bike yesterday," she told Cyclingnews. "We have had so much snow in the last three weeks that I kept up my running and just training on my winter bike. So this is a good course for me to begin on, because it is not too technical, with big, steep climbs. It is hard to say how well I will do; I know that I feel good, but you don't really know until you do your first race."
You get a really interesting selection of fans in Belgium
Photo ©: Rob Jones

Race Notes
- Filip Meirhaeghe (Versluys-Landbouwkrediet) has a new book out "The Comeback", and was busy autographing copies and selling branded clothing. He says that he has renewed confidence, and is looking forward to a strong season, with hopes of going to Beijing