Recently on Cyclingnews.com
MTB index page for all MTB content
MTB World Cup XC # 1 - CDM
Curacao, April 1, 2006
2005 results Stage List Past winners
The Program
Commonwealth Games riders may have the edge in tropical heat
By Gerard Knapp and Rob Jones
Believe it or not
Photo ©: Rob Jones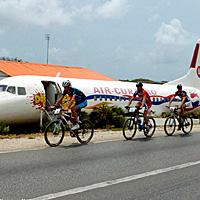 After racing in hot conditions at the recent Commonwealth Games in Melbourne, Australia, Great Britain's Liam Killeen and Canada's Marie-Helene Premont will go into the first round of the Mountain Bike World Cup as likely favourites, given the tropical conditions on the Caribbean island of Curacao, which is hosting its first ever round of the MTB World Cup series.
It's also the first serious hit-out of the season for many of the Europe-based riders who are having to hurriedly adjust from the northern hemisphere winter to 32 degree Celsius temperatures and extremely high humidity. Indeed, it's probably better weather for cocktails, swimming and salsa dancing than racing MTBs.
In Melbourne, both Killeen and Premont were in excellent form, and seemingly enjoyed the hot weather and technical course. Curacao offers much of the same, except for much higher humidity and of course, a couple of reigning world champions in the field.
New location, new challenges
The island of Curacao is located in the southern Caribbean, just off the coast of Venezuela, and is known primarily for tourism (it is a regular cruise ship stop), oil (a large refinery dominates the main town of Willemstad) and, for this weekend, mountain biking.
There'll be 114 men and 52 women scheduled to race on just one day (April 1), with all of the top riders making the trip - women's world champion and Cyclingnews diarist Gunn-Rita Dahle (Multivan-Merida) and men's world champ Julien Absalon (Bianchi) have been acclimatising to their new tropical surrounds, and defending world cup champion Christoph Sauser will be making his first international appearance in Specialized colours.
Mat Toulouse (Maxxis)
Photo ©: Rob Jones

Riders face a 6.8 kilometre circuit which incorporates the beach and the surrounding rocky terrain. The expectation is that the men will do seven laps and the women five. Both will also do a start loop, which Liam Killeen (Specialized) believes may split the field up early. "It's pretty tight in one section, so if someone makes a mistake you could see the field split up into small groups pretty much right away," says the Englishman.
The course doesn't offer much in the way of a climb, but lots of tight, twisty turns, loose gravel and thorns (which have caused a number of punctures in training) will make it a tactical race. "There aren't many places to pass" comments Sauser. "If you don't get a good start you could be spending a lot of time and energy trying to get back up to the front. It's easy to make a mistake here with all the turns, especially when you are going fast."
The heat and humidity are also expected to have a huge impact, with most of the riders coming from colder climes, and already wilting in the 32 Celsius heat. Some riders who have a slight advantage in this area, having just come from Melbourne and the Commonwealth Games, are Killeen, Marie-Helene Premont (Rocky Mountain-Business Objects), Seamus McGrath (Canadian National), Kiara Bisaro (Canadian National), Sid Taberlay and Kashi Leuchs (Cannondale). However, even these riders believe that heat will be the primary factor in the race.
Notes:
Fomer world champion Filip Meirhaeghe is here, in his first mountain bike race at this level since his suspension for doping in 2004. Meirhaeghe has been racing on the road successfully, but has not competed against his mountain bike peers.
A number of riders are coming off sickness - Sabine Spitz (Specialized) had a gastro-intestinal flu last week. "I'm fine now, but had no intensity since last week. So here I am just hoping to do okay and get a good start position for Madrid." Liam Killeen was sick for a couple of days after the Commonwealth Games, but says he is recovered. Geoff Kabush (Maxxis) is still suffering the effects of whatever robbed him of energy at the Commonwealth Games.
The riders seem to be evenly split between using hardtails and suspension.
Many riders say that they would rather have this race (ie, Curacao) at the end of the season rather than the beginning, concerned about the travel and the sudden temperature change.
Photography
For a thumbnail gallery of these images, click here
Images by Rob Jones/www.canadiancyclist.com