Recently on Cyclingnews.com
MTB index page for all MTB content
MTB World Cup XC # 1 - CDM
Curacao, April 1, 2006
Race 1 - Women
Dahle starts 2006 in style
By Rob Jones in Curacao
Gunn-Rita Dahle (Multivan-Merida) is ecstatic
Photo ©: Rob Jones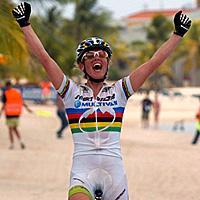 Gunn-Rita Dahle (Multivan-Merida), the world and Olympic champion, rode away from her competitors shortly after the start loop and went on to win the opening world cup round. She did not display her usual dominating style, however, and Sabine Spitz (Specialized) was able to keep the gap to under 30 seconds for the first few laps of the five-lap race.
At the front, Dahle may have looked like she was cruising, but revealed that she was suffering as much as anyone. "I was on the limit the whole way," she revealed after the finish. "Having 10 or 20 seconds is nothing in mountain biking, because one flat or crash can change everything. This race was a matter of keeping your own focus, you had to concentrate the whole way around, because a half second of not concentrating would lose you time."
Dahle explained she was on the rivet for most of the race, and it took its toll. "I felt a little empty after two laps, which scared me, because I had this problem in Mont Sainte Anne last year [when she was beaten by Premont]. I had goosebumps; I was really pushed to the limit." But the Norwegian's a great champion, and made it to the line first, despite the difficult conditions. "On the last lap I could feel stuff coming back up on me, but I could forget these negatives feelings when I saw the finish line in front of me," she said.
Spitz, despite having suffered from the flu the week before, rode a strong, steady race for second. "I'm pretty happy, and a little surprised at how good it went. I said to myself before the start that it was important to get a good start and stay close to Gunn-Rita, but not push myself too hard," she said. "I could see that I was staying closer [to Dahle] then in other races, which is different because she usually tries to control the race by getting a [big] gap at the beginning, and here it was not happening. So, I had to ride hard, but not push too hard and risk sliding in the corners."
Sabine Spitz (Specialized)
Photo ©: Rob Jones

Behind Dahle and Spitz a battle was developing between Maja Wloszczowska (Lotto), sitting third going into the single track on the first lap, and Alison Sydor (Rocky Mountain-Business Objects) in fourth. Sydor explained after the finish that Spaniard Marga Fullana (Spiuk Illes Balears) knocked her off the track while attempting to pass. "It was a section of single track where it was impossible to pass, and Marga was asking me to let her by. There was no where to do it, so she pushed past, pushing my into the rocks, where I flatted and bent my seat. We are both experienced riders, and that sort of thing shouldn't happen," said an angry Sydor.
Sydor lost over two minutes and 15 spots, and spent the rest of the race chasing, and passing in the few spots available to finish 11th (Fullana was third).
Alison Sydor and Sue Haywood
Photo ©: Rob Jones

Meanwhile, Commonwealth Games champion Premont was having her own difficulties. "I had a terrible start, and a rider fell into me, knocking both me and Kiara (Bisaro - Canadian National) over," she said. "I lost time and positions and had to overpace myself in the second and third laps to get back up. After that I had to slow down a bit because I could tell that I was having some problems." Premont managed to rocket back up to third, only 1:05 behind Dahle, before having to back off her pace. Premont and Mary McConneloug (Seven Cycles) rode together for the remainder of the race, with Premont dropping the American rider on the final lap.
American Mary McConneloug took the fifth and final podium spot, after getting held up in the crash which delayed Premont and Bisaro. "I got caught up in it on the first lap, so it made it hard in the single track. I caught up to Maja (Wloszczowska) at the end of the second lap, and I could see Marie-Helene was suffering and slowing, so I was able to catch up to her until she dropped me on the final lap," she said.
Photography
For a thumbnail gallery of these images, click here
Images by Rob Jones/www.canadiancyclist.com
Results

1 Gunn-Rita Dahle (Nor) Multivan Merida Biking Team          1.45.54
2 Sabine Spitz (Ger) Specialized Factory Racing                 1.38
3 Margarita Fullana Riera (Spa) Spiuk Illes Balears             3.05
4 Marie-Helene Premont (Can) Rocky Mountain Busienss Objects    3.39
5 Mary Mc Conneloug (USA)                                       3.49
6 Petra Henzi (Swi) Fischer-Bmc                                 6.05
7 Maja Wloszczowska (Pol) Lotto                                 6.16
8 Lene Byberg (Nor) Bikin'cyprus Int                            6.26
9 Cécile Rode (Fra) Team Lapierre International                 6.50
10 Susan Haywood (USA) Trek Volkswagen Pro Factory Team         6.56
11 Alison Sydor (Can) Rocky Mountain Busienss Objects           7.02
12 Hanka Kupfernagel (Ger) Sportsstar Focus                     7.05
13 Katerina Nash (Cze)                                          7.27
14 Kiara Bisaro (Can) GearsRacingcom                            7.49
15 Maroussia Rusca (Swi) Team BikeparkCh Tui                    8.16
16 Jimena Florit (Arg)                                          8.45
17 Adelheid Morath (Ger)                                        8.59
18 Maria Ostergren (Swe)                                        9.00
19 Severine Hansen (Fra)                                        9.02
20 Irina Kalentyeva (Rus)                                      10.13
21 Heather Irmiger (USA)                                       10.47
22 Nina Gohl (Ger) Multivan Merida Biking Team                 10.49
23 Willow Koerber (USA)                                        10.53
24 Laura Turpijn (Ned)                                         11.12
25 Magdalena Sadlecka (Pol) Lotto                              11.44
26 Janka Stevkova (Svk) Max Cursor                             12.02
27 Arielle Van Meurs (Ned)                                          
28 Shonny Vanlandingham (USA)                                  12.35
29 Sabrina Enaux (Fra) Team Lapierre International             12.57
30 Jaqueline Mourao (Bra)                                      13.35
31 Katrin Schwing (Ger)                                        13.53
32 Lea Davison (USA) Trek Volkswagen Pro Factory Team          14.15
33 Anna Szafraniec (Pol) Lotto                                 14.55
34 Francisca Campos Salas (Chi)                                15.07
35 Nina Homovec (Slo)                                          15.41
36 Ivonne Kraft (Ger)                                          15.48
37 Kelli Emmett (USA)                                          15.55
38 Katrin Leumann (Swi) Team BikeparkCh Tui                    16.42
39 Evelyn Staffler (Ita)                                       16.52
40 Saskia Elemans (Ned)                                        16.57
41 Tereza Hurikova (Cze) Ceska Sporitelna Mtb                  17.41
 
1 lap down
 
42 Nathalie Schneitter (Swi)                                        
43 Elina Sophokleous (Cyp) Bikin'cyprus Int                         
 
2 laps down
 
44 Liliana Uzcategui (Ven)                                          
45 Yaniz Hernandez (Ven)                                            
46 Kristina Andrus (USA)                                            
47 Kristi Lewis (USA)                                               
 
3 laps down
 
48 Sara Hernandez Candela (Pur)                                     
49 Bernardine Boog-Rauwerda (Ned)                                   
50 Josette Velazquez Lebron (Pur)                                   
DNF Emilie Siegenthaler (Swi)                                       
DNF Maria Alejandra Castillo (Ven)