MTB index page for all MTB content
MTB World Cup XC #3 & DH #2 - CDM
Champéry, Switzerland, June 9-10, 2007
Schedule
Alpine extravaganza at Champéry World Cup
Cross-country, 4-cross and downhill all packed into one weekend
By Rob Jones in Champéry, Switzerland
Jose Hermida
Photo ©: Rob Jones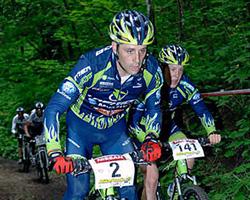 For the first time this year, all three disciplines of mountain biking will be together this weekend at a World Cup. Held on the outskirts of the small town of Champéry, nestled among the Alps along the French border in the southwest corner of Switzerland, the circuits are drawing praise from cross-country, downhill and 4-cross racers alike. The rain, which has threatened all week, held off until late this afternoon, and is currently coming down steadily.
Cross-country
World Cup leader and world champion Julien Absalon (Orbea) calls the cross-country course "real mountain biking", and he is echoed by most other riders. The 5.7 kilometre circuit describes a figure-of-eight loop, with the first longer loop mostly flat, and the second providing the only long climb and descent of the course. The riders will do a start lap of the second (climbing and descent) loop before they do large laps. The expectation is six laps (plus start) for the women and two extra full laps for the men.
The first leg of the full lap begins with a mainly flat out-and-back section of two kilometres that offers a mix of gravel road and rooty, twisty singletrack. From here the riders jump into a kilometre-plus section of forested singletrack with one chute descent and a couple of tough rooty sections that all but a few of the top men are running.
After a quick traverse of the expo area, the climb begins; a one kilometre steady push up a gravel road which turns into pavement for the final 200 metres. After this it is back into the woods for a one kilometre singletrack descent that offers almost no passing opportunities.
The Alps provide a stunning backdrop.
Photo ©: Rob Jones

After a final little grunt climb up behind the start-finish area, the riders finish with a downhill run through the final two turns and a few jumps of the 4-cross course, which will make it difficult to pass.
The roots in the singletrack are becoming more and more pronounced as the course is ridden, which are making them more slippery. Rain will turn a number of spots into walk-only sections.
While most riders are pleased with the course, the Chinese women seemed to be having considerable difficulty with the slow speed technical portions. This could certainly favour both Marie-Helene Premont (Rocky Mountain-Haywood) and Irina Kalentyeva (ToPeak), either of whom could take over the lead of the World Cup if current leader Chengyuan Ren falters again, like she did at Offenburg two weeks ago.
World Cup leader and U23 world champion Chengyuan Ren
Photo ©: Rob Jones

The biggest gap on the start line of the women, of course, is the absence of World Cup and world champion Gunn-Rita Dahle Flesjaa (Multivan Merida), who announced earlier in the week that she had returned to Norway for medical tests to try and figure out what is causing the ongoing stomach problems that have hurt her season so far - remarkably, Dahle Flesjaa has not yet won a World Cup this year.
On the men's side, all the top contenders are here, led by Absalon and round one winner Jose Hermida (Multivan Merida). Christoph Sauser (Specialized) will also be looking to score on home soil, and both Jean-Christophe Peraud (Orbea) and Kashi Leuchs (Vredestein-Cannondale) have been very consistent so far; although a win by either would be considered a definite upset.
4-Cross
The course is long, with lots of pedalling, as well as 14 corners and multiple jumps (32). The final three turns are switchbacks. The ground is still fairly soft in sections, which may bog down riders who get off the prime line, and if it rains it will get pretty slick in spots.
Anneke Beerten (Bikepark.ch) says that unlike some courses "the corners are pretty wide and there are some good spots to pass lower down on the course, so it is not over by the first corner. The women's field is fairly slim at only 12 riders, but the men's is packed, with 74 competitors. Beerten and world champion Jill Kintner (GT) are the top picks for the women, with Gee Atherton (Animal Commencal), Michal Prokop, Cedric Gracia (Commencal), Mickael Deldycke, Greg Minnaar (G-Cross Honda) and Brian Lopes (GT) all potential winners.
Downhill
At 1550 metres, with a vertical drop of 581 metres (37% average grade), this course can easily be called a monster. Steep and rocky, with many turns, it will require loads of fitness, since the winning run is likely to be over five minutes.
Brendan Fairclough (G-Cross Honda) also commented that "it changes each run; the corners are getting more blown out and it is getting greasier. There are so many sections that the whole lot matters, there is no single important section. A clean run will be pretty lucky, because it is very easy to make a mistake."
The teams have totally changed bike setup from the previous World Cup in Vigo (Spain), going for different tires, beefed up brakes and suspension that is stiffer at the front and softer in the rear.
For the 32 women, it is expected to be a race between Sabrina Jonnier (Ironhorse-Monster Energy) and Tracy Moseley (Kona). On the men's side (186 for the semi-final), Marc Beaumont (MBUK Santa Cruz) will try to repeat from Vigo, but Steve Peat (Santa Cruz Syndicate), Greg Minnaar (G-Cross Honda), Sam Hill (Ironhorse-Monster Energy), Gee Atherton (Animal Commencal) and Mick Hannah (Cannondale - The Cut) should also do well.
One potential problem is that the middle section is so steep that every crash and injury which requires evacuation needs a helicopter - forcing lengthy course closures.
And if it rains? "That's good for me" grins Fairclough. "It will make it even harder and more technical... there will be a load of crashes."
Photography
For a thumbnail gallery of these images, click here
Images by Rob Jones/www.canadiancyclist.com