MTB index page for all MTB content
MTB World Cup XC #3 & DH #2 - CDM
Champéry, Switzerland, June 9-10, 2007
Race 1 - June 9: Elite Women Cross Country, 36.5km
Full(ana) steam ahead
By Rob Jones in Champéry, Switzerland
A delighted Margarita Fullana (Spiuk-Tau Ceramica)
Photo ©: Rob Jones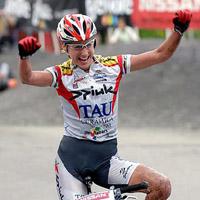 Round three of the cross-country mountain bike World Cup in Champéry, Switzerland, saw Marga Fullana (Spiuk-Tau Ceramica) don the leader's jersey in the women's category after an impressive race-long ride from the front.
The women's race was wide open, with the absence of perennial favourite Gunn-Rita Dahle Flesjaa (Multivan Merida) who has cut her season short to return to Norway and seek medical advice on persistent stomach problems.
The technical nature of the course made round two winner Irina Kalentyeva (Topeak-Ergon) and Marie-Helene Premont (Rocky Mountain-Haywood) the favourites, but it was Fullana who prevailed after 36.5 kilometres (six laps plus a start loop).
The Spanish rider had her patented fast start up the first climb, but this time was not caught by the technical riders in the following singletrack, rooted descent. The difference? "I know that I am not so good in the technical parts, so last winter we worked very hard to improve in this area."
It obviously worked, with Fullana cruising in 19 seconds ahead of Kalentyeva and 1:10 in front of Premont. World Cup leader Ren Chengyuan struggled in the early going, dropping as far back as the high 40s, before recovering to finish 14th.
As Fullana attacked, a chase organized behind, with Kalentyeva, Premont, and Sabine Spitz (Ghost International). Premont was struggling on the climb, and was dropped by the other two after the first lap. "I woke up with a headache, from the altitude I think, but it was more that this climb was too steep for me. I like climbs, but the speed was very fast on the first laps, and I overpaced myself. Then I made a mistake in the roots and they (Kalentyeva and Spitz) got a gap on me."
Premont recovered in the second half of the race to move back up and finish third.
Irina Kalentyeva (Topeak-Ergon)
Photo ©: Rob Jones

On the third lap, Kalentyeva gapped Spitz to chase on her own after Fullana, who was now nearly a minute up. She steadily pulled back time every lap to come close to catching the Spaniard. Spitz was having her own difficulties with the course, crashing in the third lap on the descent after a camera flash went off in her face, and being passed by Premont on the climb on lap four.
The final podium spot looked to be locked up by German Ivonne Kraft. She had ridden consistently all race in fifth, although Americans Mary McConneloug (Kenda-Seven) and Willow Koerber (Subaru-Gary Fisher), and Austrian Elisabeth Osl (Tonis) were starting to breathe down her neck. McConneloug came within 15 seconds of Kraft when cramps hit on lap five, then Koerber and Osl were within sight on the last lap, when Kraft suffered a very inopportune flat.
Koerber and Osl took over the battle for fifth, with the American getting to the front before the final descent and then opening a gap on Osl, to take her first ever European World Cup podium.
"Last race (in Offenburg, Germany) I thought the race was shorter than it was, and I ran out of energy. this time I thought it was longer, so I had double extra energy! When they (leaders) went away, I was trying not to panic, and just ride my own pace; just to be me, do my ride and let it come back to me. On the last lap we could see we were gaining, and then saw her (Kraft) stop. I attacked on the last little paved bit of the climb and got into the downhill first, and that was it."
Race Notes
Marie-Helene Premont (Rocky Mountain Haywood)
Photo ©: Rob Jones

- The World Cup overall battle is still tight, with Fullana at 560 points, Kalentyeva at 514, and Premont at 490. The advantage seems to be with Premont, with the next two events in Canada, on circuits on which she has won previously, including two World Cup wins at her home course in Mont Ste Anne, Quebec.
- Ren Chengyuan's surprisingly slow start was "a bad day" according to the team manager. "No, there were no mechanical problems, she was just not so good today. Maybe it was the altitude a little bit." Chengyuan takes over the U23 World Cup leader's jersey.
Photography
For a thumbnail gallery of these images, click here
Images by Rob Jones/www.canadiancyclist.com
Results - 36.5km
1 Margarita Fullana (Spa) Spiuk-Tau Ceramica           1.55.49
2 Irina Kalentyeva (Rus) Topeak-Ergon                     0.19
3 Marie-Helene Premont (Can) Rocky Mountain Haywood       1.10
4 Sabine Spitz (Ger) Ghost International Racing           2.19
5 Willow Koerber (USA) Subaru-Gary Fisher                 4.25
6 Elisabeth Osl (Aut) Tonis Pro Team Kirchberg            4.41
7 Mary McConneloug (USA) Kenda Seven                      5.32
8 Tereza Hurikova (Cze) Ceska Sporitelna Mtb              5.44
9 Ivonne Kraft (Ger) La Carrera-BTS                       6.08
10 Georgia Gould (USA) Luna Womens Mtb Team               6.17
11 Kiara Bisaro (Can) Opus                                6.37
12 Katerina Nash (Cze) Luna Womens Mtb Team               6.52
13 Catherine Pendrel (Can) Norco                          7.10
14 Ren Chengyuan (Chn) China                              7.27
15 Petra Henzi (Swi) Fischer-BMC                          7.30
16 Cécile Rode Ravanel (Fra) Team Lapierre International  7.36
17 Ying Liu (Chn) China                                   7.44
18 Laura Turpijn (Ned)                                    8.00
19 Katrin Leumann (Swi)                                   8.25
20 Rosara Joseph (NZl)                                    9.08
21 Heather Irmiger (USA) Subaru-Gary Fisher               9.30
22 Eva Lechner (Ita)                                     10.33
23 Jingjing Wang (Chn) China                             10.47
24 Sandra Walter (Can) XO Felt                           11.00
25 Susan Haywood (USA) Trek-VW                           11.23
26 Blaza Klemencic (Slo) Pintatim Full-Dynamix           12.06
27 Anna Szafraniec (Pol) Halls Professional MTB Team     12.16
28 Lene Byberg (Nor) Specialized                         12.41
29 Magdalena Sadlecka (Pol) Halls Professional MTB Team  12.48
30 Laurence Leboucher (Fra)                              12.59
31 Anna Enocsson (Swe) Ghost International Racing        13.04
32 Nina Homovec (Slo)                                    13.18
33 Maroussia Rusca (Swi)                                 13.34
34 Maria Osl (Aut) Tonis Pro Team Kirchberg              13.58
35 Nathalie Schneitter (Swi)                             14.32
36 Katrin Schwing (Ger)                                  14.42
37 Sabrina Enaux (Fra) Team Lapierre International       14.45
38 Wendy Simms (Can) Kona Les Gets                       14.46
39 Renata Bucher (Swi)                                   14.52
40 Evelyn Staffler (Ita)                                 15.03
41 Dellys Starr (Aus)                                    15.26
42 Janka Stevkova (Svk)                                  15.30
43 Shonny Vanlandingham (USA) Luna Womens Mtb Team       16.17
44 Esther Süss (Swi)                                     16.42
45 Maureen Guichardot (Fra) Scott Valloire Galibier      17.20
46 Séverine Hansen (Fra) Bh-Sr. Suntour                  17.28
One lap down
47 Rocio Gamonal Ferrera (Spa)                                
48 Tory Thomas (Aus) Bh-Sr. Suntour                           
49 Ruth Moll Marques (Spa) Bh-Sr. Suntour                     
50 Jenny Copnall (GBr) Subaru-Gary Fisher                     
51 Nina Göhl (Ger) Multivan Merida Biking Team                  
52 Laura Metzler (Fra) Bh-Sr. Suntour                         
53 Sarka Chmurova (Cze) Max Cursor                            
54 Asa Maria Erlandsson (Swe) Subaru-Gary Fisher              
55 Jaqueline Mourao (Bra)                                     
56 Laura Lorenza Morfin (Mex)                                 
57 Helene Marcouyre (Fra) Bh-Sr. Suntour                      
58 Hanna Klein (Ger)                                          
59 Caroline Mani (Fra)                                        
Two laps down
60 Franziska Roethlin (Swi)                                   
61 Sarah Koba (Swi)                                           
62 Sandra Santanyes Murillo (Spa) Massi                       
63 Githa Michiels (Bel)                                       
64 Sandra Dolcerocca (Den)                                    
65 Elena Gaddoni (Ita)                                        
66 Julie Krasniak (Fra) Team Lapierre International             
67 Agnes Naumann (Ger)                                        
68 Berangère Wilst (Fra) Breiz Mountain 22                    
69 Liliya Zaytseva (Ukr)                                      
70 Kelli Emmett (USA) Giant Mountain Bike Team                
71 Jennifer Gersbach (USA)                                    
Three laps down
72 Zoe King (Aus)                                             
73 Anna Villar Argente (Spa) Massi                            
74 Francisca Campos Salas (Chi)                               
75 Emma Colson (Aus)                                          
76 Ruth Mcgavigan (GBr)                                       
77 Nataliya Krompets (Ukr)                                    
78 Sara Bresnick (USA)                                        
79 Elina Sophocleous (Cyp) Bikin'cyprus Int'l MTB Team         
80 Nina Baum (USA)                                            
81 Ivanda Eiduka (Lat)                                        
82 Megan Monroe (USA)                                         
83 Joanna Wall (Aus)                                          
84 Marie Kunst (Den)                                          
85 Cristina Mascarreras Sabria (Spa) Spiuk-Tau Ceramica       
DNF Maja Wloszczowska (Pol) Halls Professional MTB Team         
DNF Elsbeth Van Rooij-Vink (Ned) Beone Mountain bike team       
DNF Yolanda Speedy (RSA)                                      
DNF Sara Muhl (RSA)                                           
DNF Bärbel Jungmeier (Aut)                                    
DNF Berengère Boes (Fra) Breitz Mountain 22                   
DNF Gemma Collins (GBr)                                       
DNS Arielle Van Meurs (Ned)                                   
DNS Bettina Schmid (Swi) Fischer-BMC                          

World Cup Overall after Round 3

1 Margarita Fullana (Spa) Spiuk-Tau Ceramica                    560 pts
2 Irina Kalentyeva (Rus)                                        514
3 Marie-Helene Premont (Can) Rocky Mountain Haywood             490
4 Ren Chengyuan (Chn)                                           448
5 Sabine Spitz (Ger) Ghost International Racing Team            440
6 Gunn-Rita Dahle Flesjaa (Nor) Multivan Merida Biking Team     360
7 Tereza Hurikova (Cze) Ceska Sporitelna MTB                    325
8 Willow Koerber (USA) Subaru-Gary Fisher                       308
9 Elisabeth Osl (Aut) Tonis Pro Team Kirchberg                  276
10 Ying Liu (Chn)                                               262
11 Kiara Bisaro (Can)                                           251
12 Ivonne Kraft (Ger)                                           249
13 Katerina Nash (Cze) Luna Womens MTB Team                     247
14 Jingjing Wang (Chn)                                          246
15 Georgia Gould (USA) Luna Womens MTB Team                     245
16 Cecile Rode Ravanel (Fra) Team Lapierre International        215
17 Eva Lechner (Ita)                                            202
18 Rosara Joseph (NZl)                                          198
19 Mary McConneloug (USA)                                       194
20 Maja Wloszczowska (Pol) Halls Professional MTB Team          190
21 Anna Enocsson (Swe) Ghost International Racing Team          180
22 Laura Turpijn (Ned)                                          178
23 Susan Haywood (USA) Trek-VW                                  176
24 Petra Henzi (Swi) Fischer-BMC                                171
25 Elsbeth Van Rooij-Vink (Ned) Beone Mountain Bikee Team       166
26 Heather Irmiger (USA) Subaru-Gary Fisher                     152
27 Sandra Walter (Can)                                          150
28 Lene Byberg (Nor)                                            142
29 Nathalie Schneitter (Swi)                                    138
30 Anna Szafraniec (Pol) Halls Professional MTB Team            136
31 Renata Bucher (Swi)                                          133
32 Catherine Pendrel (Can)                                      132
33 Katrin Leumann (Swi)                                         131
34 Nina Homovec (Slo)                                           124
35 Nina Gohl (Ger) Multivan Merida Biking Team                  124
36 Shonny Vanlandingham (USA) Luna Womens MTB Team              123
37 Blaza Klemencic (Slo) Pintatim Full-Dynamix                  122
38 Laurence Leboucher (Fra)                                     121
39 Katrin Schwing (Ger)                                         101
40 Sabrina Enaux (Fra) Team Lapierre International               98
41 Maria Osl (Aut) Tonis Pro Team Kirchberg                      86
42 Maroussia Rusca (Swi)                                         82
43 Magdalena Sadlecka (Pol) Halls Professional MTB Team          73
44 Arielle Van Meurs (Ned)                                       70
45 Esther Suss (Swi)                                             69
46 Wendy Simms (Can) Kona Les Gets                               68
47 Evelyn Staffler (Ita)                                         64
48 Elena Gaddoni (Ita)                                           58
49 Dellys Starr (Aus)                                            55
50 Helene Marcouyre (Fra) BH-SR Suntour                          52
51 Julie Krasniak (Fra) Team Lapierre International              44
52 Janka Stevkova (Svk)                                          43
53 Tory Thomas (Aus)                                             40
54 Jenny Copnall (GBr) Subaru-Gary Fisher                        36
55 Maureen Guichardot (Fra) Scott Valloire Galibier              34
56 Jaqueline Mourao (Bra)                                        34
57 Alexandra Engen (Swe)                                         34
58 Bernardine Boog-Rauwerda (Ned)                                34
59 Alison Sydor (Can) Rocky Mountain Haywood                     30
60 Bettina Schmid (Swi) Fischer-BMC                              28
61 Sarka Chmurova (Cze) Max Cursor                               27
62 Severine Hansen (Fra) BH-SR Suntour                           22
63 Sarah Koba (Swi)                                              22
64 Rocio Gamonal Ferrera (Spa) BH-SR Suntour                     21
65 Caroline Mani (Fra)                                           19
66 Nadja Roschi (Swi) Fischer-BMC                                19
67 Ruth Moll Marques (Spa) BH-SR Suntour                         19
68 Tanja Zakelj (Slo)                                            18
69 Pavla Havlikova (Cze)                                         17
70 Laura Metzler (Fra) BH-SR Suntour                             16
71 Francisca Campos Salas (Chi)                                  16
72 Asa Maria Erlandsson (Swe) Subaru-Gary Fisher                 14
73 Sandra Santanyes Murillo (Spa) Massi                          14
74 Amy Hunt (GBr)                                                13
75 Kelli Emmett (USA) Giant Mountain Bike Team                   13
76 Barbel Jungmeier (Aut)                                        12
77 Laura Lorenza Morfin (Mex)                                    12
78 Saskia Elemans (Ned)                                          11
79 Hanna Klein (Ger)                                             10
80 Yolanda Speedy (RSA)                                           9
81 Emma Colson (Aus)                                              9
82 Franziska Roethlin (Swi)                                       8
83 Inbar Ronen (Isr)                                              8