Cyclingnews 2005 Reader Poll Results
Best Male MTB Racer
Geoff Kabush in action at the MTB worlds
Photo ©: Marek Lazarski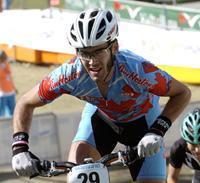 Geoff Kabush screamed into the 2005 season with a succession of NORBA victories that culminated in him taking out the overall series title. He also proved he could compete at world level with a fine second place behind Christoph Sauser at the Angelfire world cup round.
But we suspect it's not just his racing success that has landed Kabush your votes this year. The popular Canadian has been an indefatigable campaigner against doping in cycling, wearing his 'Dopers suck' t-shirt on numerous podiums. He's also renowned as an approachable, congenial bloke, and his sheer love of his job comes across strongly in his diaries on Cyclingnews.
World champion Julian Absalon took second place after a year that looked a bit less effortless than his worlds and Olympic wins in 2004.
The evergreen Ned Overend made a bit of a return to mountain bike racing in 2005 and rode to a startling fifth place at the US national championships despite being old enough that the rest of the top five could be his sons!
Results
                               Votes   %ge
 
1 Geoff Kabush                   896  14.3
2 Julian Absalon                 651  10.4
3 Ned Overend                    636  10.1
4 Thomas Frischknecht            621   9.9
5 Adam Craig                     454   7.2
6 Bart Brentjens                 422   6.7
7 Christoph Sauser               373   5.9
8 Jeremy Horgan-Kobelski         348   5.5
9 Brian Lopes                    270   4.3
10 Steve Peat                    216   3.4
11 Cedric Gracia                 212   3.4
12 Chris Eatough                 211   3.4
13 Jose Antonio Hermida          145   2.3
14 Greg Minnaar                  133   2.1
15 Samuel Hill                   104   1.7
16 Jared Graves                  103   1.6
17 Fredrik Kessiakoff             99   1.6
18 Fabien Barel                   93   1.5
19 Ruben Lampe                    65   1.0
20 Gee Atherton                   61   1.0
21 Nathan Rankin                  59   0.9
22 Marc Beaumont                  58   0.9
23 Karim Amour                    29   0.5
24 Mickael Deldycke               26   0.4

Total                           6285