Cyclingnews 2005 Reader Poll Results
Best product
Bobby Julich's Cervélo Soloist Carbon at the Tour
Photo ©: Anthony Tan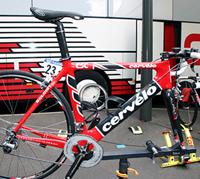 With Cervelo taking out the best team bike category, it's perhaps not surprising that the company's Soloist frame got the nod for best product of 2005. This year saw the introduction of a carbon version of the Soloist, which made a very low-key debut at the Giro d'Italia and was ridden into the Tour yellow jersey by Jens Voigt in July.
Cervelo's Phil White told Cyclingnews back in October that he believes the Soloist carbon is "the fastest road bike you can buy." The design idea was to combine the attributes of Cervelo's previous two key bikes: the low weight of the R2.5 and the aerodynamic qualities of the aluminium Soloist. The results is clearly a very desirable frame.
However, the vote was by no means a landslide. SRAM's new road shifters ran Cervelo a very close second, even though they won't actually be available to buy till some time in 2006. We nominated them because we thought the appearance of a third alternative to Shimano and Campagnolo in road gear systems was perhaps the most exciting tech development of 2005, and many of you agreed.
Zipp tweaked its wheel line for 2005/6 with the addition of dimples to the surfaces of all its rims, and took third place in the poll as a results. Aero wheel makers are admitting that the time gains produced by previous improvements in wheel aerodynamics are unlikely to be repeated, but dimpling can still be worth a few precious seconds over 40km.
Results
                                                  Votes    %ge
 
1 Cervelo Soloist frame                              984  14.3
2 SRAM road shifters                                 949  13.8
3 Zipp dimpled wheels                                608   8.8
4 Look Keo pedals                                    550   8.0
5 Shimano Ultegra                                    548   8.0
6 Colnago C50                                        446   6.5
7 FSA Mega Force Exo compact crank                   415   6.0
8 Trek Madone SSLx                                   403   5.9
9 Mavic Ksyrium ES wheels                            367   5.3
10 Continental GP4000 tyres                          282   4.1
11 Lightweight 'Ventoux' wheels                      249   3.6
12 Garmin Edge 305 GPS cyclecomputer                 227   3.3
13 Avid Juicy 7 brakes                               174   2.5
14 Surly Pugsly                                      165   2.4
15 Specialized S-Works Carbon Stumpjumper FSR 130    140   2.0
16 Zero Gravity cranks                               140   2.0
17 Giant Maestro platform bikes                       90   1.3
18 Ibis Mojo Carbon                                   79   1.1
19 Maxxis Maxxlite 310 MTB tyres                      50   0.7
20 Fallbrook Technologies NuVinci CVP                 21   0.3

Total                                               6887