Cyclingnews 2005 Reader Poll Results
Best Female road rider
Nicole Cooke (Safi)
Photo ©: Luc Claessen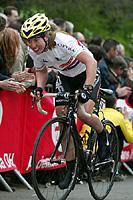 British rider Nicole Cooke certainly has a lot of fans, as she was voted Female Road Rider of the Year by Cyclingnews readers. Cooke scored 1721 votes - more than a quarter of the total - to beat Oenone Wood and Kristin Armstrong into second and third places.
Cooke's season this year was more consistent than her injury-plagued 2004, and she notched up wins in the GP Wallonie and Fleche Wallonne, Trofeo Citta di Rosignano, Cittiglio (Varese), British Road Race Championships, and a stage of the Giro della Toscana, as well as finishing second in the World Championship Road Race and La Primavera Rosa World Cup. She ended the season sixth on the UCI rankings and ninth in the World Cup.
Second ranked female road cyclist in our poll with 1188 votes was Oenone Wood, who had another impressive season. The highlights of Wood's year were winning the World Cup overall and finishing first on the UCI rankings, as well as winning two Australian titles, two rounds and the overall of the Bay Series criteriums, two stages and the overall of the Geelong women's tour, three stages of the Tour de L'Aude, and three of the Tour of Montreal. What she lacked was a World Cup race win, although she finished second on three occasions in Geelong, Fleche Wallonne and Montreal. She also scored a bronze medal at the World's.
American rider Kristin Armstrong was third in our poll, after winning two stages and the overall of the Sea Otter classic and the Panamerican Championship Time Trial. She also finished third in the World Championship time trial and the Tour de l'Aude.
Results
                               Votes   %ge
 
1 Nicole Cooke                  1721  25.8
2 Oenone Wood                   1188  17.8
3 Kristin Armstrong              899  13.5
4 Judith Arndt                   884  13.2
5 Ina Teutenberg                 471   7.0
6 Christine Thorburn             340   5.1
7 Tina Mayola-Pic                283   4.2
8 Susanne Ljungskog              174   2.6
9 Amber Neben                    165   2.5
10 Mirjam Melchers               158   2.4
11 Karin Thurig                  127   1.9
12 Nicole Brandli                 80   1.2
13 Regina Schleicher              61   0.9
14 Georgia Bronzini               50   0.7
15 Svetlana Boubenkova            47   0.7
16 Suzanne DeGoede                33   0.5

Total                           6681